Reverend Derek Li says son has not regained any control of his arms and legs after July incident at Mirror concert.
A paralysed dancer in Hong Kong has regained some sensation in his limbs after he was seriously injured when a massive TV screen fell on him during a Mirror concert earlier this year, his father has revealed.

But Reverend Derek Li Shing-lam, a pastor, said on Sunday that Mo Li Kai-yin had yet to regain any control of his arms and legs five months after the incident at the Hong Kong Coliseum.

The pastor told a radio programme that, on one recent occasion, his son had asked family members to place one of his arms in a better position, even though it was covered by a blanket and out of sight.

He highlighted the incident as proof that his son had recovered some feeling in his limbs and was aware of how they were positioned.

"He can feel it. Sometimes we touch him and he has feelings," said the pastor, who moved back to Hong Kong from Canada after his son was injured.

"He can't move yet. But I think it's good that he has regained his feelings first and then mobility. If he regains only mobility without any feeling, he wouldn't know it when he got hurt," he added.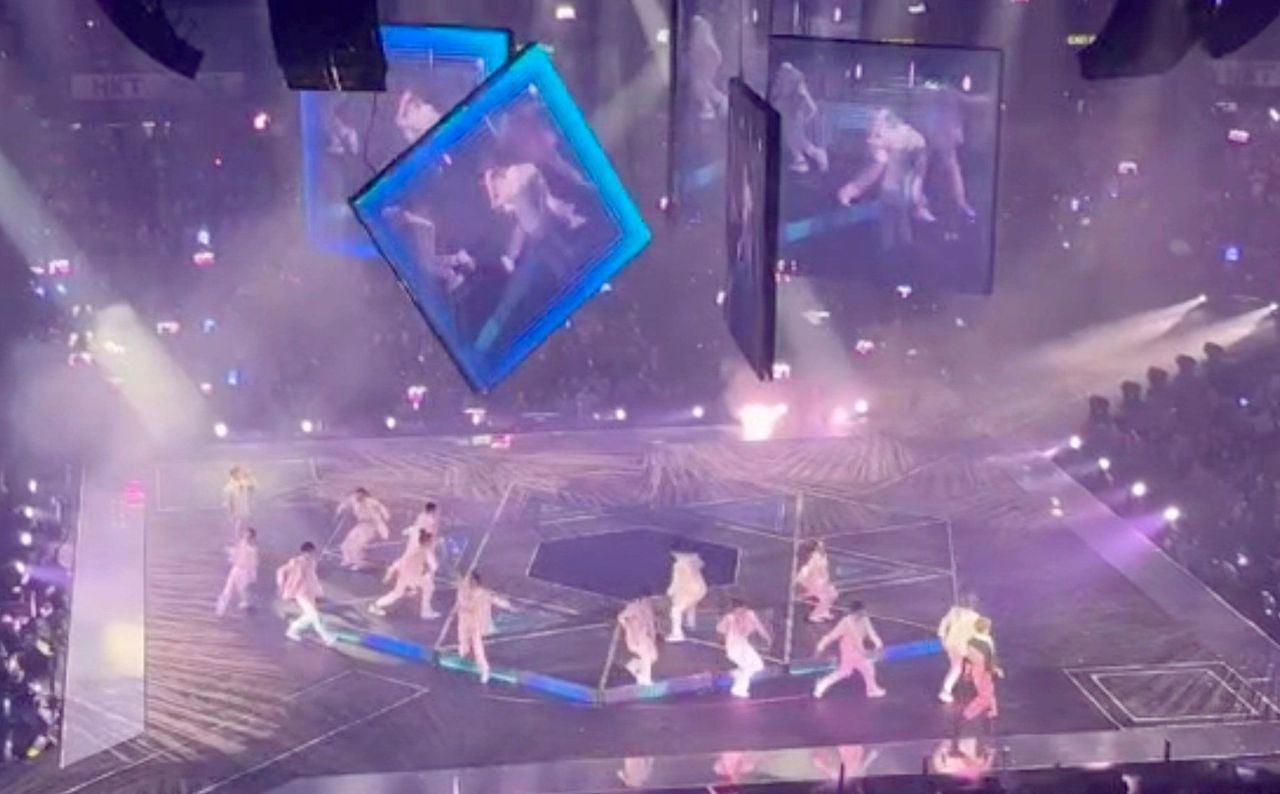 The moment a giant screen breaks free from its moorings and plunges onto the stage at a Mirror concert, severely injuring dancer Mo Li.
He added that the 28-year-old has gained "a dozen pounds" in weight since the July incident.
Mo Li was a key performer of the 12-member Cantopop band Mirror's dance crew and appeared in many of the band's shows and videos.
But he was paralysed after a four-by-four-metre (13 by 13 feet) TV screen fell on him as he performed at a concert on July 28, damaging the third and fourth section of his cervical vertebrae.
His father said he and his elder son had shaved their heads in solidarity with the bedridden Mo Li because his signature long locks had to be cut off for hygiene reasons.
"His girlfriend later told us that he burst into tears after seeing how his father and brother stood by him," the pastor said.
He said billionaire Richard Li Tzar-kai, chairman of PCCW, the parent company of concert organiser MakerVille, had visited his son and offered to discuss the arrangements for the dancer's medical expenses.
Li, the younger son of prominent businessman Li Ka-shing, promised in September to provide HK$10 million (US$1.3 million) to support the dancer, though his father turned down the offer.
The pastor said at the time that the concert organisers had already promised they would cover his son's medical costs and that talk of donations was premature.
He thanked the public for keeping his son in their prayers and said he would continue to focus on the bright side even though doctors had warned there was a 95 per cent chance his son would not recover from his injuries.
"They can never predict what could happen to that 5 per cent," he said.
A task force set up by the government concluded in a report last month that incorrect reporting of the installations' weights, the use of substandard support cables and poor installation of a rope guard had contributed to the accident.
Police have arrested five people in connection with the incident.
Four of the five are a business director, two project managers and a technical coordinator from Engineering Impact Ltd, the main contractor.
The fifth was a senior technician from Hip Hing Loong, a subcontractor.
Police said they could not find any evidence that Hip Hing Loong had arranged for an authorised individual to check the LED screens.
The force alleged that both contractors had failed to take any measures to ensure mechanical equipment and cables met safety requirements.