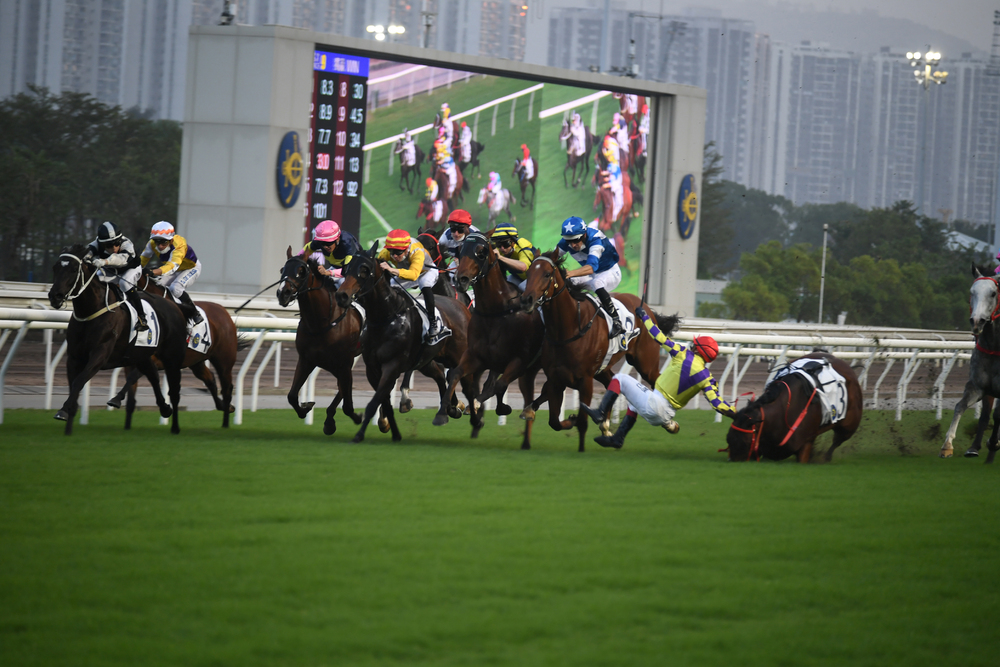 Fantastic way put down amid same-race double-whammy
Two jockeys fell off their horses in a 1,200-meter race – one just after the start and the other near the finish line – at Sha Tin Racecourse yesterday. One horse with a leg fracture was euthanized.
Alexis Badel and Jack Wong Ho-nam stood up after they fell during the ninth race at about 5pm yesterday.

Frenchman Badel, 32, remained conscious but was sent to hospital for further examination, while assessment by the on-course medical team found local jockey Wong, 29, had no apparent injury.

Badel was leading the race 50 meters before the finish line when his horse, Fantastic Way, tripped and fell, throwing him to the ground.

Two riders behind him – Michael Barzalona on Toronado Phantom and Vincent Ho Chak-yiu on Viva Chaleur – were hit by Fantastic Way rolling on the ground but managed to stay on course to the finish line.

Badel wrapped his arms around his head as Fantastic Way rolled over him while horses dodged him.

Sources said Badel suffered a dislocated shoulder.

A club spokesman said: "After examination by veterinary professionals, Fantastic Way could not be treated for its injuries.

"Hong Kong racing is recognized internationally for its safety. Horse fatalities in races are extremely rare."

Earlier in the same race, Wong lost his balance and fell off Highland Fortune seconds after the race started.

He was swung off the horse's back but grabbed the reins as he hung on to the neck. Highland Fortune ran toward the fence. Wong let go after hitting the fence and the horse continued to run along the track.

The club said Highland Fortune is unhurt.

Last December, a pileup at a Group 1 Hong Kong Sprint at Sha Tin racecourse ended in three jockeys being taken to hospital and two horses put down on the track.

Two of the jockeys – South African Lyle Hewitson and Australian superstar Zac Purton – were in serious condition but recovered and have since returned to the track.

The Sha Tin Racecourse was packed with excited punters on its first racing day allowing outdoor eating and drinking.

A punter, Cheung, who attends almost every racing day, said fans cheer up when sip cold beer while supporting their favorite jockeys and horses.

"The outdoor food and drink stalls have reopened," he said. "You could feel people's moods were instantly lifted up, even if they were not eating or drinking."

From yesterday, amber code holders – overseas arrivals during the first three days after landing – are also allowed to enter the racecourse.

More than 12,700 fans attended the races, with a turnover of HK$1.65 billion.

The sixth to eighth events were Group Two international races with HK$5 million prize money each. Two-time Horse of the Year Golden Sixty won the seventh.