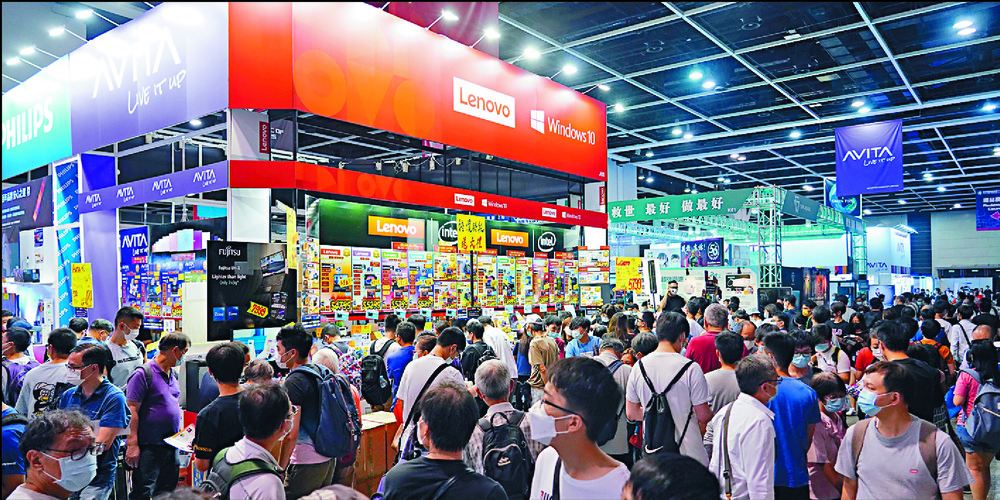 Fair banks on lucky draws to compute
All visitors to this year's Hong Kong Computer & Communications Festival will automatically receive a voucher of HK$10 to HK$500 in a lucky draw amid expectations that sales will hit last year's level of HK$330 million.
The four-day festival will be held at the Hong Kong Convention and Exhibition Centre in Wan Chai from next Friday to August 22, with over 200 exhibitors participating.

Tickets can be purchased both at the venue and online.

But those with the HKCCF app or who bought their ticket on the HK01 app can enjoy a HK$10 discount on their entry ticket to the festival, costing them only HK$25. Children shorter than one meter, elderly aged above 65 and people with disabilities get free entry.

With the release of consumption vouchers and the start of the school year just around the corner, vendors are optimistic about this year's sales.

One lowered the price of a HK$2,880 computer monitor by HK$600, saying he is confident that customers will be willing to spend more than just their consumption vouchers.

"I'm hoping sales can be pumped up by 10 to 20 percent," he said.

Chamber of Hong Kong Computer Industry director Sam Hui Kin-sang said although the business atmosphere last month was subdued, he expects the festival turnover to be near last year's HK$330 million.

The Hong Kong Esports Festival will happen concurrently, including competitions for League of Legends and FIFA 21 players.

Visitors can also participate in various activities such as electronic shooting and driving games.

There will be a recycling zone at the festival, encouraging citizens to donate their used electronics.

According to current pandemic policies, overseas travelers with an amber health code will not be allowed into the venue.