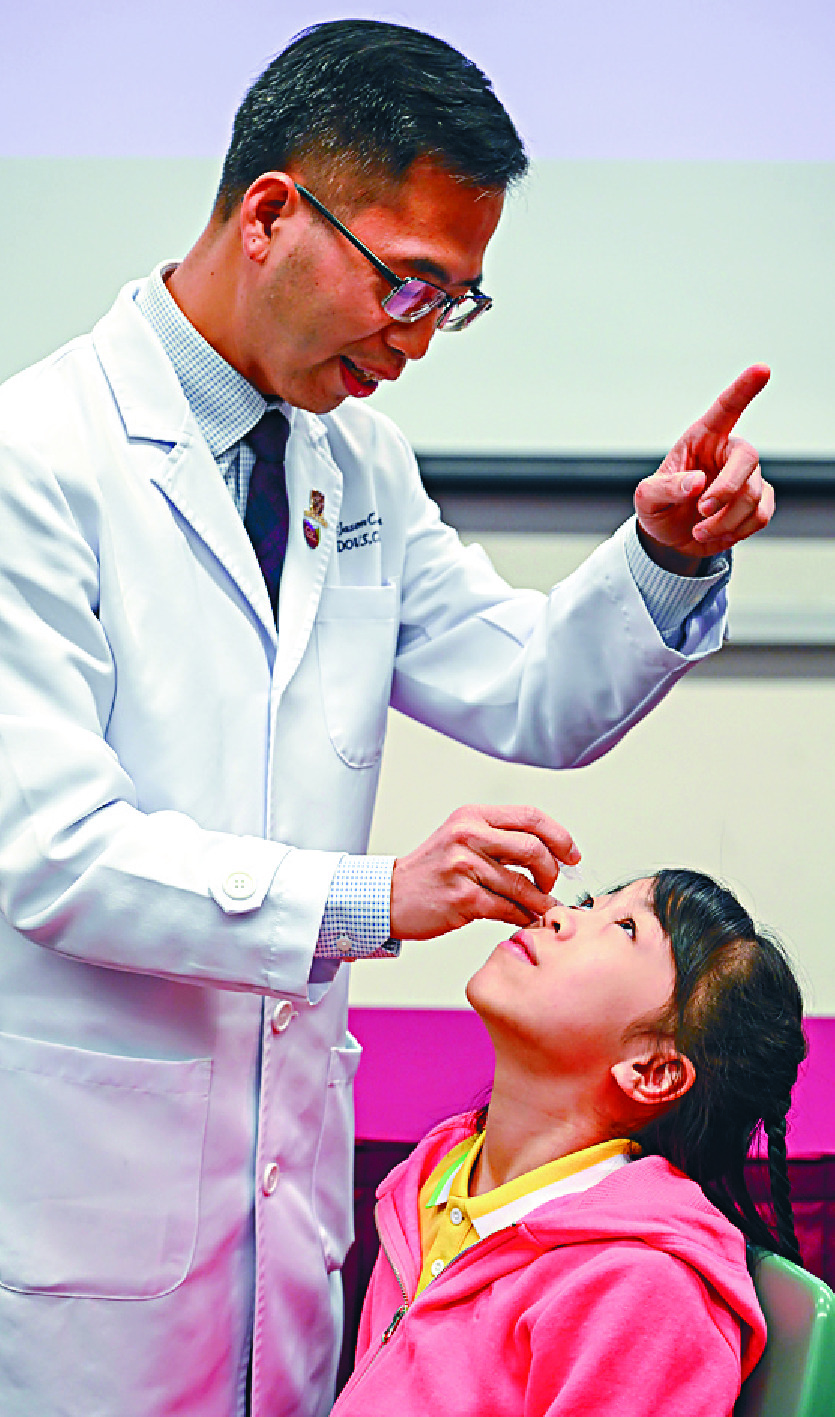 Eye drops reduce short-sightedness among children
A low concentration of atropine eye drops can help prevent short-sightedness in kids, Chinese University researchers have found.
The team found the incidence of short-sightedness fell from 53 percent to 28.4 percent after children were treated with 0.05 percent atropine eye drops for two years.

The study, which lasted from 2017 to 2020 and involved 474 children, is the world's first research to support low concentration atropine eye drops' effectiveness in preventing short-sightedness. The research paper has been published in the Journal of the American Medical Association.

The participants, aged between four to nine, and did not suffer from short-sightedness but had at least one parent who is myopic.

They were randomly assigned to the 0.05 percent atropine group, the 0.01 percent atropine group, or the placebo group and had eye drops applied once nightly in both eyes for two years.

Results showed that the incidence of short-sightedness was 28.4 percent in the 0.05 percent group, 45.9 percent in the 0.01 percent group, and 53 percent in the placebo group.

The researchers said myopia should be prevented before it occurs as it is not reversible.

"Myopia is irreversible once it has developed and the earlier its onset, the greater the likelihood of [it worsening] later in life," said Calvin Pang Chi-pui, research professor of visual sciences at the Faculty of Medicine.

The researchers added that high-risk children - those whose parents are both myopic - are 12 times more likely to develop myopia compared to those whose parents are non-myopic.

"A low concentration of atropine eye drops is an effective preventive strategy for myopia onset among high-risk children and can reduce their risk of suffering from sight-threatening diseases," said Jason Yam Cheuk-sing, the principal investigator of the study.

"We advise only high-risk children to consider using the eye drops," he added.

The study came as another research team led by Yam had proved that low concentration atropine eye drops could delay the progression of short-sightedness in a one-year clinical trial that lasted from 2016 to 2017.

CUHK also plans to launch a third phase of study on atropine to investigate the efficacy and safety of combining atropine eye drops with red light therapy.