Oxfam Hong Kong also finds that the environment at about 160 refuse collection points has worsened after refurbishment.
Recent extreme heat in Hong Kong left two-thirds of refuse collection workers constantly feeling unwell on the job, with poor ventilation and pest control measures worsening conditions for them, according to a charity.

Oxfam Hong Kong also found that the environment at about 160 refuse collection points had worsened after refurbishment and rebuilding, with unionists accusing authorities of having no consideration for workers in such facilities.

"Not only are sanitation workers exposed to scorching heat when working outdoors, they also lack a suitable space that allows them to rest and cool down," Wong Shek-hung, director of Oxfam's Hong Kong, Macau and Taiwan programme, said on Monday.

"The government's current measures to tackle climate change focus on emissions reductions, but what is urgently needed is climate adaptation measures for the most vulnerable people."

Oxfam polled 200 cleaners in June and July through questionnaires and interviews and found that the average temperature in collection stations reached 32.2 degrees Celsius (89.96 degrees Fahrenheit), higher than the record-breaking average in July of 30.3 degrees.

Some 66.5 per cent of respondents said they always felt unwell working at refuse collection points because of the stifling heat and poor ventilation.

According to the Hong Kong Observatory, temperatures in July broke 11 records, becoming the city's hottest month on record. Twenty-one "hot days" were recorded that month, with daytime temperatures reaching 33 degrees or above.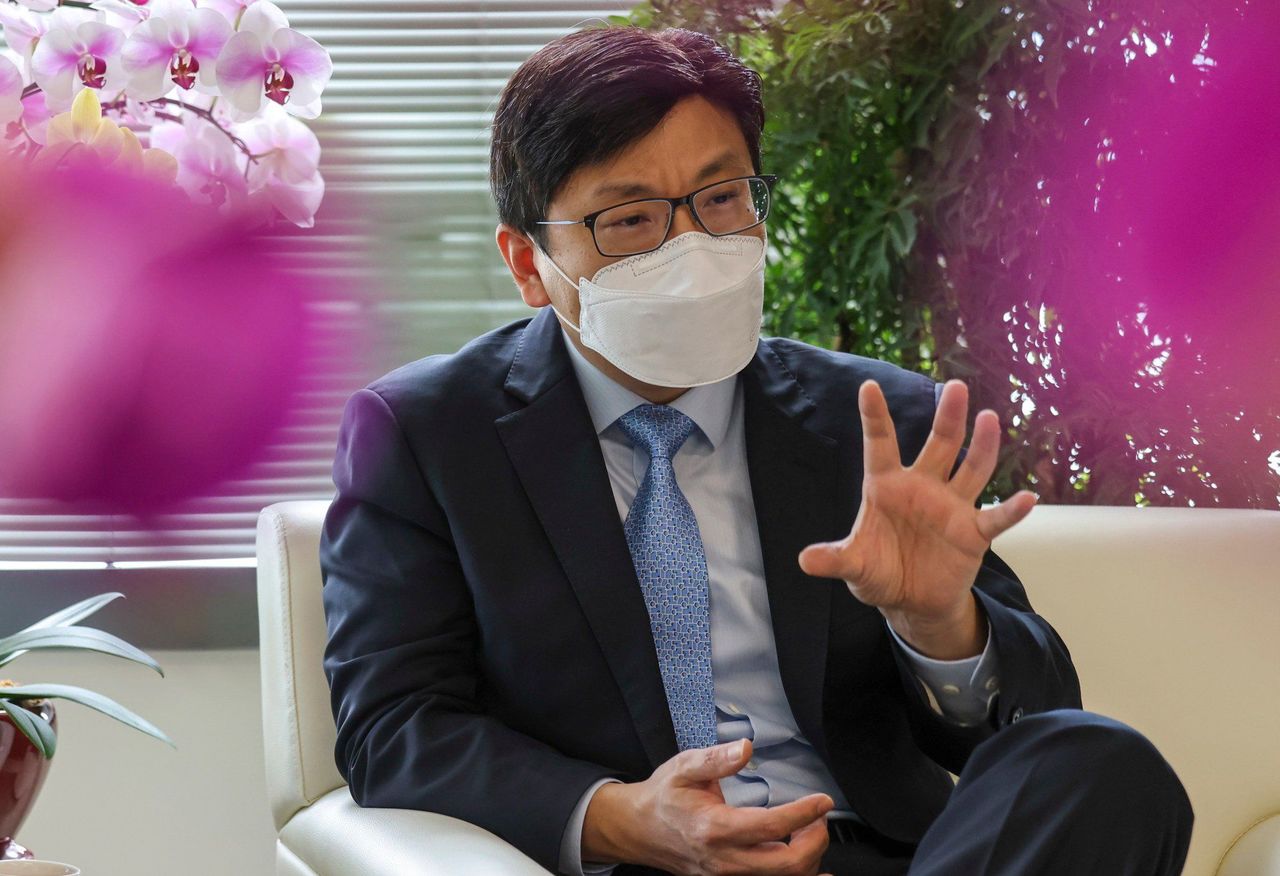 Secretary for Labour and Welfare Chris Sun.

The Association for the Rights of Industrial Accident Victims said at least five outdoor workers had died on the job since June, possibly because of the heatwave.

Despite calls from unionists to amend the Employees' Compensation Ordinance, Secretary for Labour and Welfare Chris Sun Yuk-han last month said it would be inappropriate to add heatstroke to the list of occupational diseases.

Oxfam attributed the survey findings to poor ventilation at refuse collection stations, which led to stale, humid air and pest problems.

About half of the cleaners polled said they would not rest inside garbage stations due to poor hygiene and a lack of proper space, with Oxfam noting such areas did not provide air conditioning or windows and were located close to where garbage was stored.

The charity also found that the work environment had declined after refurbishment and rebuilding, with 27 per cent of respondents reporting pest issues during the survey. That compared with 18 per cent of those working at old collection points.

Food and Environmental Hygiene Department statistics show that nine refuse collection points were renovated in the 2020-21 financial year, with 20 more to be done in 2021-22 and 2022-23.

Wu Mei-lin, secretary general of the Hong Kong Women Workers' Association, said that with measures in place to avoid odours reaching the street, refuse collection points had become "wetter, smellier and more buggy" after refurbishment.

She also accused the government of failing to consider the well-being of cleaners working inside the stations and to provide them with an environment to work in a healthy and dignified manner.

"They only focus on garbage disposal, but not outdoor workers," Wu said.

Oxfam suggested that authorities separate employees' rest areas from their workspaces, offer high-temperature allowances and establish guidelines to allow outdoor staff to stop work under sweltering weather without deducting their pay.

The Labour Department told the Post it was currently developing guidelines to require employers to take preventive measures to minimise the risk of heat stress for workers.

Meanwhile, the Food and Environmental Hygiene Department said it "attached great importance to the work safety and occupational safety and health arrangements" of cleaning workers, regardless of whether they were directly employed by the government or through outsourced contractors.

"The department not only provides employees with protective clothing and drinking water but also requires supervisors to make flexible work arrangements according to the needs of the situation," a spokesman said.