High-risk individuals should be tested for the coronavirus once a week as safeguard against the more infectious strain, experts say.
Unvaccinated Hong Kong residents at higher risk of coronavirus -related complications should undergo testing every week as an added precaution against the more contagious Delta variant, two top infectious disease experts have suggested.

Hong Kong confirmed four Covid-19 infections on Tuesday, taking the city's overall case count to 12,019, with 212 related deaths. All of the new cases were imported, and involved arrivals from Germany, France, Thailand and the United States.

Three of the patients had been fully vaccinated against the coronavirus. Experts have noted that while the Covid-19 jabs do not offer ironclad protection against infections, they do vastly reduce the likelihood of serious illness.

Also on Tuesday, the Hospital Authority announced it would expand its Covid-19 vaccine allergy assessment service to all its seven clusters after a "rapid and continuous surge" in cases at its pilot scheme at Grantham Hospital.

The authority said there was currently a backlog of 4,000 cases at the hospital, with 1,200 involving people who experienced allergic reactions after receiving a Covid-19 vaccine, and 2,800 with a history of allergies who had sought advice before vaccination.

Its assessment service so far had concluded that nearly 98 per cent of those in the latter category were eventually confirmed to be suitable for vaccination, the authority added.

Dr Ho Pak-leung of the University of Hong Kong.

The University of Hong Kong's Dr Ho Pak-leung proposed stepped-up testing for high-risk, unvaccinated individuals, weeks after the city said it would require civil servants who refused to get their shots to take nasal and throat swab tests twice a month at their own expense starting in September.

"Taking tests every two weeks is not sufficient, as we are now fighting the Delta variant, not the original virus. When you look at some practices overseas, they require the high-risk population to be tested twice a week," Ho told a radio programme.

"Those regarded as high risk from the virus [in Hong Kong] might have to be mentally prepared to be required to take tests every seven days."

Pointing to even more stringent policies in the United States and some European countries forbidding unvaccinated people from taking public transport and dining in restaurants, Ho argued it would be "reasonable" for the Hong Kong government to implement more frequent mandatory testing.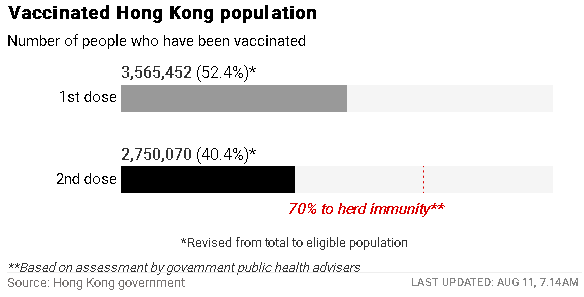 Another respiratory medicine specialist, Dr Leung Chi-chiu, said he also believed the Delta variant necessitated more frequent testing, as the mean incubation period for the strain was just 4.4 days, shorter than the original's five to six.

Hong Kong's large population could lend itself to more "biological variation", which could in turn lead to some patients' symptoms emerging even quicker, he added, arguing earlier testing could detect those infections.

Ho also said he believed more higher education institutions in the city would soon adopt policies similar to one announced by the Hong Kong University of Science and Technology blocking unvaccinated and untested students from entering its campus.

But before adopting such heightened measures, he continued, the management of universities and workplaces should proactively communicate their strategies to students and employees to address their concerns.

"'Mandatory' could sound like a drastic word. The success of the drive lies in good communication … [management] should explain more about the necessity of taking jabs at an earlier stage before the school term resumes," he said.

Ho added that strong evidence from various countries showed that vaccinations had significantly reduced death and hospitalisation rates. Hong Kong's vaccination rate still lagged well behind many developed countries.

From Wednesday, the city government will allow residents aged 60 and up to turn up at Covid-19 community vaccination centres without an appointment.

On another radio programme, Dr Ares Leung Kwok-ling, operating officer for Town Health International Medical Group, said he believed his venue could handle the expected increase in demand for the jabs.

"There is no pressure for us, as our daily capacity is about 200 … When only elderly people aged above 70 were allowed, about 100 showed up without an appointment every day," he said.

To boost local vaccination rates, he suggested the government further lower the age threshold for walk-ins and better promote the safety of vaccination among the elderly.