But priority should be given to elderly, people with weak immunity and workers with high exposure to virus, joint scientific committee says.
Everyone who has received two doses of China's Sinovac vaccine should get a booster shot, experts advising Hong Kong's government have recommended, with priority given to the elderly, those with weak immunity and workers with high exposure to the disease.

The Centre for Health Protection's joint scientific committee issued the advice on a third dose to protect against Covid-19, but did not give a time frame, after a meeting on Wednesday.

"For those receiving CoronaVac ... we recommend the entire population get the third dose in the future," said the centre's controller Dr Edwin Tsui Lok-kin, referring to the trade name of the vaccine made by Sinovac.

Tsui said the immunocompromised and people aged 60 or above should receive the booster shots first.

The committee also recommended that only high-risk groups who had taken the German-made BioNTech vaccine, the other one being offered in the city, should take the booster shot for now.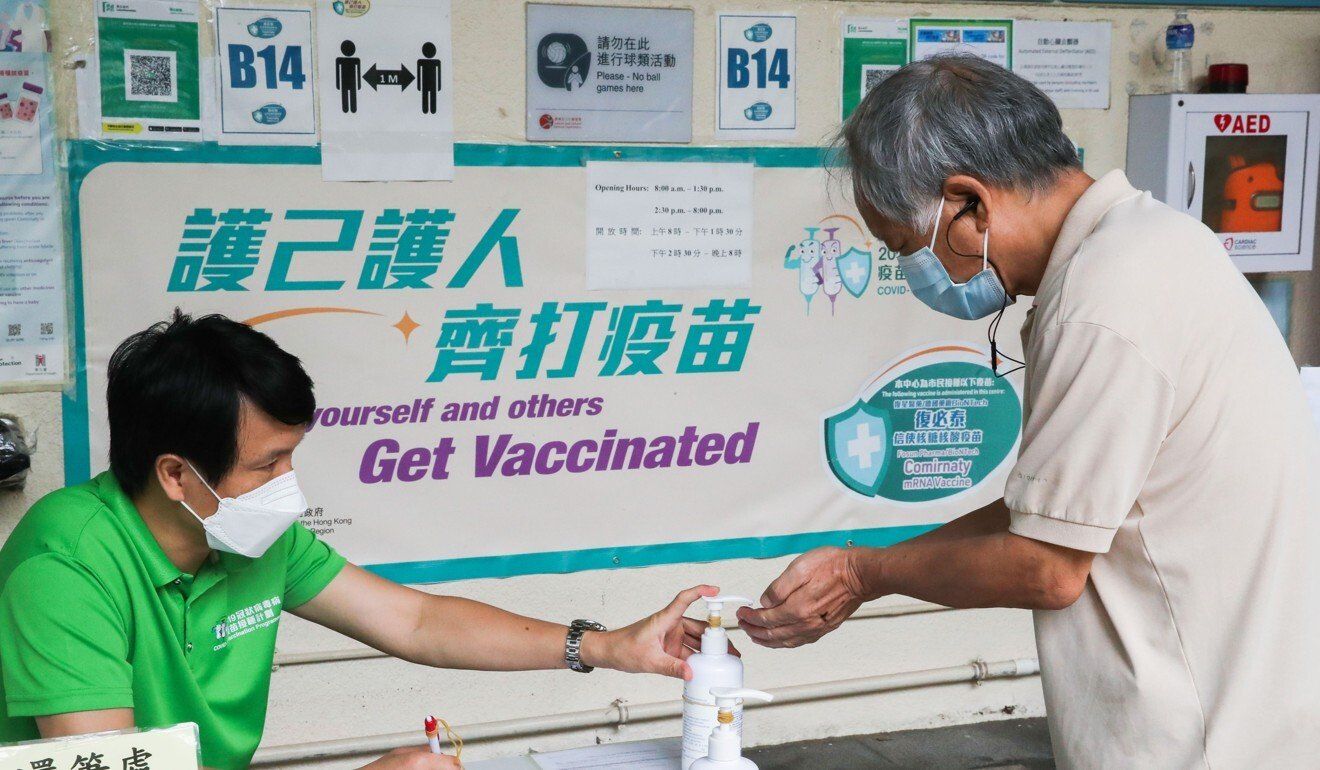 BioNTech shots are administered at Choi Hung Road Badminton Centre.

Tsui said health authorities would need time to decide the best way to deliver the extra round of jabs but he assured the public it would not take long.

The experts suggested that people who had previously taken Sinovac could stay with the brand for their booster shot if they were concerned about possible side effects, such as feeling tired or muscle pain.

But they could consider switching to BioNTech if they wanted greater protection against the disease as those jabs raised antibody levels higher, they said.

While studies had shown that antibodies produced by BioNTech declined over time, Tsui said residents who were not deemed at high risk should not be concerned with taking a third shot as their immunity was still deemed sufficient.

As Hong Kong heads into flu season, residents have been concerned about whether they can take influenza jabs at the same time as coronavirus vaccine doses.

The World Health Organization has said that flu vaccines could be administered at the same time as jabs against Covid-19. But the experts said they supported maintaining Hong Kong's existing approach of spreading out the two types of shots by at least two weeks.

"Under the zero-Covid strategy, we have enough time to adopt a careful approach to separate the administration of two vaccines by 14 days, so we can clearly distinguish whether one of them causes any side effects," panel member Professor Lau Yu-lung said.

While health minister Sophia Chan Siu-chee has previously offered assurances that the city's stockpile of 7.5 million Sinovac shots and an equal number of BioNTech doses would be enough to supply third jabs, Tsui said authorities would need to carefully assess the demand before making any decisions about buying more vaccines.

"Based on the amount of vaccines we currently have and people's choice [of jabs], we could procure more from the pharmaceutical firms if necessary," he said.

In addition to the elderly and people with weak immune systems, boosters are recommended for residents who are likely to face greater exposure to the virus, such as health care professionals, cross-border drivers, airport workers, quarantine hotel staff and care home employees.

For the immunocompromised, such as cancer patients, people who have undergone organ or bone marrow transplants, dialysis patients, people with HIV/Aids or those taking drugs that suppress the immune system, the experts recommended a minimum four-week wait between a second Covid-19 vaccine jab and the booster shot.

For the elderly and those at high exposure risk to the virus, the recommended interval between the second and the third shots is six months.

A handful of local studies have examined the effects and safety of a third dose. Several members of the Executive Council have also received a third jab as part of a study conducted by the Hong Kong Sanatorium and Hospital.

Earlier this month, the WHO recommended that the immunocompromised should get an additional shot as should people aged 60 or above who had received shots made either by Sinovac or Sinopharm, another Chinese company.

So far 4.6 million people, or 68.3 per cent of the eligible population, have received at least one dose of Covid-19 vaccine in Hong Kong. The total number of doses administered surpassed 9 million on Wednesday.

A number of countries around the world have already started administering booster shots to their residents. Singapore, the United Kingdom and the United States have started giving them out to specific groups such as the elderly and people with weak immunity, while Israel is among a handful of countries administering the extra jab to every fully vaccinated person.

The move to bolster the city's defences against the spread of the coronavirus came a day after the government announced that an extra 14 days in quarantine would be required for recovered Covid-19 patients discharged from hospitals, prompting a leading public health expert to criticise the policy as "ridiculous" and "unethical".