More than 15,000 pupils have dropped out of the primary and secondary school system, latest official figures show.
Hong Kong educators have warned of an increasing exodus of pupils as part of a wave of emigration following the introduction of the national security law
, after the latest official data showed more than 15,000 students had quit school in a year.

To cope with the shift in local demand for education, authorities should reallocate resources to improve standards and help schools suffering from a high dropout rate to allow smaller classes and the option of running more foreign curriculum programmes, they said on Monday.

Secretary for Education Kevin Yeung Yun-hung pledged officials would address the issue.

"Hong Kong is a free society," Yeung said. "Of course there are people leaving Hong Kong. They are free to make these choices. In terms of the changes in the number of students, we've been staying in contact with schools ... If the changes are long-term and structural, we will think of long-term solutions."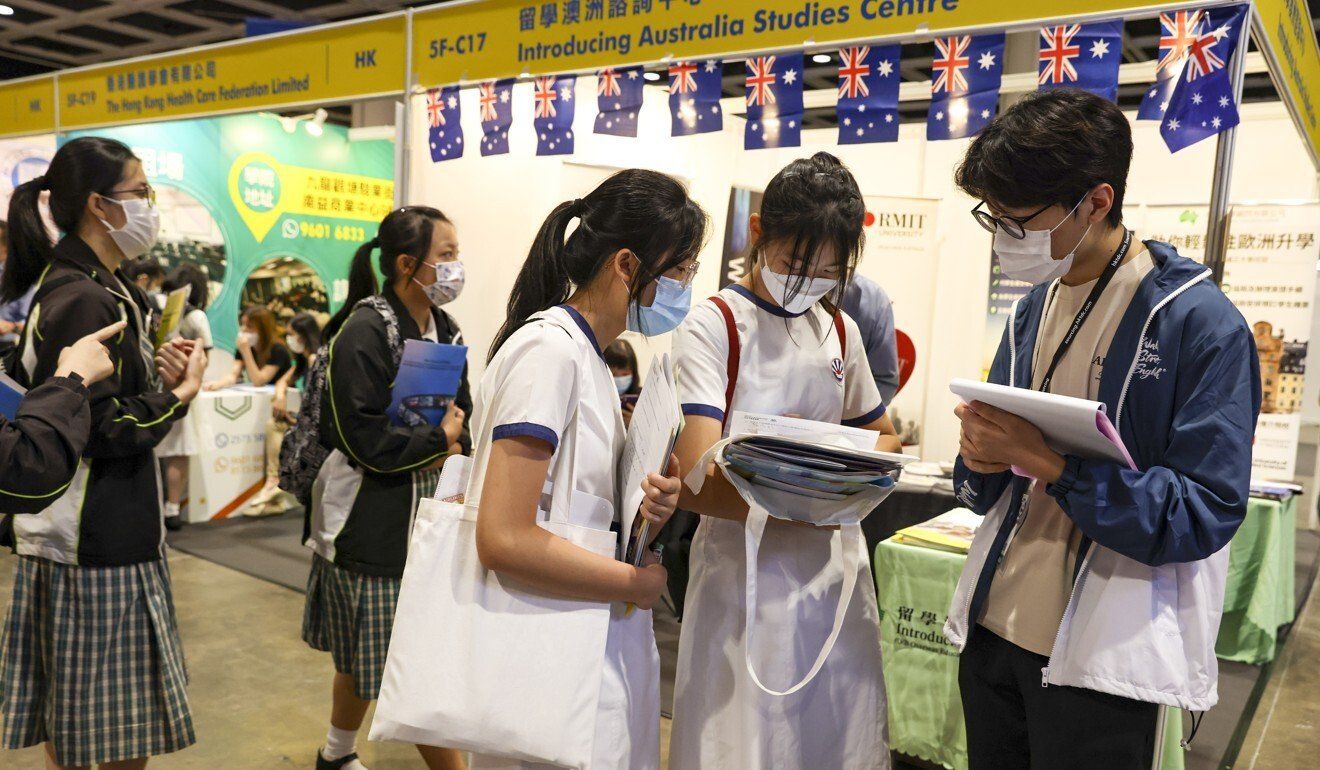 Students at the education and career expo.

Yeung said the Education Bureau would have a better grasp of the situation after the city's borders reopened as the Covid-19 pandemic was brought under control and the new school year began in September.

A number of students who live just over the border in mainland China but study in Hong Kong have been affected by the travel restrictions and the months of suspended in-class learning.

According to the bureau's latest data, 690,965 students were enrolled in primary and secondary schools as of October last year, down by more than 15,000 from 706,422 registered in 2019.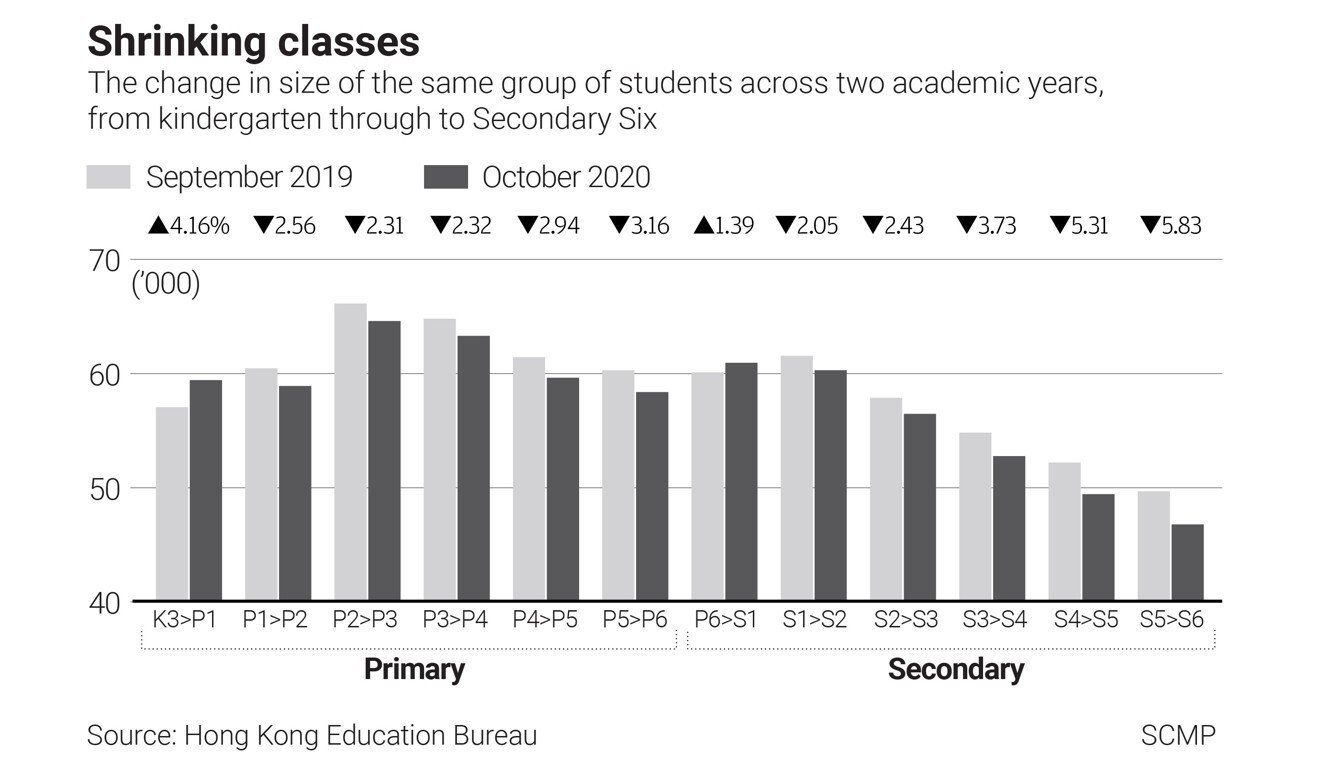 Primary schools had 364,357 pupils enrolled in 2020, more than 5,900 fewer than in the previous year, representing a 1.6 per cent decline. The decrease in secondary schools was sharper – they had a total student body of 326,708, down by more than 9,500, for a decline of 2.84 per cent.

Some educators warned the exodus of students could be more severe than thought, noting the report failed to reflect the latest wave of migration, especially to Britain.

The country has created a new pathway to citizenship for Hong Kong residents eligible for British National (Overseas) status. Beginning January 31, they could apply to live and work in Britain and, after six years, apply for citizenship. More than 34,000 Hongkongers applied in the first two months of the scheme.

Britain, Australia and Canada have all announced new immigration pathways for Hongkongers after the imposition of the national security law in June of last year banning acts of secession, subversion, terrorism and collusion with foreign forces.

Principal Dion Chen, chairman of the Hong Kong Direct Subsidy Scheme Schools Council, noted the bureau's report did not reflect the current situation in education demand.

"Many families have only started to leave Hong Kong this summer so the latest report has failed to reflect the real situation about student exodus," he said. "They want to leave as they feel uncertain about Hong Kong's future."

Principal Kelvin Yau Siu-hung, chairman of the New Territories School Heads Association, agreed, saying more students and their families were likely to leave for other countries as immigration channels opened further.

They urged the bureau to introduce flexible policies to assist schools suffering from a high dropout rate.

"I don't want to see schools being forced to shut down because of low student intake rates," Chen said. "The government could start to make long-term planning. There are many ways to rescue schools and retain students, such as allowing schools to open more foreign curriculum programmes so students could have more choices."

Yau said: "The government could put in place interim measures allowing schools to hold more small classes."

Fung Wai-wah, president of Professional Teachers' Union, agreed, saying the authorities should reallocate resources to increase the number of small classes in both primary and secondary schools and improve the teacher-student ratio.

"The government should face the reality and stop evading the issue," Fung said.

A bureau's spokeswoman noted that secondary schools with more than 26 students could open two small classes for a minimum of 13 students each, while the minimum requirement for primary schools was 24 students for two small classes. "The requirements are already very low," she said.