But mask-wearing will still be enforced in certain premises, such as healthcare facilities, sources say.
Hong Kong is expected to lift its controversial mask mandate as early as Wednesday, the Post has learned, in a much-sought after end to the last of the major Covid-19 restrictions imposed nearly three years ago.

Sources on Monday said the requirement for the facial coverings both indoors and outside would be scrapped at the same time. The announcement was likely to be made on Tuesday, they said, with one source expecting the move to take effect the following day.

Hong Kong's mask mandate came into effect in July 2020 and had been renewed every two weeks, with the latest administrative period set to end on March 8.

Neighbouring Macau on Monday lifted its outdoor mask requirement, although many residents and tourists said they would still continue to wear them.

But even after Hong Kong followed suit, mask-wearing would still be enforced in certain premises, such as healthcare facilities, the insiders said. The public would also be recommended to put on masks in public transportation, they said.

Currently, only people visiting country parks or doing strenuous physical activity are exempt from wearing the coverings outdoors.

Macau Chief Executive Ho Iat-seng visited Hong Kong on Saturday and met city leader John Lee Ka-chiu. While the government said the two leaders focused their talks on deepening cooperation and exchanges in the context of the Greater Bay Area, no mention was made about lifting remaining pandemic restrictions.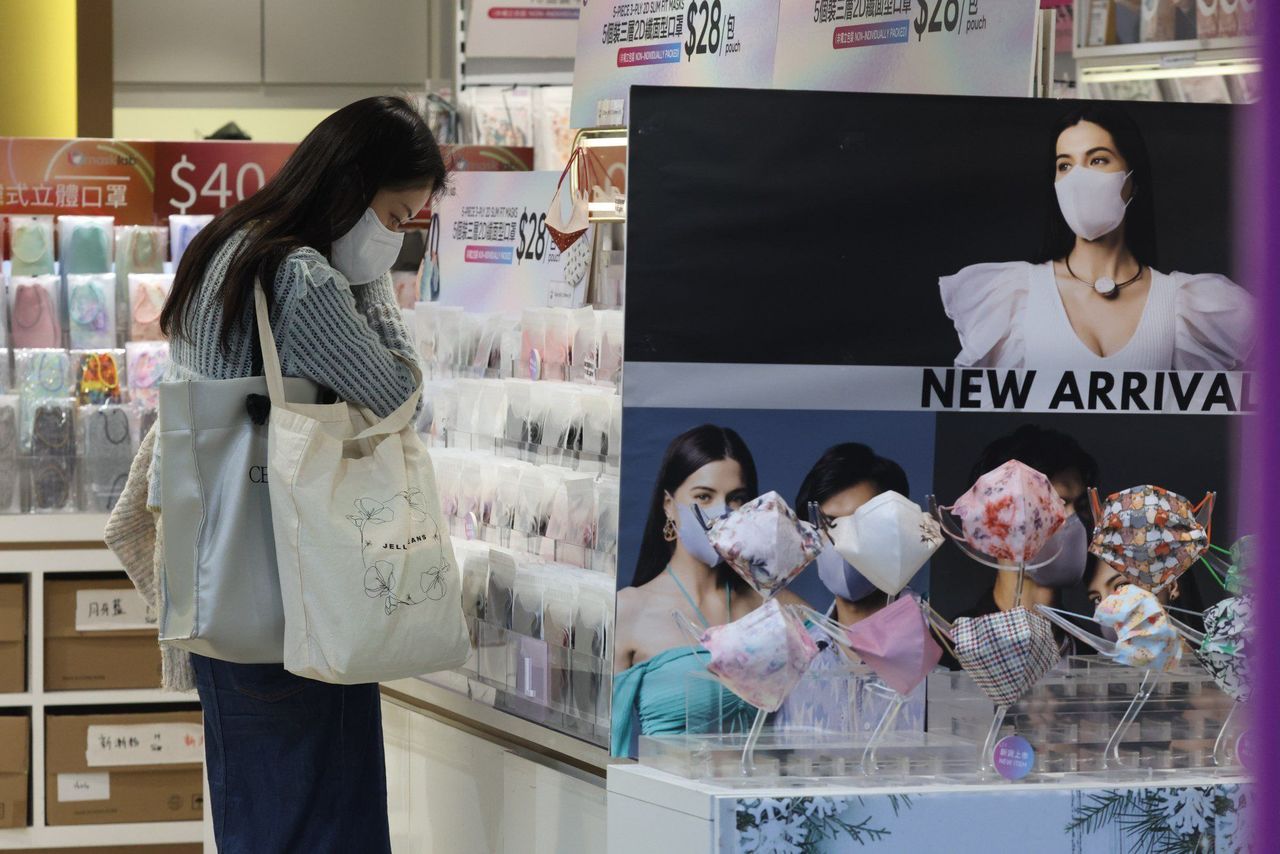 A shopper browsing masks at a store in Mong Kok.

Lee was scheduled to visit Macau on Thursday, with Beijing's bay area vision integrating 11 southern Chinese cities again expected to be among the priorities of the discussions.

When pressed at a Post forum on Monday about lifting the mask mandate, finance chief Paul Chan Mo-po declined to give details, only offering assurances the move would come "soon".

Over the past several months, Hong Kong has gradually eased what was once among the most aggressive pandemic control regimes in the world. From Wednesday, visitors to public hospitals only need to present a negative rapid antigen test conducted within 24 hours before their arrival.

Medical experts have long urged authorities to drop the mask policy, noting the population had already acquired a high level of hybrid immunity.

"Mask-wearing cannot fully prevent a Covid outbreak, as we can see from the fifth pandemic wave last year," Dr Siddharth Sridhar, a clinical assistant professor in microbiology at the University of Hong Kong on Monday said.

"As to preventing influenza, we have never relied on a mask mandate either."

Under Cap 599I Prevention and Control of Disease (Wearing of Mask) Regulation, the government legislation that covers the mandate, residents have been subject to on-the-spot fines of HK$5,000 (US$637) for flouting the rules. Authorities raked in HK$750 million for breaches of Covid-19 rules in the 2022-23 financial year, according to the city's budget blueprint released earlier this month.