The self-financing Examinations and Assessment Authority says its surplus fell by 23 per cent last year, and expects to log a deficit for this year and the next.
Hong Kong's cash-strapped examination authority on Friday said it would explore new revenue streams in the Greater Bay Area to help sustain its operations after reporting that its surplus for the last financial year had dropped by 23 per cent compared to the one before.

The Examinations and Assessment Authority also projected a HK$13 million (US$1.7 million) deficit for this year amid a continuous drop in pupils taking local university entrance exams, despite HK$360 million in subsidies being earmarked for the body by the government between 2018 and 2022.

Things were only expected to get worse when that four-year period ends, with the authority predicting a deficit of $98 million for the 2022-23 financial year, largely because of losses associated with holding public exams.

The self-financing authority's main function is to hold public exams in Hong Kong and administer various international and professional assessments in fields such as music and the arts.

According to the authority's latest financial report for 2019-20, its overall surplus was about HK$17.4 million as of last August, down 23 per cent from HK$22.7 million the previous financial year.

Income generated from holding the Diploma of Secondary Education (DSE) university entrance exams dropped by HK$4.4 million to about HK$210.6 million in 2019-20, mainly because fewer pupils were taking the tests because of the city's lower birth rate. Only about 52,000 candidates took the DSE exams in 2020, compared to 56,000 in 2019.

The number of candidates taking international and professional exams in 2019/20 also dropped to just 162,000, down 43.8 per cent compared to the year before, which the authority attributed mainly to tests being cancelled because of the 2019 social unrest and the ongoing coronavirus pandemic.

During a Legislative Council meeting on Friday discussing the exam body's long-term funding and operations, the authority's secretary general, So Kwok-sang, said they would be exploring opportunities in the mainland Chinese cities located in the Greater Bay Area.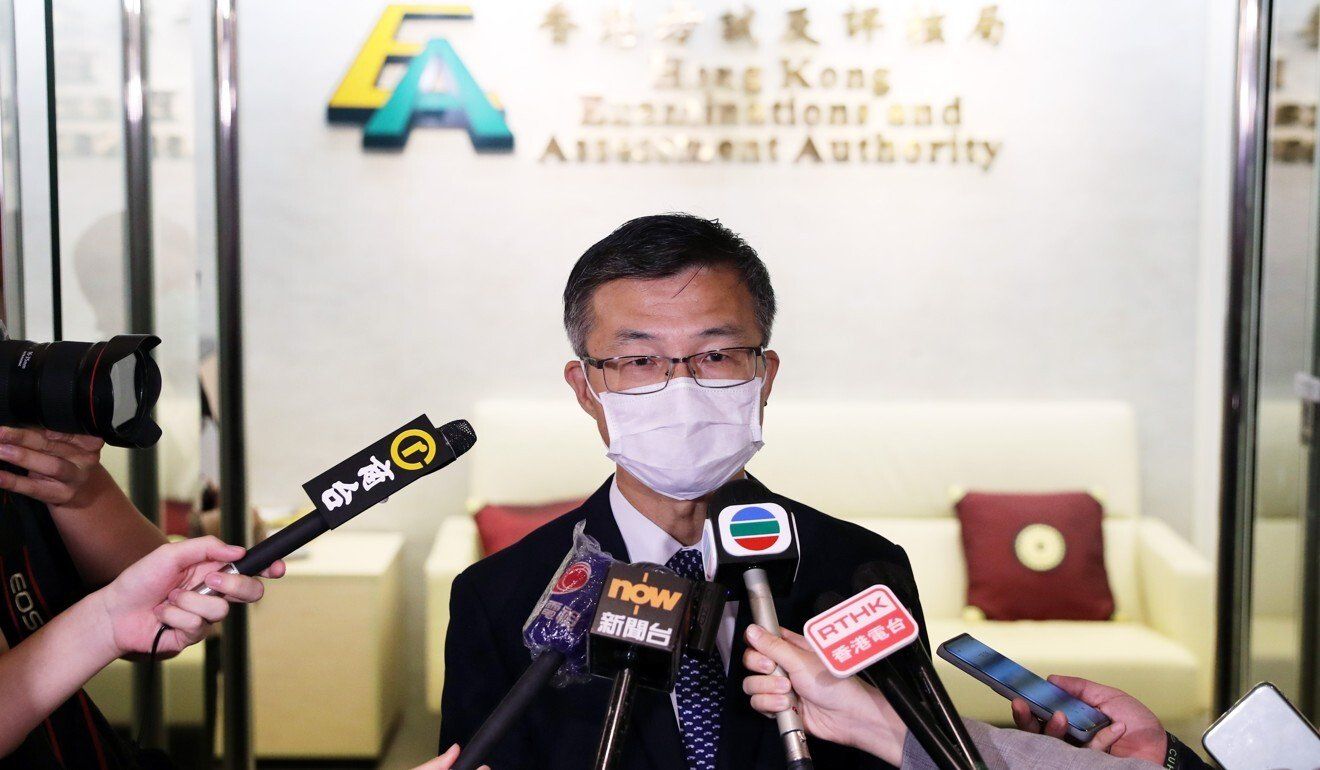 Hong Kong Examinations and Assessment Authority secretary general Dr So Kwok-sang.

The bay area scheme comprises Hong Kong, Macau and nine cities in Guangdong province, which Beijing hopes to integrate and transform into a technological and economic powerhouse to rival California's Silicon Valley by 2035.

"The exam authority holds an active and open attitude towards opportunities in the Greater Bay Area, but any plans would involve many regulations, which requires discussions with the mainland Chinese government," So told lawmakers.

"Even if we want to open exams and assessment centres in mainland China, it does not mean it can automatically happen. This takes time … and we would also consider other factors, such as the needs of the candidates and cost effectiveness."

So added that the exam body, which was established in 1977, would also review its manpower, workflow and resources, as well as look into holding some DSE exams online in the long run to lower costs.

It was also disclosed in Friday's meeting that the government was considering increasing its funding to subsidise candidates with special needs, as well as identifying suitable vacant school sites where the authority could develop an exam and assessment centre so as to save up to HK$10 million annually on rent.

But Secretary for Education Kevin Yeung Yun-hung said the government had no plans for now to change the authority's status as a self-financing body.

"Over the past few years, there was a time when the authority could balance its income and expenditures and could even distribute some bonuses to staff members," he said.

"That's why we have reviewed their operations amid a drop in pupils taking public exams."