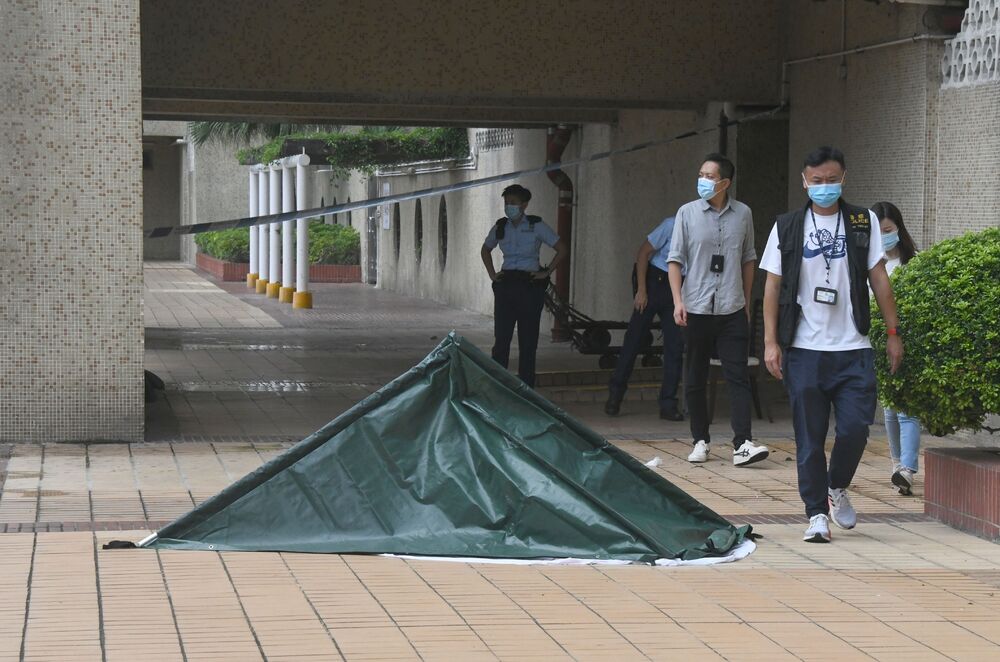 Ex-tax officer dies in murder-suicide
A 66-year-old man stabbed his 60-year-old wife with a 30-centimeter kitchen knife before plunging to his death from their high-rise unit above a Tuen Mun mall.
The man, Leung, jobless, was declared dead on the fourth-floor podium of Tuen Mun Town Plaza on Tuen Shun Street at 3.57 am today.

His wife, Fu, a civil servant, who was found unconscious in the unit above block 4 of the mall's phase one, later died in Tuen Mun Hospital at 5.25 am.

Earlier, Leung, who had lived with Fu in the unit since 2016, was understood to have assailed Fu with the kitchen knife while the latter was falling asleep, police said.

Leung then leaped to his death from the unit for fear of punishment.

At 3.40 am, a citizen reported to the police after hearing a loud bang on the fourth-floor parking lot of the mall and found Leung lying unconscious on the podium nearby.

At 3.57 am, ambulance men arrived at the scene, with Leung pronounced dead.

Later, police went up to the unit and broke the door open after nobody answered the door.

"The woman [Fu] was found lying unconscious in bed with the kitchen knife beside her," Assistant District Commander of Tuen Mun District Crime Wing Lam Hing-cheung said.

"We found a 10-centimeter knife wound on the woman' neck near the throat, a 2.5-centimeter wound on her face near the eyebrows and a 5-centimeter wound on her lower lip."

Fu was then taken to Tuen Mun Hospital, where she was declared dead.

Lam said there were no signs of ransacking in the unit, but the window grilles there were found to have been removed.

"The spot where Leung was found aligns with the direction of the unit's window," he said.

He said neighbours of the couple did not hear a quarrel or other noises at the time of the incident.

Lam also said the couple, who were childless and had been married for almost 40 years, had maintained a good relationship with no records of domestic violence.

"Police will investigate from the aspects of murder and suicide and look into the motive for the attack - if it was related to relationship, physical and mental illnesses and financial situation," he said.

The case has been classified as murder and suicide by the police.