Sixtus Baggio Leung is challenging at the Court of Final Appeal his conviction for unlawful assembly, when he barged into a Legco meeting to try and take his oath.
Ousted Hong Kong lawmaker Sixtus Baggio Leung Chung-hang has made a last-ditch attempt to challenge his criminal conviction for storming a Legislative Council meeting five years ago in a bid to take his oath of office.

Leung lost his first appeal against conviction last September for taking part in an unlawful assembly, with the High Court finding the 34-year-old had displayed violent behaviour involving illegal force during the chaotic incident on November 2, 2016.

Upon serving his four-week jail term, Leung left Hong Kong for the United States in November last year, to seek asylum from "profound political persecution".

He is understood to be among 30 fugitives currently overseas who are wanted in Hong Kong on suspicion of violating the national security law imposed on the city by Beijing last year.

But Leung has not given up his appeal and the top court has agreed to hear it in his absence.

The appeal raised a significant point of law on the proper construction of the phrase "likely to cause any person reasonably to fear" in the unlawful assembly offence created by the Public Order Ordinance.

On Tuesday, his counsel Douglas Kwok King-hin argued that prosecutors must prove the defendant knew, intended or was reckless as to whether his involvement in a public assembly would cause others to reasonably fear a breach of the peace, such that the accused could not be held liable for any fear he unknowingly caused.

Otherwise, that would inculpate an innocent person who could not know the consequences of his conduct, Kwok said.

"It's of fundamental importance that the defendants be allowed to explain," Kwok continued. "They're entitled, under protection of fundamental rights, to conduct themselves in an insulting or provocative manner short of inciting violence."

A defendant might mistakenly believe his conduct would not cause fear, or as seen in the present case, be reckless to that fear, as Leung believed his behaviour was justified, which the trial magistrate had overlooked, Kwok said.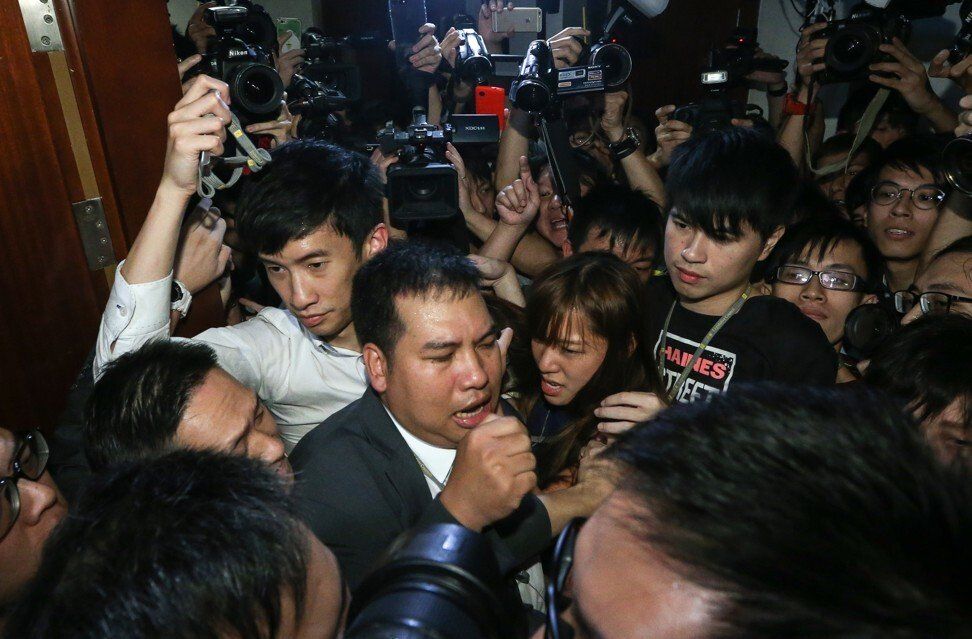 There were chaotic scenes in Legco in 2016 when Baggio Leung and another lawmaker stormed a meeting.

Acting deputy director of public prosecutions Jonathan Man Tak-ho countered that the ordinance clearly stipulated two modes of committing the offence: one with the intent to cause fear; the other engaging in disorderly or prohibited conduct that was likely to cause fear.

Given there was no mention of intent in the second scenario that was encapsulated in the disputed phrase, Man argued that prosecutors were not required to prove the mental element as alleged.

Man also pointed out the ordinance's main objective was to maintain public order and so the prohibition on unlawful assemblies was preventive in nature, to "nip in the bud" the serious consequences that might arise from any possible breach of the peace.

The five judges at the Court of Final Appeal, who included Chief Justice Andrew Cheung Kui-nung, have reserved judgment.

The case was part of an oath-taking saga in 2016 triggered by Leung and Yau Wai-ching's anti-China antics during their swearing-in ceremony on October 12 that year, which caused them to be barred from the chamber.

The National People's Congress Standing Committee in Beijing issued an interpretation of the Basic Law, Hong Kong's mini-constitution, the following month, ruling public officials were required to take their oaths "sincerely" and "solemnly".

Leung and Yau, 29, were officially unseated by the High Court on November 15 – 13 days after they stormed the meeting.