Applications are being accepted for single and double rooms at Po Leung Kuk's 27-storey youth hostel in Yuen Long.
The largest hostel project for young Hongkongers so far, developed by charity Po Leung Kuk, opened for application on Monday, with the first batch of tenants expected to move in as early as May.

The 27-storey hostel in Yuen Long offers 1,680 places for eligible residents aged between 18 and 30 to support the government's scheme to provide affordable housing for the city's younger generations and build a better future for them.

As of 5pm on Monday, the project had received nearly 500 applications, according to the charitable organisation.

The Post outlines all you need to know about the hostel, including who is eligible, how they can apply, how much they will pay and how long they can stay.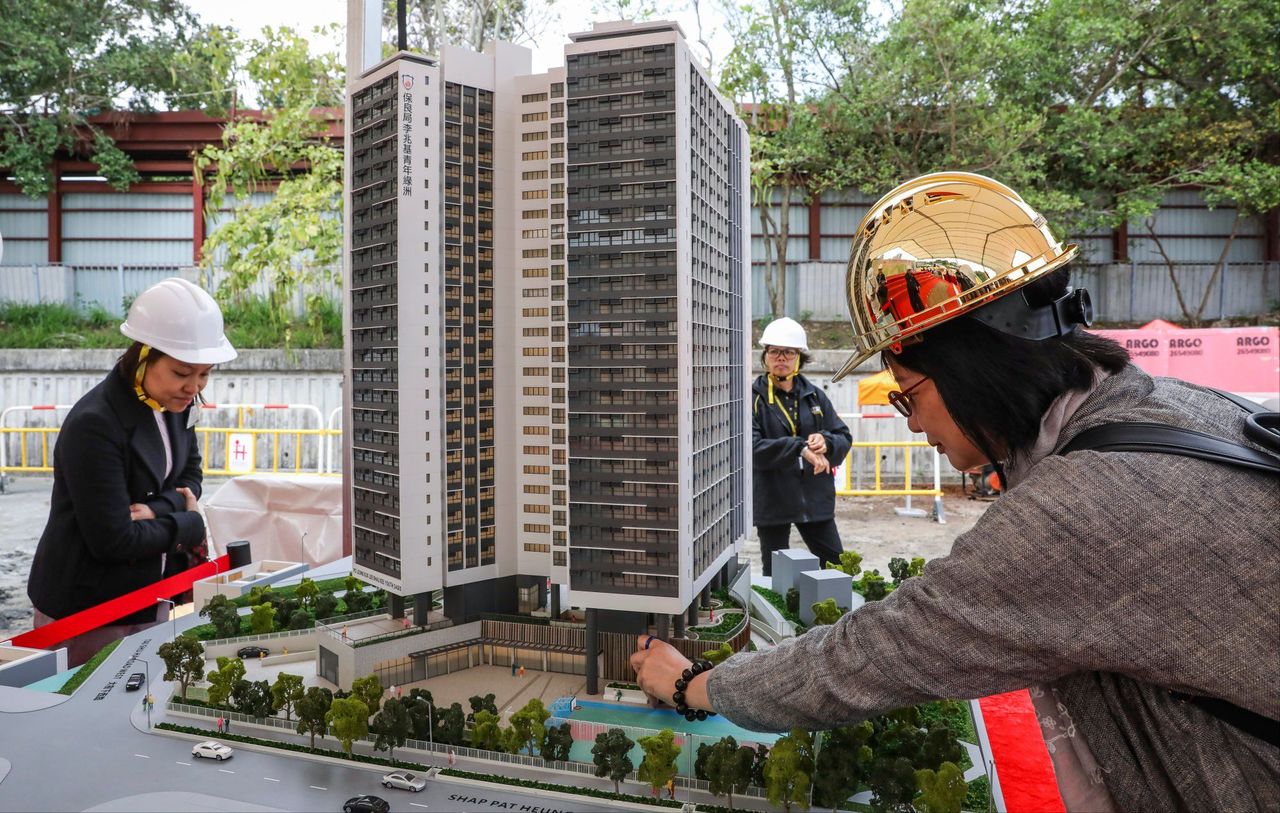 Po Leung Kuk Lee Shau Kee Youth Oasis in Yuen Long is no longer a model. The project has been completed and is open for applications.
1. Who built the hostel and why?

Po Leung Kuk developed the 27-storey youth hostel named Po Leung Kuk Lee Shau Kee Youth Oasis, located at 18 Tai Shu Ha Road West, Yuen Long.

The land was donated by the Lee Shau Kee Foundation Fund, while the construction cost was funded by the government.

The hostel has 816 single rooms with an area of about 179 to 214 sq ft each, and 432 double rooms with an area of about 199 to 240 sq ft each.


2. How much is rent and how long can tenants stay?

The rooms are charged at 50 per cent of the market rental rate.

The monthly rent of a single room ranges from HK$2,950 (US$375) to HK$3,750, while a double room costs between HK$3,100 and HK$4,200 a month.

The amount depends on the size of the room, the floor it is on, the direction it faces and other factors.

The rooms are available on two-year contracts for the first lease, which can be renewed, but the maximum period is capped at five years.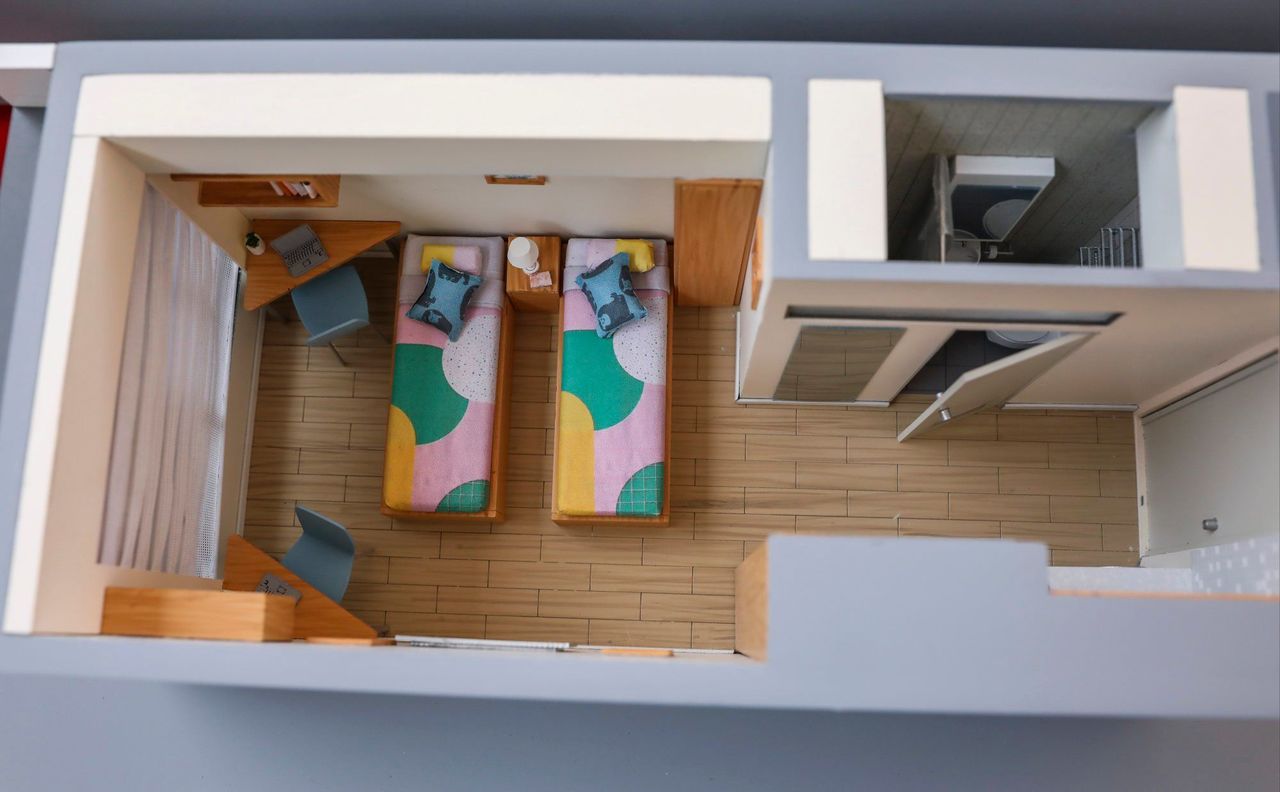 A model of a unit in Po Leung Kuk's youth hostel.
3. Who is eligible to apply?

Eligible applicants must be Hong Kong permanent residents aged between 18 and 30 as of March 31.

They must work full-time, part-time or be self-employed, but full-time students are excluded.

Those applying for single rooms must have an average monthly income of no more than HK$25,000 and a total net asset value of no more than HK$380,000.

Combined income for applicants seeking double rooms is capped at HK$50,000 a month on average, while their joint total net asset value must not exceed HK$760,000.

Applicants must not own any residential property.


4. How to apply?

Applications opened on March 13. They can only be made online. Click here to apply.

Applicants must complete online forms and upload documents, including their Hong Kong ID cards and proof of address, income and assets.

Po Leung Kuk says it will hold a first round of drawing lots to decide the interview priority on April 4 for applications submitted before or on 11.59pm on April 3.

Interviews will be arranged from April, while the first batch of successful applicants is expected to take occupation from May.


5. What is the government's youth hostel scheme?

Secretary for Home and Youth Affairs Alice Mak Mei-kuen on Monday said that Po Leung Kuk's project was the biggest of its kind under the authorities' youth hostel scheme, with the government's funding of HK$1.44 billion being the highest amount granted so far.

Speaking at a ceremony marking the opening of the applications, Mak said the project would also offer tenants training and life skills.

Po Leung Kuk would also arrange for the tenants to join volunteer services, such as visiting and supporting the elderly living alone, children and people with disabilities, she said.

"To meet the aspirations of some working young people in having their own living space and unleash the potential of development sites, the government has launched the 'Youth Hostel Scheme'," she said.

Under the scheme, announced by the authorities in the 2011-12 policy address, non-governmental organisations are fully funded by the government to construct youth hostels on their under-utilised sites and, upon completion, operate the facilities on a self-financing basis.

Aside from Po Leung Kuk's facility, the Hong Kong Federation of Youth Groups' hostel in Tai Po has been completed and began operating in March 2020, providing 80 places for residents.

Other projects under construction or planning include ones by the Hong Kong Girl Guides Association in Jordan, Tung Wah Group of Hospitals in Sheung Wan, Hong Kong Association of Youth Development in Mong Kok, Hong Kong Sheng Kung Hui Welfare Council in Yuen Long and Salvation Army in Wan Chai.

The authorities estimated the seven projects would provide more than 3,400 hostel places.

Chief Executive John Lee Ka-chiu announced in his policy address last October that the government would expand the scheme, including through subsidising non-governmental organisations to rent hotels and guest houses for use as youth hostels, with the target of providing about 3,000 additional places within five years.

Under his plan, young tenants will be charged rent of about 60 per cent of the market level, and in return, they have to commit to providing district or volunteer services.

The authorities will also identify suitable land sale sites and require developers to set aside a certain number of flats to support the scheme on a pilot basis.

Tenants of Po Leung Kuk's hostel would not be required to do community service, but they would be encouraged to do so, the group's chairman Daniel Chan Ching-yan said on Monday.