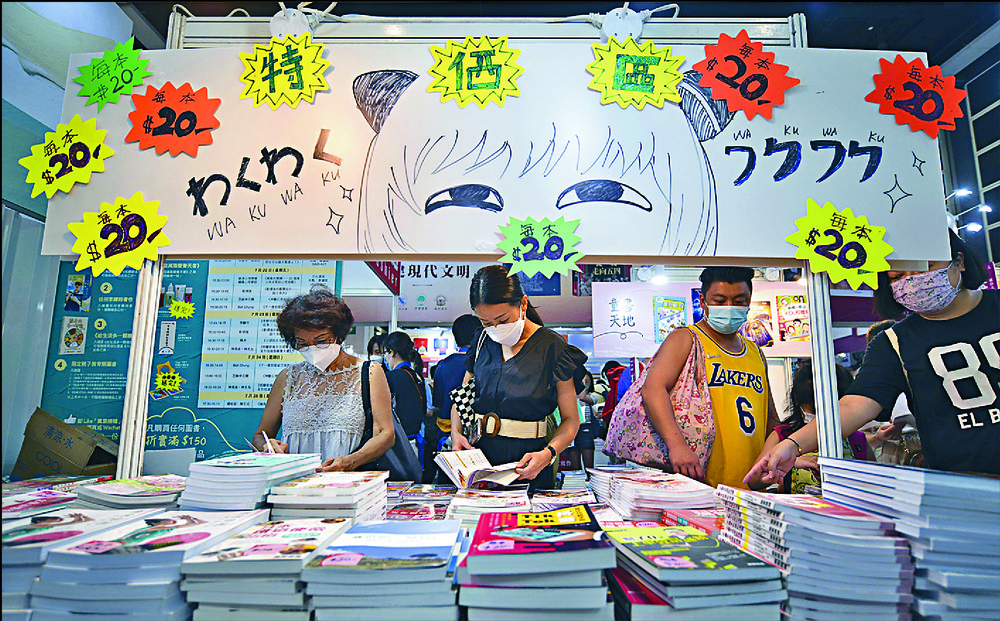 Even all the early deals can't boost sales this year
The seven-day Hong Kong Book Fair attracted more than 850,000 people - an increase of 20,000 from last year - but business dropped by about 50 percent, forcing many exhibitors to begin final sales earlier than the fair's closing time of 5pm yesterday.
Some vendors said this year's fair saw more visitors but a cooler reception than in the past.

Bookworms made one last dash to stash books in their luggage and carts before the curtains closed on the week-long fair.

More than 850,000 people visited the fair, a spokesman from the fair's organizer Hong Kong Trade Development Council said - up from 830,000 visitors last year.

Among the crowd was a mother, Chan, who came to the fair right after her son received his secondary school place allocation result.

"I will buy all the books he likes," Chan said, adding that she had not set a budget.

Others said they would not spend too much this time around.

"I may spend a few hundred dollars only since I mainly read e-books now instead of holding a paper copy," a visitor, Mok, said.

A vendor who participated in the fair for the 13th year believed that there were more visitors this year than last year but held dim hopes for sales, saying bookselling this year was not as prosperous as in the past.

The vendor started shop promotions days before the end of the fair.

Some publishers launched last-minute offers, including deals such as seven elementary exercise books for HK$100, while some Hong Kong Diploma of Secondary Education exam revision books were sold for HK$20 - originally priced HK$38.

Despite the general decline in sales, a publisher selling supplementary exercise books said sales increased by 10 to 20 percent compared with last year.

"Many schools are still teaching online, and parents are worried about their children's study, so they would buy more exercise books," a staffer from the publisher's booth said.

Amid the gloom of the ongoing pandemic, many turned to fortune-telling books for solace and hope.

"Books about fortune-telling and tarot cards sold quite well," a vendor, Wong, said, "because many people feel lost and hope to use tarot cards to make their future divine."

The Wisely series by late author Ni Kuang climbed up to the best- selling charts in this year's book fair, with some even going out of stock.

However, some booksellers complained about the remote location of their booths.

A vendor, Tang, said sales were only half of those last year, adding they had planned to pack up and leave by noon - well before the fair's official closing time.

"Normally we can make a payback after the fair, but the situation this year is worse than expected," Tang said.

Tang said people are still avoiding public places and crowds amid the pandemic, while students have not yet started their summer vacation.