The non-binding resolution also calls on EU nations to provide more emergency visas and temporary shelter for Hong Kong activists and political leaders.
The European Parliament passed a non-binding resolution on Thursday condemning the arrest of senior Hong Kong cleric Cardinal Joseph Zen Ze-kiun and four other trustees of the 612 Humanitarian Relief Fund in Hong Kong, saying it was "an attack on the freedoms guaranteed in the Hong Kong Basic Law, including the freedom of religion or belief".

The relief fund was established in 2019 to provide legal and financial help to those involved in pro-democracy demonstrations. It ceased activity in 2021 after police announced an investigation into its work, and a notice on its website this week said it has stopped taking donations.

In passing the resolution, the EU Parliament said the cardinal's arrest demonstrates Hong Kong Chief Executive John Lee Ka-chiu's intention to clamp down on critical voices in the region. The measure will next be discussed by the European Council.

In May, Hong Kong's national security department arrested the 90-year-old retired Roman Catholic leader along with former opposition lawmaker Margaret Ng Ngoi-yee; singer Denise Ho Wan-sze; academic Hui Po-keung; and former Legislative Council of Hong Kong member Cyd Ho Sau. They face charges of "collusion with foreign forces".

The move evidently came as no surprise to the cardinal, who had said repeatedly in recent years that his support for pro-democracy activists and criticism of Hong Kong's pro-Beijing government authorities could lead to his arrest one day.

The EU, United States and the Vatican have condemned the arrests. The European Parliament's resolution called on Hong Kong's national security department to drop all charges against the five. All have pleaded not guilty. It also urged Hong Kong authorities to allow the 612 fund to resume operations.

The trustees were arrested for allegedly colluding with foreign or overseas forces to endanger national security, a violation of Article 29 of the national security law. Four have been released on bail; Cyd Ho was already in jail for her role in illegal assemblies.

EU Parliamentarian Miriam Lexmann of Slovakia said Lee and Beijing were intent on destroying the remnants of Hong Kong's autonomy, crushing people's hopes and demoralising the cardinal.

"That's why it is no coincidence that Cardinal Zen and the other trustees of the 612 Humanitarian Relief Fund have been arrested and charged," she said. "Moreover, the Chinese Communist Party is keen to silence the cardinal because he continues to stand and speak on behalf of the weak and oppressed."

The Chinese Mission to the EU in Brussels did not reply to a request for comment. But in May, China's Ministry of Foreign Affairs criticised the EU and other Western nations for their condemnation of the arrests.

"[We] urge external forces to stop this foolish political show filled with ideological biases," Foreign Ministry spokesman Zhao Lijian said, adding that Beijing "resolutely opposed" any attempt to vilify Hong Kong's rule of law or interfere with the city's affairs.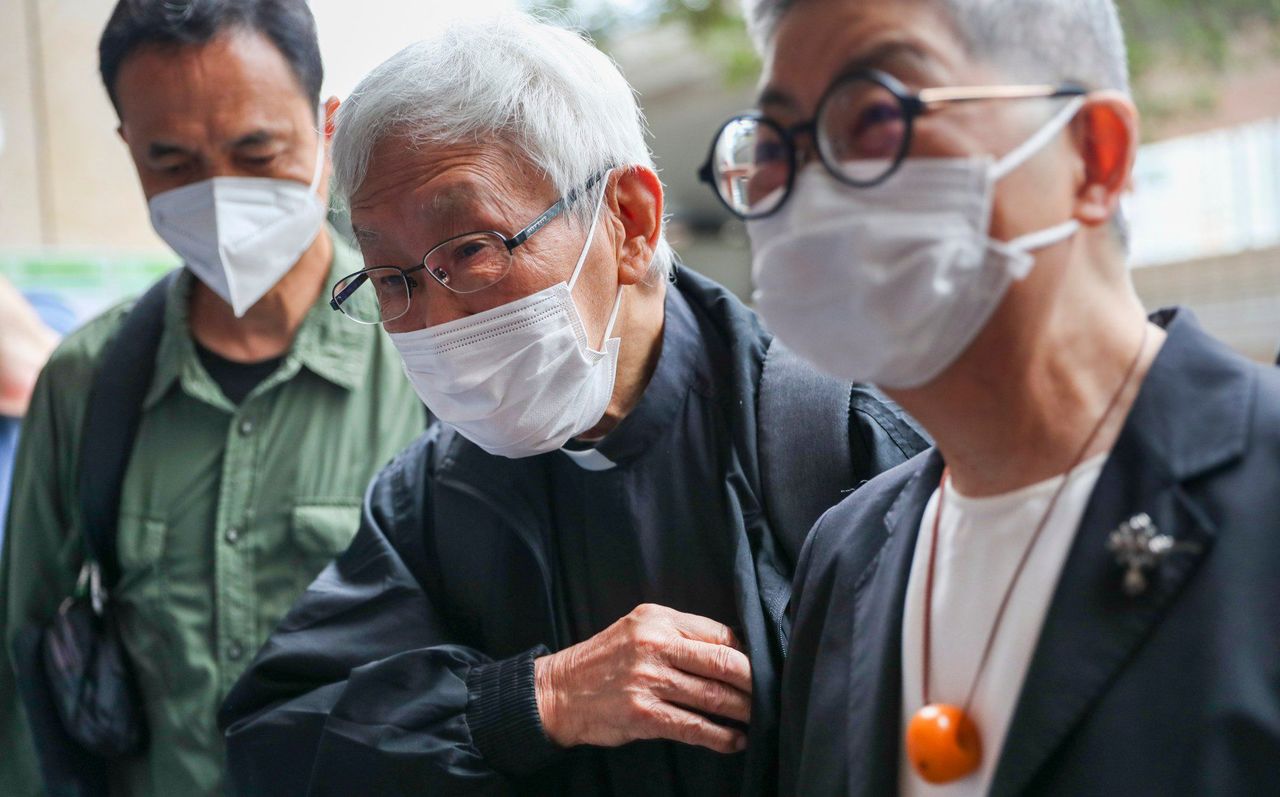 The academic Hui Po-keung (left), Cardinal Joseph Zen and former opposition lawmaker Margaret Ng Ngoi-yee appear in court on May 24.

This week's EU Parliament resolution urged Chinese authorities to repeal the national security law in Hong Kong and uphold the Basic Law that guarantees the freedoms of association, assembly, expression, religion and belief.

Hong Kong has about 400,000 Catholics including former chief-executive Carrie Lam Cheng Yuet-ngor and her successor, John Lee.

The Parliament's resolution also called on EU nations to step up efforts to implement "lifeboat schemes" – including emergency visas and temporary shelter – for Hong Kong activists and political leaders, and urged the Vatican to strengthen support for Zen and other religious leaders.

"The European Parliament has stood and still stands and will continue to stand with Hong Kong. This parliament continues to actively show solidarity with Hong Kong democrats and against Chinese communist oppression," said Reinhard Buetikofer, the leader of the European Parliament's China delegation and an outspoken critic of the country.

Even as the Vatican has voiced concern over Zen's arrest, it still hopes to work with Beijing on appointing Roman Catholic bishops in China. Pope Francis told Reuters this week that he hoped a deal between China and the Vatican on appointments could be renewed.

Zen has strongly criticised the Vatican-China deal, which was struck in 2018 and renewed every two years. He sent a letter to the pope last year urging him to leave politics out of selecting Catholic bishops in China.

But the pope defended the deal. "Diplomacy is like that," he told Reuters. "When you face a blocked situation, you have to find the possible way, not the ideal way, out of it."