Workers at Chai Wan MTR station discover escalator's comb plates and steps damaged.
An escalator at a Hong Kong rail station broke down on Sunday morning when a piece of clothing became caught in between the steps, just a day after a shoe was sucked into the gaps of a moving staircase at another station.

Staff members at the Chai Wan MTR station's control room were alerted by a signalling system that an ascending escalator connecting the concourse and the platform along the Island line had stopped operating at around 11.40am.

The workers found the escalator's comb plates and steps were damaged, while a sweater believed to belong to a passenger was found stuck between the steps.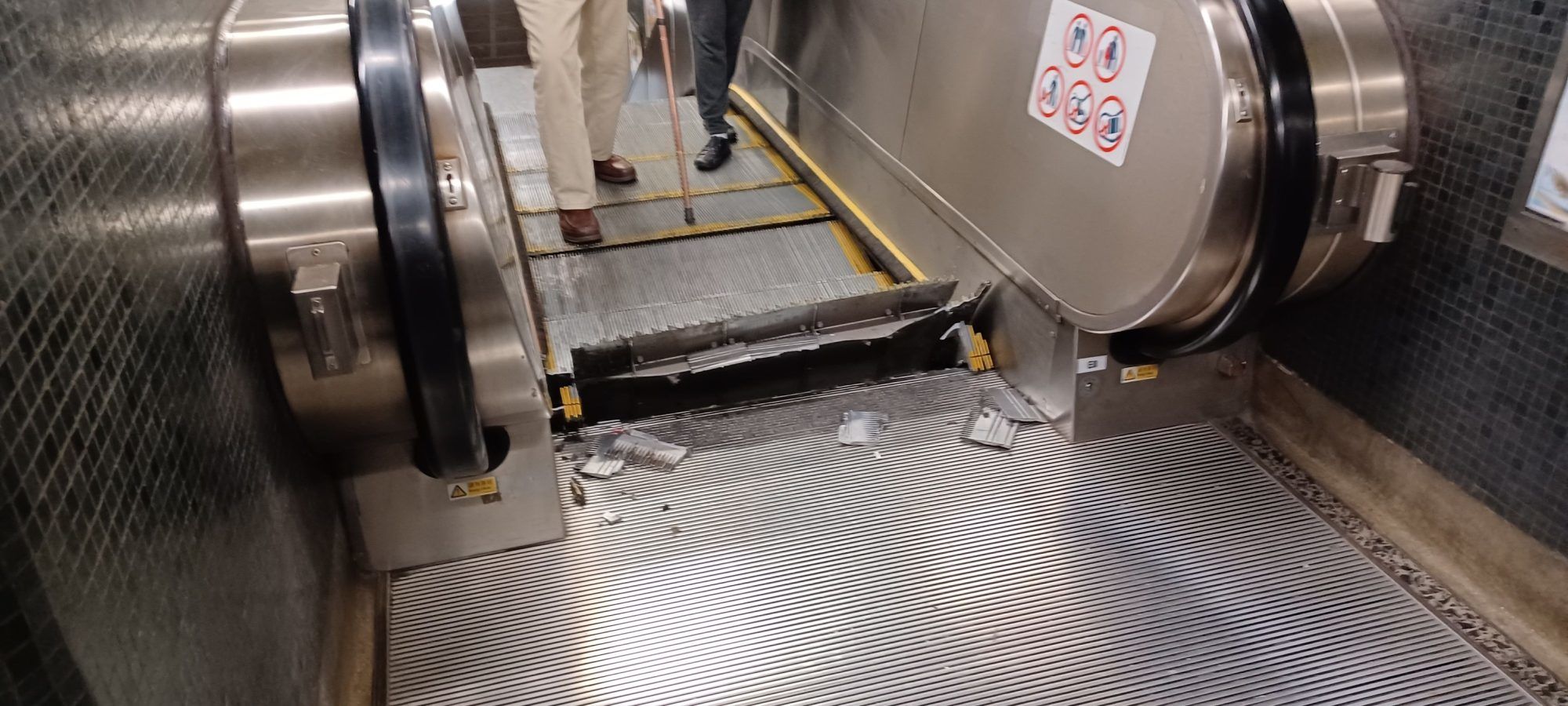 An escalator was damaged at Tsim Sha Tsui MTR station on Saturday when a shoe became lodged in the steps.
The area was sealed off, and engineers and the escalator contractor were arranged to investigate the incident and carry out repairs. No injuries were reported.
On Saturday, a passenger's shoe became stuck in an escalator at Tsim Sha Tsui MTR station at around 2.50pm, damaging the comb plates and dislodging the steps, leaving a large gap at the top of the system.
The MTR Corporation was also managing a crisis on the other side of the city, after the front carriage of a train derailed at Yau Ma Tei station, ripping off doors and forcing the evacuation of about 750 passengers. Two injuries were reported. Repairs along the affected part of the Tsuen Wan line could take time, experts said.
Lo Kok-keung, a retired veteran engineer who previously taught at Polytechnic University, said such malfunctions were unavoidable when tiny objects became stuck between steps.
"Many escalators are equipped with safety switches and sensors that can detect loose parts and stop the escalator from moving," Lo said. "However, when objects are stuck at the top or the rear gap of the escalator, pressure could cause the steps to burst"
Commuters should pay attention to their belongings and make sure nothing fell loose and became lodged between steps, he advised.
"People with a trolley should avoid taking escalators because there is always a chance that screws might fall off and get caught in between steps or gaps," he said.
In September last year, an escalator step became dislodged at the Tuen Ma line platform at Mei Foo station and metal scraps injured a passenger's finger.
In February 2019, nine people were injured at Ngau Tau Kok station during rush hour when a metal strip measuring 15cm (6 inches) long and which held the escalator's balustrade panels became unstuck and snagged the feet of several passengers.
The MTR Corp, the city's sole railway operator, has been arranging major overhauls for its escalators, which have been in use for roughly 25 years.
The company launched the refurbishment programme in 2002, and as of last year, 466 had been redone. The life expectancy of escalators in the MTR network in general is more than 40 years.