Phase 2 light railway carriages hit the buffers after three decades of service in northwestern New Territories
Hundreds of Hong Kong railway buffs packed an MTR light railway platform on Sunday to say goodbye as the last of a class of trains that served the New Territories for three decades reached the end of the line.

The last Phase 2 light rail vehicle made a special swansong journey at 9.15am on the dot from Yuen Long to Siu Hong in Tuen Mun.

The train was greeted with cheers and applause from a crowd of about 1,000 people as it pulled in to Yuen Long station to pick up its final passengers.

One teenager explained: "It is like saying goodbye to a long-time friend. I take the light rail to go to school every day and have a lot of good memories."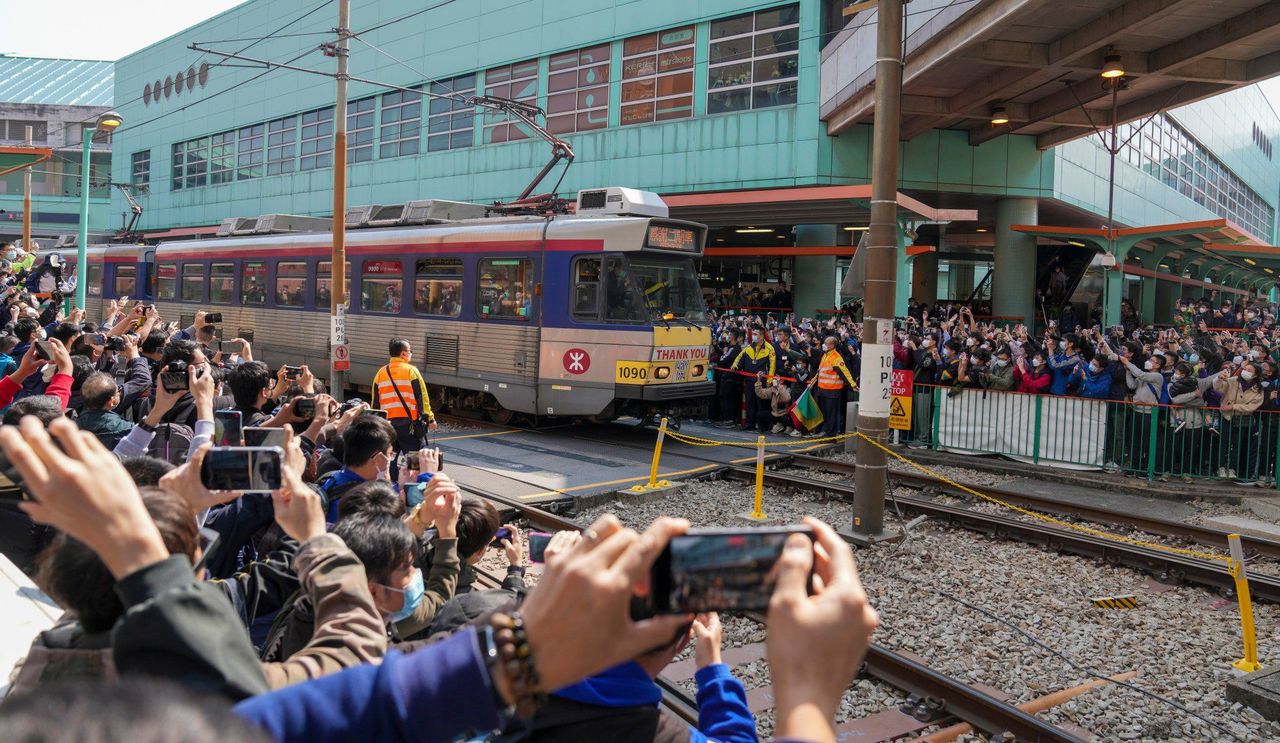 A crowd of about 1,000 people say goodbye to the last Phase 2 light railway train as it reaches its final passenger stop, Siu Hong station.

A young mother, who brought along her five-year-old child for the special trip, said they arrived at Yuen Long at about 8am to be sure of getting seats on the last train.

She said: "We miss the compartment design of the old vehicle."

Rail giant the MTR Corporation threw a "retirement party" for the last of the class on the platform at Siu Hong.

Scale models of the Phase 2 trains were on display and commemorative replicas of old-style light rail tickets were handed out to passengers and onlookers as souvenirs.

The Phase 2 light rail vehicles were built by Japan's Kawasaki Heavy Industries and went into service in the northwestern New Territories area of the city in 1992.

The MTR Corp announced plans to buy 40 new trains from the mainland Chinese CRRC Nanjing Puzhen Company in 2016 to upgrade and expand its fleet, which signalled the end for the Phase 2 trains.

"Serving the northwestern New Territories for over 30 years and connecting communities, Phase 2 vehicles have provided convenient and quality public transport service to community members, especially the residents of Tuen Mun, Yuen Long and Tin Shui Wai," Tony Lee Kar-yun, MTR's operations director, said on Sunday.

"While Phase 2 vehicles have completed their service, our existing light rail vehicles will continue to provide convenient service to the citizens in the future. The latest Phase 5 vehicles, which have entered into service since 2020, are equipped with enhanced features to provide a better customer experience."

Phase 5 trains began to be introduced in late 2020 and the Phase 2 class started to be withdrawn from then.

The Phase 5 vehicles have an enhanced LED lighting system and improved strap hangers, as well as handrails.

The MTR Corp said it had installed solar panels on one of the newest class in a trial scheme to provide clean and renewable power for the train's lighting system.

Hong Kong's light railway service has operated in the northwestern New Territories since 1988 and the network covers 68 stops across 36.15km (22.5 miles) of track.