Critics point to inflation and pandemic setbacks suffered by underprivileged, argue HK$5,000 vouchers will have limited impact.
Hong Kong community leaders have dismissed the government's latest budget blueprint as "hopeless for the needy" despite some lawmakers hailing it as a good allocation of resources.

The HK$5,000 (US$637) consumer vouchers for residents, a highlight of Financial Secretary Paul Chan Mo-po's speech on Wednesday, would hardly cover the rate of inflation and setbacks suffered by the underprivileged throughout the Covid-19 pandemic, they said.

Chan has set aside an annual budget of HK$174 million to support preschool children with special needs, but specialists in serving disadvantaged pupils argued the sum was far from enough and a long-term strategy to close gaps was still missing.

"There is nothing for low-income families to be happy about in this budget, as their needs weren't addressed," said lawmaker Tik Chi-yuen, a qualified social worker.

Chan earlier appealed for understanding and highlighted the economy's contraction, but Tik disagreed. "The government has resources for targeted poverty relief measures, but this seems to be all talk now," he argued.

Sze Lai-shan, deputy director of the Society for Community Organisation, which looks after many underprivileged families, recalled how those she spoke to reacted to Chan's speech and quoted them as saying it was "the worst budget blueprint" delivered by the finance minister.

Her group has called for consumption vouchers worth HK$10,000. She said because of inflation and where the vouchers could be used – often at larger chains with marked-up prices – the HK$5,000 sum gave users less purchasing power than perceived.
She said she had hoped to see subsidies for electricity and the underemployed, but these did not materialise.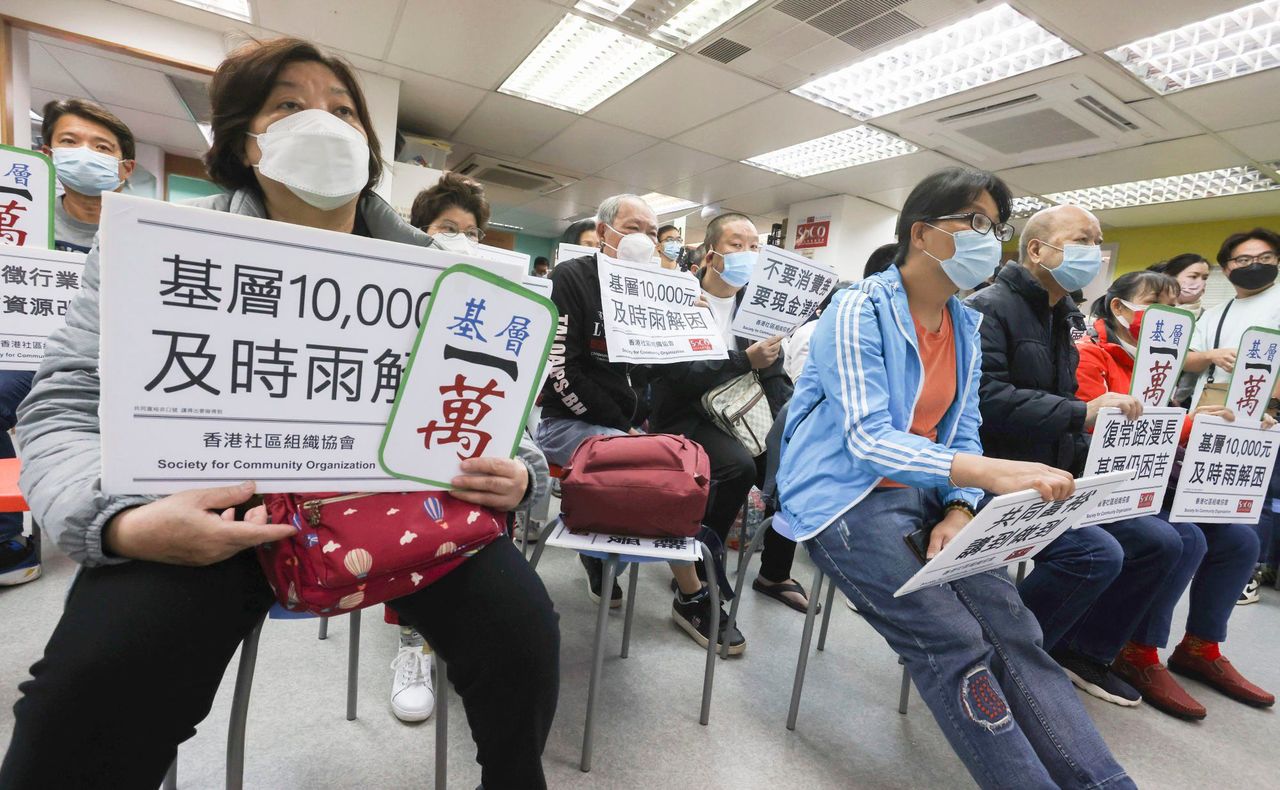 Viewers watch the budget address at SoCo offices in Un Chau, carrying protest signs.
Wong Man-ling, from the Alliance for Children Development Rights, said the government previously launched the Strive and Rise Programme to provide mentorship to underprivileged schoolchildren, but Chan had missed existing opportunities to expand the 3,000 quota to the rest of the 270,000 children and teens living in poverty.
She also said parents bore additional costs during the pandemic to prepare equipment for their children's virtual classes, adding that the government should have considered a HK$1,000 subsidy to put them back on their feet.
There was also no financial aid to address medical problems that schoolchildren faced, including obesity and short-sightedness, she added. "The government should have dealt with it positively and it didn't."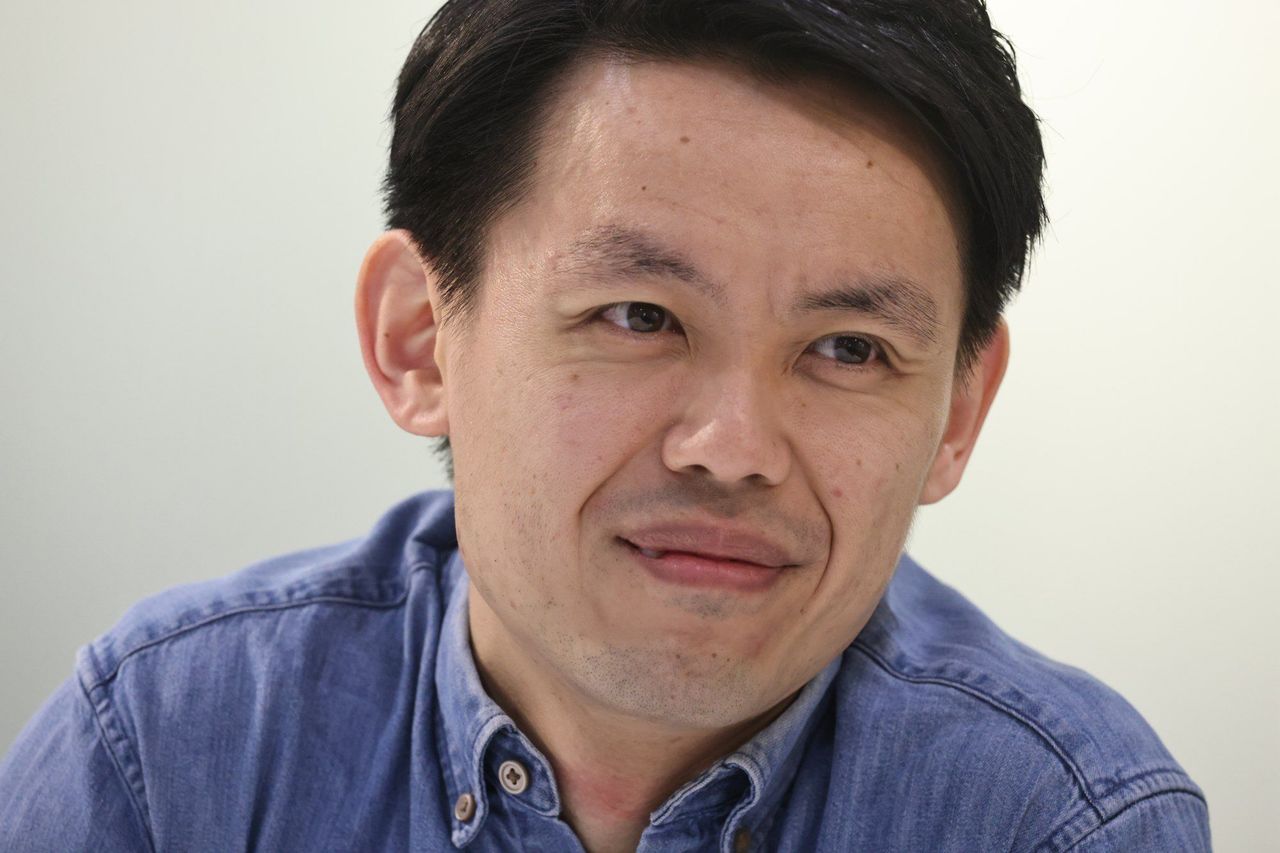 Democratic Party chairman Lo Kin-hei.

The Democratic Party gave the latest budget address an "average" rating and said it lacked creativity and would do little to alleviate socio-economic problems faced by Hongkongers and small and medium-sized enterprises (SMEs).

Chairman Lo Kin-hei said he wished the consumption vouchers had been more generous and extended to cover those aged under 18 to lessen the financial burdens on parents.

The party earlier proposed HK$15,000 vouchers for Hongkongers of all ages.

"We know the government wants to make Hongkongers happy, but cash handouts would be the more direct way to achieve that, instead of holding carnivals – I believe most Hongkongers will find this measure confusing," he said, referring to Chan's "Happy Hong Kong" campaign to provide entertainment to residents to stimulate spending.

He also said: "What Hongkongers treasure the most is freedom, be it freedom of expression, or freedom to spend money."

Election Committee lawmaker Doreen Kong Yuk-foon slammed the budget as "all empty talk, with nothing new". She said there was a lack of substantial measures to alleviate burdens faced by the middle class and low-income residents.

"There's really nothing for the middle class [in the budget], except for some tax relief. For the low income people, there's the paltry sum of HK$5,000 or perhaps water bill subsidies, but there's nothing else once these are disbursed. The impact is limited," Kong said.

But lawmaker Gary Chan Hak-kan, from the Democratic Alliance for the Betterment and Progress of Hong Kong (DAB), said his party believed the budget was "well-adjusted and used resources properly".

"The DAB believes this is a stable and responsible budget, it can strike a balance between maintaining financial stability, pushing economic recovery and relieving the suffering of people," he said.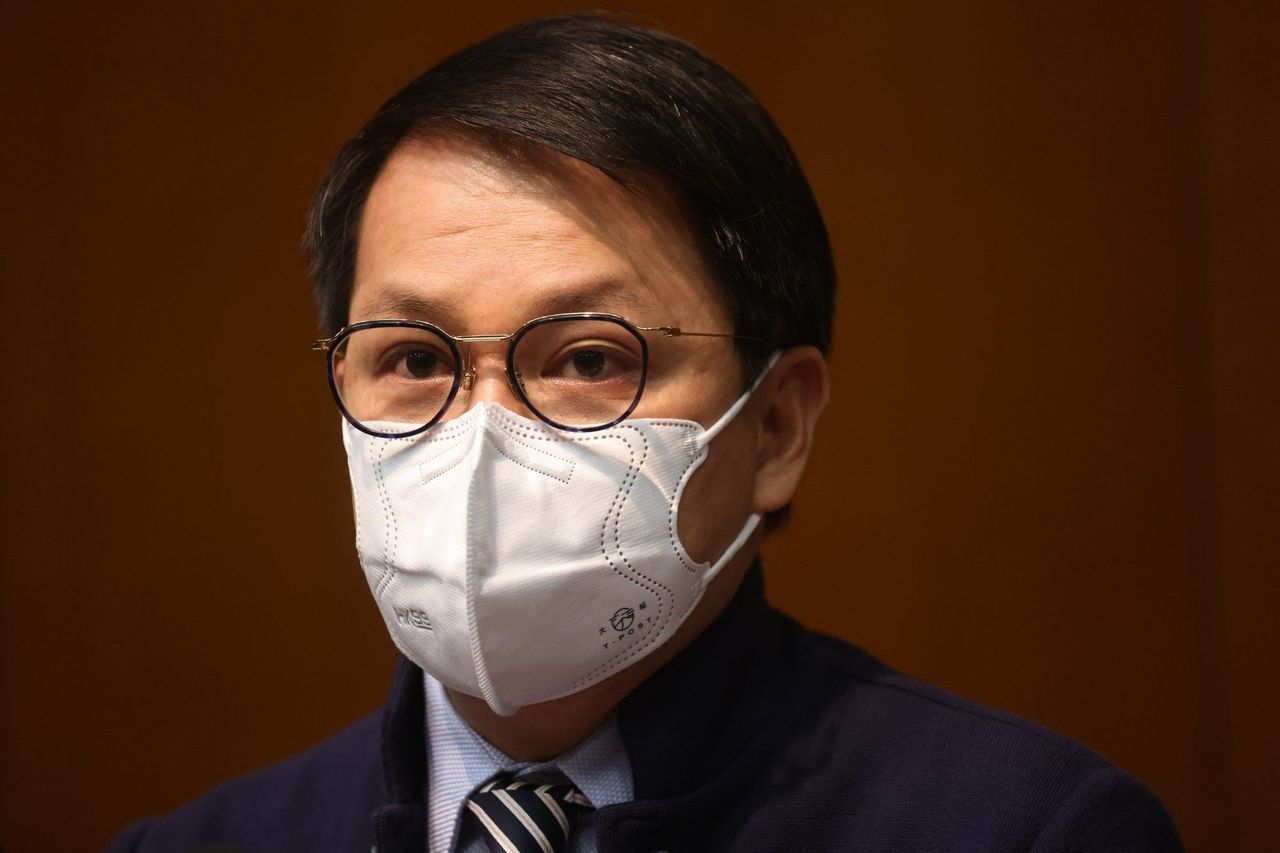 Lawmaker Gary Chan from the DAB.

Liberal Party lawmaker Peter Shiu Ka-fai said the measure was a great help to the retail, food and beverage sectors, as well as to the transport and logistics industries.

The distribution of HK$5,000 vouchers in the first half of the year would be appropriate, he said. "We estimate that once society has returned to normal in the latter half of the year with tourists coming back, businesses would be able to make it on their own."

The Hong Kong Committee for Unicef welcomed Chan's initiatives on children's and adolescent's development, including IT‑related extra‑curricular activity subsidies for publicly-funded secondary schools.

It also praised efforts to provide inter‑disciplinary and school‑based comprehensive help to pre‑schoolchildren with varying levels of special needs but it appealed to the government to invest more resources into ensuring the mental well-being of children.

The Hong Kong General Chamber of Commerce highlighted Chan's emphasis on short-term relief.

"His multipronged approach to support citizens and SMEs to get through these last few months of recovery, while also keeping an eye on the long-term needs and paths of development, are to be lauded at this difficult time," the chamber said.