The downbeat sentiment in Hong Kong's secondary home market is due to rising interest rates, a spate of new project launches, emigration and a badly performing stock market, agents say.
Hong Kong's housing market is seeing signs of a slump as more owners sell at a loss amid a wave of emigration, rising interest rates and a stock market slump, while developers' inventory levels rose to a record high in June as they rushed to launch new projects.

The first six months saw more loss-making transactions compared with last year, except in February, according to data compiled by Ricacorp Properties from official records. The number of loss-making transactions surpassed 100 from March to June.

"The recent [increase in the frequency] of loss-making cases of second-hand homes may be related to the year-to-date decline in the stock market, which has made some owners eager to cash out and sell their homes to meet their capital needs," said Derek Chan, Ricacorp Properties' head of research.

Eighty homes changed hands at a loss this month as of July 20. Chan said he expected the number to remain at over 100 in July and August.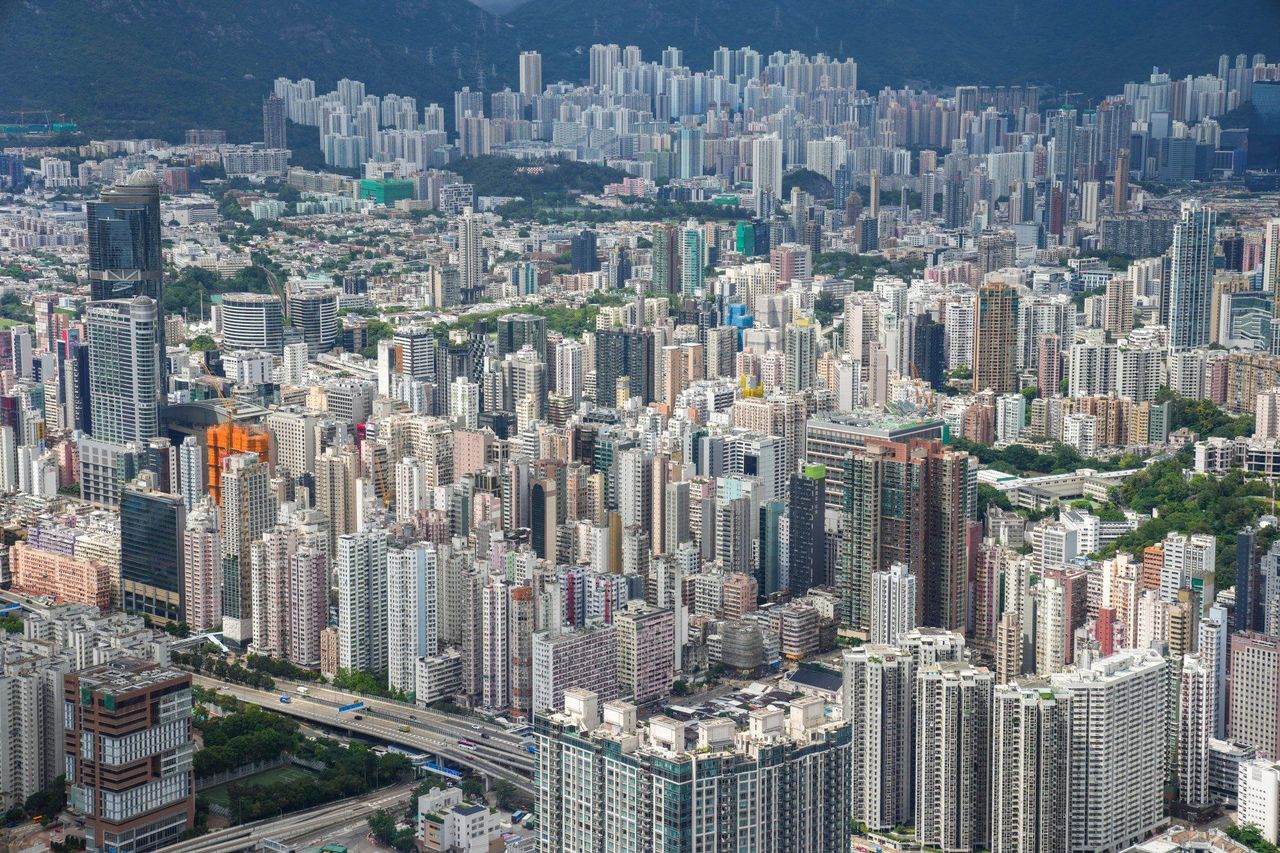 A view of Kowloon from the International Commerce Centre.

"Some owners who are emigrating believed that the market situation was not clear, but they were eager to sell, so they were willing to offer higher discounts to offload the stock, which led to the increase in loss-making transactions," Chan said.

Hong Kong's property market has cooled down in recent months amid the prospect of higher interest rates. Mortgage payments linked to Hibor (Hong Kong interbank offered rate) have risen since March following the rate hikes in the US. The Hong Kong Monetary Authority (HKMA), the city's de facto central bank, raises rates in lockstep with the US Federal Reserve to defend the stability of the local financial system. The Fed is widely expected to increase rates by at least 75 basis points next Thursday as it looks to contain galloping inflation at home.

Hong Kong's stock market has also been extremely volatile this year, with several factors including rising rates, geopolitical tension and China's stuttering economy affecting its performance and in turn the property market sentiment. The benchmark Hang Seng Index has lost nearly 11.5 per cent year to date.

The percentage of loss-making lived-in transactions so far this month has risen to 0.07 per cent, the highest since July 2021 when it stood at 0.02 per cent, according to Ricacorp.

The losses came as Centa-City Leading Index (CCL), the gauge of lived-in homes compiled by Centaline Property Agency, fell 0.67 per cent to 179.85 for the week ended July 17. The index has fallen below the 180 level twice in eight weeks as property prices continue to soften. It may test the 178 level in the short-term, according to Centaline.

"Affected by the recent interest-rate hike in the US and the emigration wave, the second-hand market is relatively quiet, and owners tend to reduce prices to attract buyers," said Paul Cheng, district sales manager at Centaline.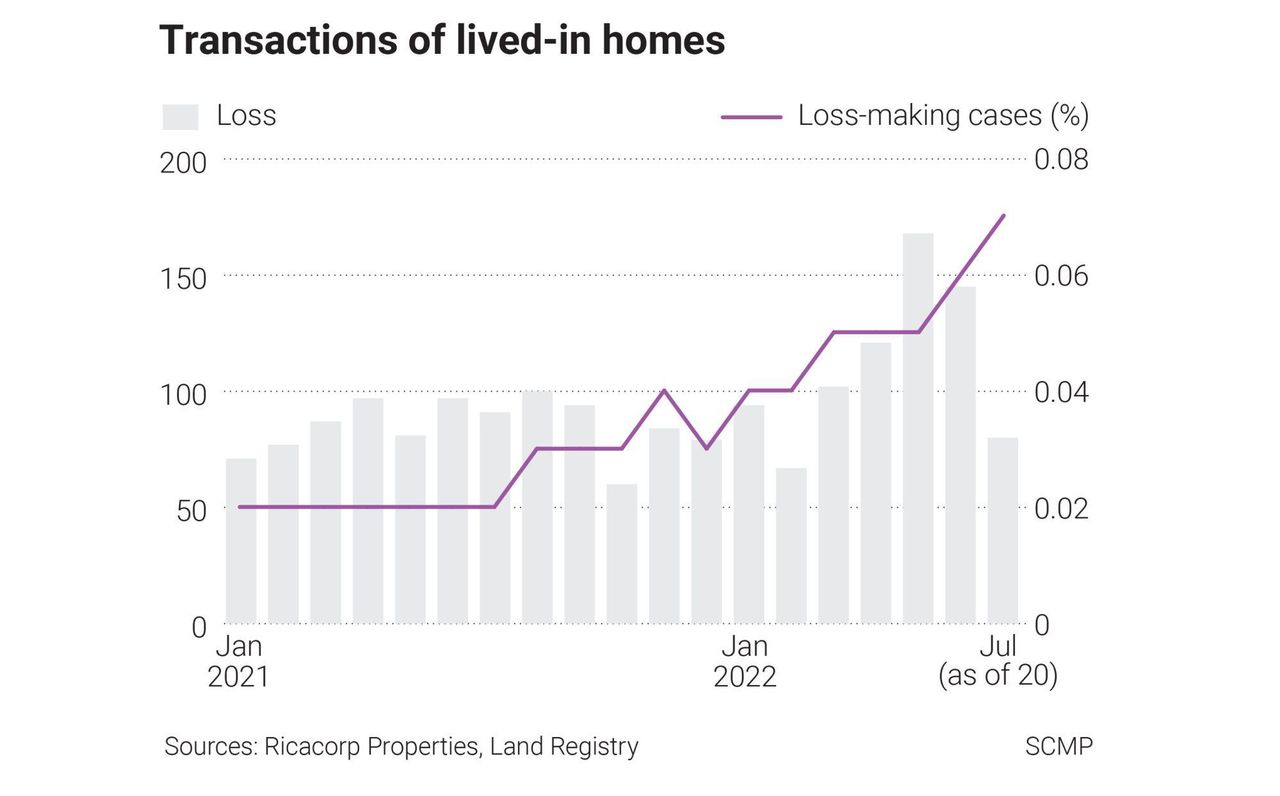 The total number of loss-making cases in the first half of this year at 695 was the highest since 2011, according to Ricacorp Properties. The percentage of profit-making cases in the first half was 94.6 per cent, the lowest since 2010.

One of the biggest losses incurred this year was HK$2.03 million (US$258,613) for a 721 square feet flat at The Fortune Gardens in West Mid-Levels, brokered by Midland Realty.

Meanwhile, the leftover stock of new flats has risen for three consecutive months to about 13,446 units in June, the highest since records started in 2013, according to data compiled by Century 21 Hong Kong from official records.

As developers were in a rush to launch projects after suspending sales earlier this year during the peak of the fifth wave of the Covid-19 outbreak, "the volume of launches was significantly higher than the sales in the first half", said Luke Ng, CEO of Century 21.

In the second half, developers will continue their sales offensive for new project launches even as the overall outlook for the market remains uncertain because of rising interest rates, Ng said.

"The competition in the new property market is fierce. Developers will remain restrained in their pricing."