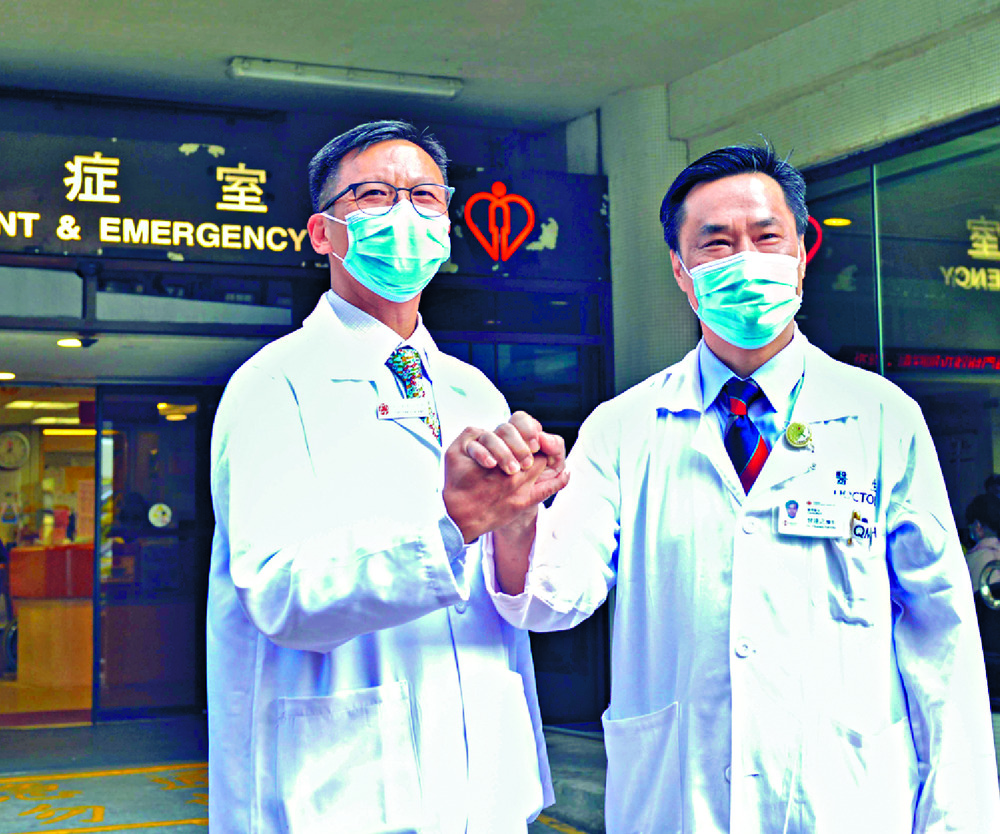 Emergency Kick just what two docs ordered
Two top doctors at Queen Mary Hospital's accident and emergency department have been dubbed the "emergency double" as they have been buddies since secondary school.
They are chief of service Matthew Tsui Sik-hon and his deputy Tsang Tat-chi. They have been working in the department since the 1990s.

The duo - both in their 50s - have been joined at the hip since they were studying at Shau Kei Wan Government Secondary School, graduating together in 1985.

They crossed paths when they were in the same class in secondary three, and their bond deepened when the two competed in the school's football matches.

In one of the matches, an unfortunate kick by Tsui hit Tsang in the arm, landing him in the emergency ward.

But Tsang had no idea the experience would change his life.

"It was my first access to the city's emergency wards, and I stepped into an emergency ward again over a decade later - as a doctor - by chance," Tsang said.

The duo were also roommates while studying at the University of Hong Kong's medical school.

They graduated in 1990 and joined Queen Mary Hospital in 1991 upon completing a one-year internship there. In the same year, Tsang started working at the hospital's accident and emergency department, but Tsui did not join the department until 1993.

He realized that he was "a restless person" and wanted to work with more diverse patients. He therefore transferred to the emergency ward.

Tsui specialized in toxicology while Tsang specialized in trauma care.

Throughout the years, they have collaborated on various cases, including a ferry accident on November 29, 2013, which saw more than 80 passengers injured after a Macau-bound ferry hit an unidentified object off Hei Ling Chau.

That day, Tsang was dispatched to Hong Kong-Macau Ferry Terminal in Sheung Wan for patient triages.

He described passengers' conditions to Tsui through the phone.

Tsui also recalled one of the quirkier cases they had seen at the hospital.

One day, a man bitten by a two-meter Chinese cobra went to the hospital, bringing with him the snake in question. They also spoke about the changes they have seen throughout their service at the hospital.

The accident and emergency department was not upgraded until the 1990s, and advancements in technology in emergency rooms have led to more effective diagnoses.

Still, the two thought the department should aim to train more doctors with potential in emergency medicine in the future.

They revealed that the hospital, founded in 1937, would have a new block soon.

"There will be a helipad on the rooftop, where helicopters airlifting patients can land," Tsang said.

On continuing to work as they approached the retirement age of 65, the friends said they would consider working part-time or adopt a "wait-and-see" attitude.