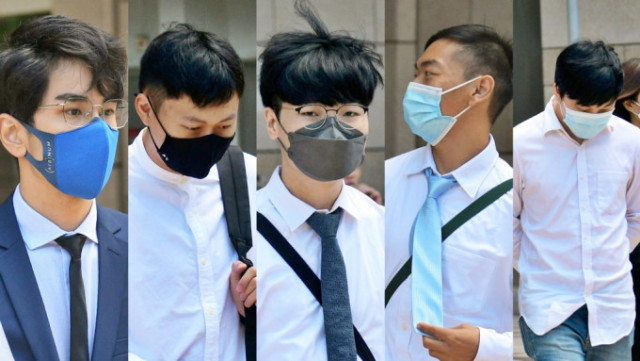 Eleven jailed between 51 and 55 months for PolyU siege 'rescue riot'
Eleven men were on Saturday jailed between 51 and 55 months for rioting near Polytechnic University four years ago in a bid to "rescue" protesters stranded within the campus.
The defendants were Chan Kin-hei, 21; Chan Tsz-kin, 25; Cheng Ho-lun, 28; Cheng Wai-kit, 26; Cheung Ho-yin, 27; Cheung Yuen-shan, 27; Chow Ming-chi, 44; Fong Kam-fai, 27; Fung Tin-ching, 24; Ho Cheuk-ming, 37; and Ho Chung-yuen, 25.

They all pleaded not guilty to rioting between Waterloo Road and Hamilton Street on November 18, 2019, but were convicted earlier after a trial.

The District Court case was referred to the West Kowloon Magistrates' Courts today, and deputy judge Ivy Chui Yee-mei started the sentences at 57 months.

She reduced the term by two months, given the defendants' clean criminal record, and by another month because the defense didn't waste the court's time by overly challenging the prosecution's evidence.

Ho Cheuk-ming was further given a three-month discount because he suffered end-stage renal failure and was put behind bars for 51 months.

Meanwhile, Cheng Ho-lun and Fung Tin-ching were given an extra three-month imprisonment because they were found guilty of possessing instruments fit to damage property for together possessing four bags of plastic straps.

One month of the term will run consecutively, and Cheng and Fung were both jailed for 55 months.

The other eight defendants were put behind bars for 54 months.

Passing down the sentences, Judge Chui said the penalty must carry a deterrent effect rather than a rehabilitation nature.

Chui added the defendants encouraged other protesters to confront police by dressing themselves all black and noted that cops' lives were in grave danger at the time.

She also said the scene was near a residential neighborhood, and citizens had to fear for their lives.