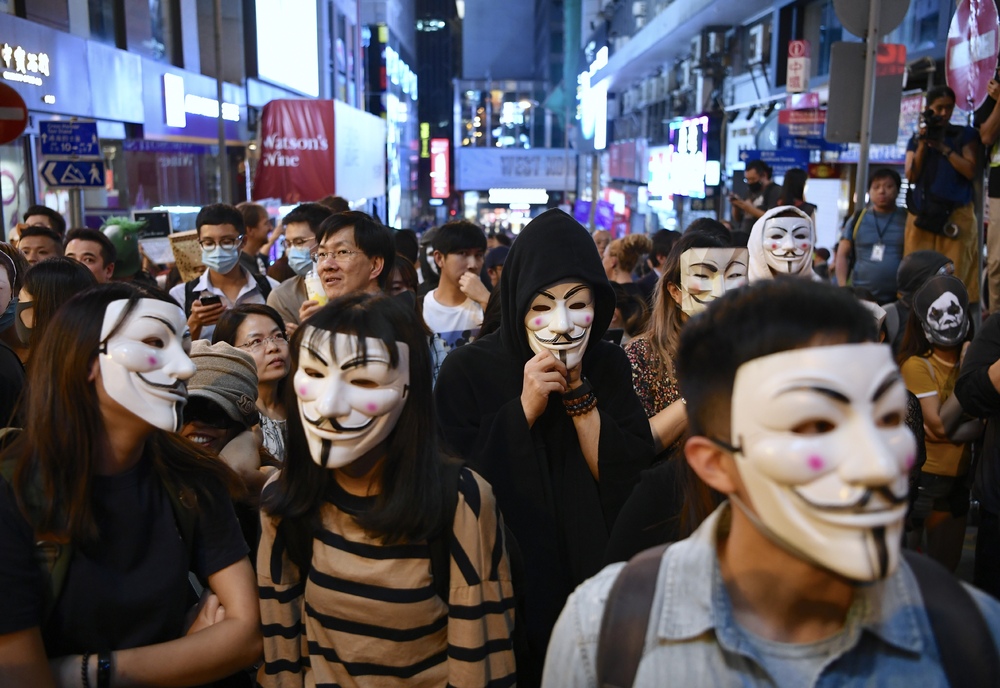 Eleven convicted of rioting in anti-mask law protest in Wan Chai
Six men and five women were on Saturday convicted of rioting on Hennessy Road in Wan Chai in a protest against the government's anti-mask law during the social unrest in 2019.
The 11 defendants are clerk Jeffa Chow Ming-chi, 30, student Leung Yiu-man, 23, construction worker Lai Lok-hang, 32, student Coq Ho Ko-kiu, 21, clerk Leung Wai-fung, 29, student Lam Wing-chung, 19, social worker Cheung Fung-kiu, 29, student Shum Long-yin, 18, salesperson So Long-ho, 30, student U Suet-ching, 19, and clerk Leung See-ting, 28.

They were all convicted of rioting at an intersection between Hennessy Road and Tonnochy Road and at a section of Hennessy Road between Stewart Road and Canal Road East on October 6, 2019.

Leung Yiu-man, Ho, Lam, Cheung, Sham, U, and Leung See-ting were also convicted of using facial covers, including respirators and masks, in an unlawful assembly on the same day. So was convicted of possessing an offensive weapon after anti-riot cops found a laser-pointer in his back pocket.

Their sentences will be handed down on May 7, and they will be remanded in custody until then.

In District Court on Saturday morning, judge Josiah Lam Wai-kuen said the things carried by the defendants were not everyday items carried by ordinary people but gear by participants of an unlawful assembly or a riot.

Judge Lam continued that about 500 protesters gathered on Hennessy Road around 5pm that day, throwing bricks and lobbing Molotov cocktails. Police then pushed forward east of Stewart Road around 6pm and approached protesters that were falling back.

The 11 defendants were either arrested or subdued outside Hunghom Cafe and Bank of China -- about 200 to 300 meters away from the police defense line.

The judge then concluded that the 11 were definitely not passers-by who went there to observe what happened, for they could have left the scene through other bystreets.

The 11 were also caught red-handed carrying masks, gloves, helmets, saline water, and scissors, judge Lam said, concluding that they knew there was a riot and went well-prepared and thus found them all guilty.