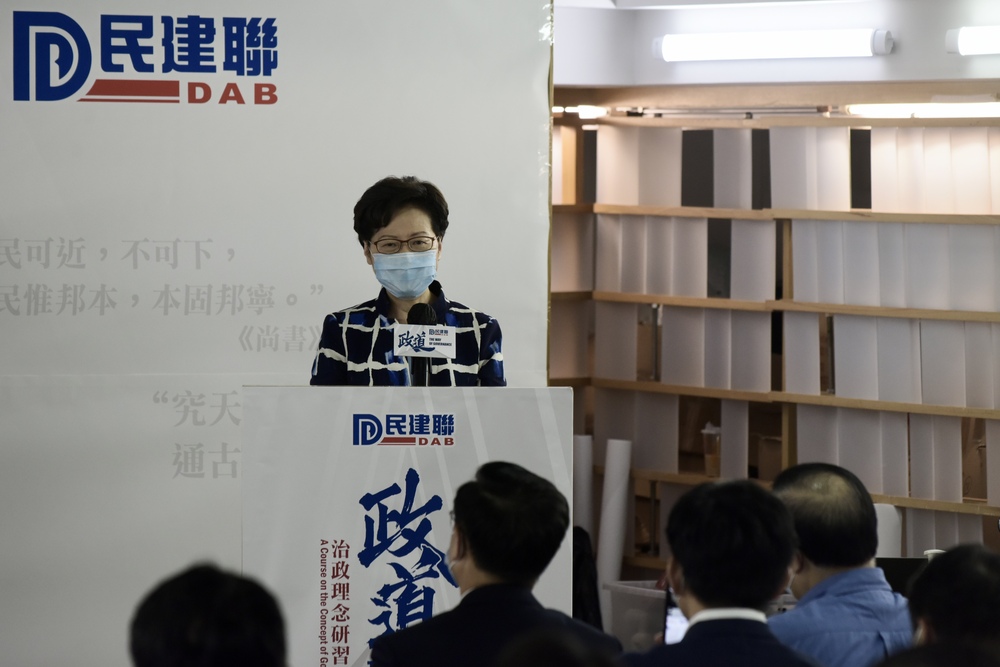 Election is not the only way to get into politics, Carrie Lam said
Election is not the only way allowing one to participate in politics, chief executive Carrie Lam Cheng Yuet-ngor said.
Lam this morning delivered a speech when attending the opening ceremony of The Way of Governance, a course on the concept of governance offered by Democratic Alliance for the Betterment and Progress of Hong Kong.

Lam said that citizens would have higher expectations of the government as the administration and judicial bodies rebuild rational cooperation and interaction.

She added that although there is only a year left before her term in the office ends, she would do good deeds for citizens within the remaining time.

Lam also pointed out that a great deal of talents are required for smooth administration and governance, yet election is not the only way allowing one to participate in politics. Talents should join the government and see how it runs themselves, in order to maximize the efficiency of management.

She said this term of government is the one with the most talents from political parties, in which many from the alliance.

"Rumours have it that Chris Ip Ngo-tung from the alliance will join the government soon. I will not make any confirmation here", Lam said.

Earlier sources said Ip would be appointed as the undersecretary for constitutional and mainland affairs.

Lam said that the city had gone through a tough time since 2019 and had returned to orders from chaos after imposing the national security law, executing electoral changes.

Such measures had helped the One Country Two Systems principal back on the right track, according to Lam.