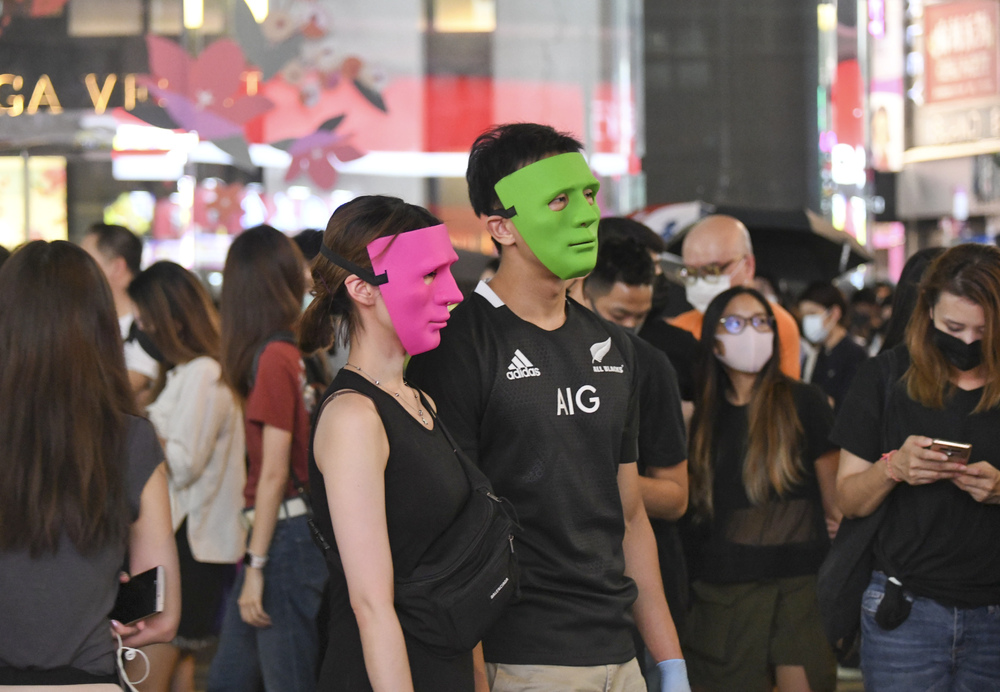 Eight people jailed for 33 to 37 months over Wan Chai anti-mask law protest
Eight out of 11 people convicted of rioting in an anti-mask law protest in 2019 were jailed on Saturday for between 33 and 27 months, while three others were sent to a training center.
The 11 defendants are clerk Jeffa Chow Ming-chi, 30, student Leung Yiu-man, 23, construction worker Lai Lok-hang, 32, student Coq Ho Ko-kiu, 21, clerk Leung Wai-fung, 29, student Lam Wing-chung, 19, social worker Cheung Fung-kiu, 29, student Shum Long-yin, 18, salesperson So Long-ho, 30, student U Suet-ching, 19, and clerk Leung See-ting, 28.

All 11 of them were convicted of rioting on Hennessy Road in Wan Chai on October 6, 2019. Leung Yiu-man, Ho, Lam, Cheung, Sham, U, and Leung See-ting were also convicted of using facial covers in an unlawful assembly. So was convicted of possessing an offensive weapon after anti-riot cops found a laser-pointer in his backpack.

District Court judge Josiah Lam Wai-kuen handed down a 39-month jail term at first and reduced the term by four months because the defendants committed the offense for the first time.

Chow, Lai, and Leung Wai-fung were jailed for 35 months.

Judge Lam said Leung Yiu-man intentionally filled the water gun with drain cleaner and extended his jail term by two months to 37 months.

Judge Lam sentenced So to three-month imprisonment over the offensive weapon charge. However, one of the three-month jail terms would run concurrently, meaning So would be jailed for 37 months.

Ho, Cheung, and Leung See-ting saw their jail term further reduced by two months to 33 months because of young age, social contribution, and poor health conditions, respectively.

Lam Wing-chung, Shum, and U were sent to a training center instead, for they were under the age of 21.

In mitigation, judge Lam disagreed with the defense, who said order and peace have been restored these days and called on Lam to hand down a lenient sentence.

He stressed violence must not be tolerated at any time and added any accomplice echoing the riot would face sentences as heavy as that of the masterminds and gatherers of the riot.

He also told the defendants to live well after they finish serving their jail terms, saying time will pass and they have to face the days that lie ahead of them.