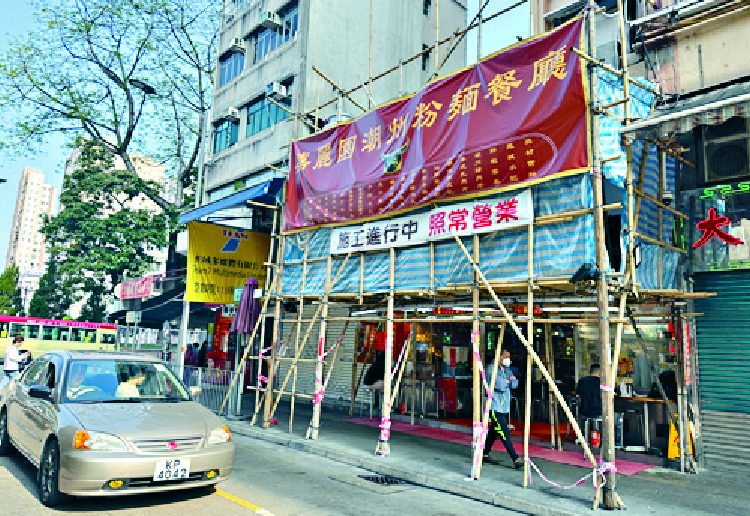 Eight arrested for stabbing murder of elderly man
Seven men and a woman, including a restaurant owner suspected to be the mastermind behind a conspiracy to murder a 70-year-old man in Yuen Long last month, have been arrrested.
The victim died from blood loss after being slashed multiple times on his hands and legs..

Four of eight, including Hui Kwong-yiu, 65, the owner of a Chiu Chow noodle restaurant, appeared in Tuen Mun Magistrates' Court yesterday. Hui and Lam Chi-yiu, 32, were charged with murder, while the other two were charged with conspiracy to pervert the course of justice.

The victim, Chan Kwong-kuen, was a member of the owners' corporation of Lee King Building in Yuen Long where he lived, and residents said he had been handling noise complaints against a restaurant in the building. The owner apparently was chopping mincemeat to make meatballs between 1am and 5am.

Acting superintendent So Chi-bing of organized crime and triad bureau said Chan was attacked on March 29 at Yuen Long On Lok Road, while he was heading to work at 3.37am. Police believe the murder was premeditated as a white private car had been waiting in the area for 15 minutes before the attack. One of the suspects got out of the car and slashed Chan soon after he exited the building.

"The victim suffered eight knife wounds to the limbs and there were no apparent injuries to the skull and torso," So said.

Police investigation also revealed that another suspicious vehicle was parked nearby to act as a lookout and sped away along with the white private car.

Chan was rushed to Pok Oi Hospital where he was certified dead at 4.54am due to excessive bleeding.

The eight suspects, aged from 23 to 65 were arrested on Monday. Some were suspected triad members, So added.

Police seized the clothes worn by the attackers, mobile phones, and three private cars, including the two found in the carpark in connection with the murder.

Officers discovered a weapon storehouse in Yuen Long where they seized nine knives, a hammer, four black hats, three black windbreakers and some gloves. Police are investigating whether the weapons were related to previous violent cases.

Hui is alleged to be one of the masterminds.

No plea were taken from Hui and Lam on their murder charge, while Lam was jointly charged with conspiring to pervert the course of public justice with So Sai-man, 30, and Wong Ho-yin, 33.

Principal Tuen Mun Magistrate Don So Man-lung remanded the four in custody until July 5.