City leader John Lee says talks with mainland officials over easing of cross-border Covid-19 restrictions have restarted.
Hong Kong leader John Lee Ka-chiu has struck an optimistic note over possible quarantine-free travel with mainland China next year, as he revealed talks with officials across the border on easing Covid-19 travel measures had recently restarted.

Lee on Saturday said he would adopt a step-by-step strategy in the negotiations, including fighting for more quarantine slots for residents who wanted to cross the land border, as well as for allowing truck drivers to benefit from less restrictive regulations.

"Quarantine-free travel with the mainland in 2023 is a very realistic possibility to me," Lee told media representatives at a closed-doors event at the Hong Kong News-Expo.

"I know you may need a time frame on when in 2023. I hope it will be as soon as possible, as I am burning with impatience too. But I am confident about it."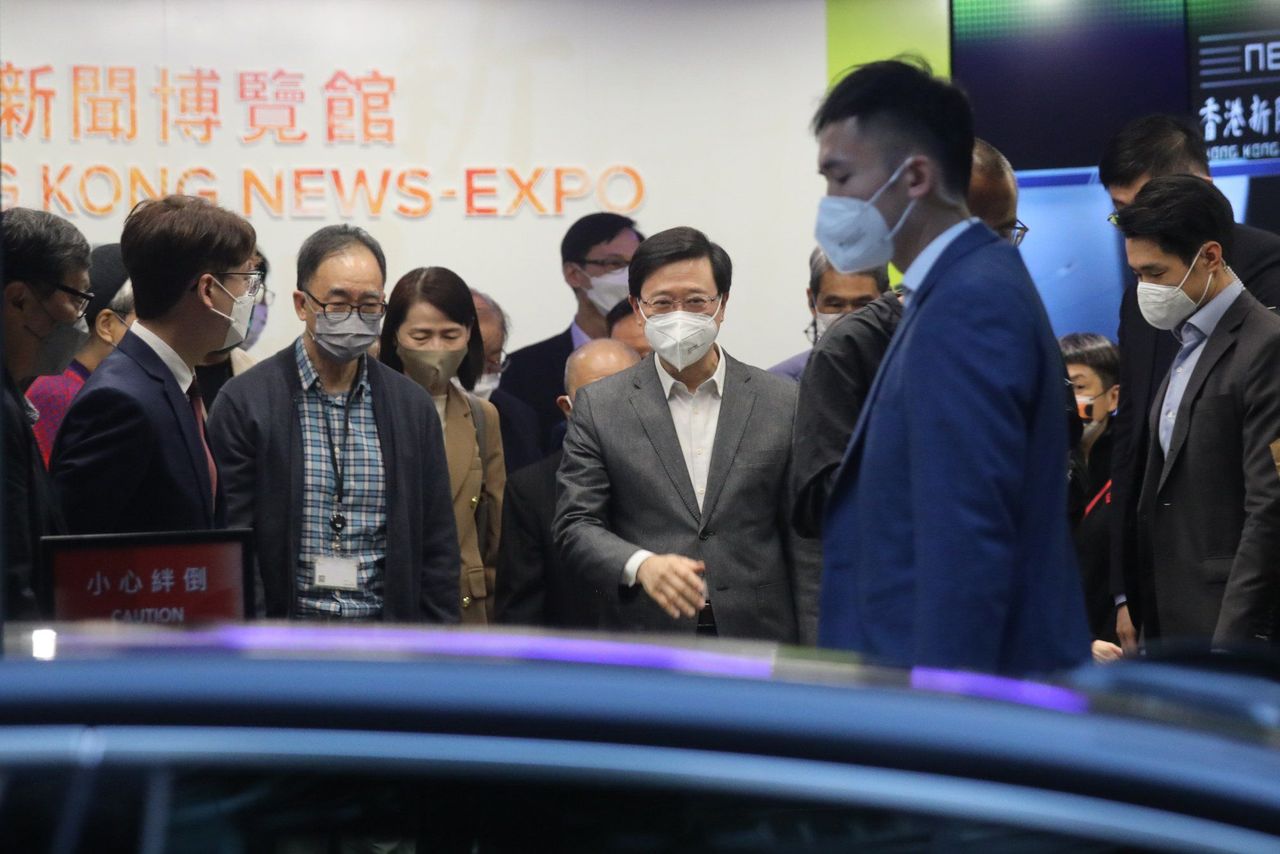 Chief Executive John Lee (centre) leaves the Hong Kong News-Expo after a closed doors briefing session.
Lee explained he had to consider the risks for his mainland counterparts, rather than fighting for the city alone.
He said there should be "win-win" solutions for all concerned, instead of just benefits for Hong Kong.
Lee highlighted that there was more leeway after Beijing's long-awaited easing of
coronavirus
precautions. Relaxations announced on Wednesday included minimising the use of polymerase chain reaction tests and screening.
People on the mainland with mild or asymptomatic
Covid
-19 infections will also be able to isolate at home under new nationwide instructions.
Lee said Hong Kong was in talks with authorities in Shenzhen and Guangdong province on the potential for increased connections with the two areas.
"I am pragmatic … I hope to make relaxations for certain groups first. For example, cross-border truck drivers are the one that suffer the most," Lee said.
He added he also hoped to increase the lottery quota of 2,000 people a day allowed to cross into the mainland.
"We keep making our counterparts say 'yes', and when they say 'yes' on a lot of small issues, they will say 'yes' to bigger matters. That's my strategy," Lee said.
"It's all about management science. We were taught how to achieve the desired outcome by getting the counterparty to say 'yes'.
Lee's administration has faced mounting calls from the business and tourism sectors for quarantine-free travel with the mainland to be restarted as soon as possible.
Some suggested a reopening before the Lunar New Year break next month.
Lee said he understood the business sector's demands, but that he had to look after the well-being of the city's population of 7 million.
He added he also had to consider a vulnerable elderly population and the ability of the city's healthcare system to cope with an increase in
Covid
-19 cases.
Allan Zeman, a nightlife and entertainment magnate, said Lee's statement was "very good news".
Zeman added that he hoped reopening the city to the mainland and the international community could be done in tandem.
But he added that the authorities could focus on the resumption of quarantine-free travel for international visitors first if it was easier to do.
But retail sector lawmaker Peter Shiu Ka-fai was more reserved about the potential reopening and warned that economic benefit for the city's hard-hit tourism and retail sectors would depend on the degree of relaxation when the borders reopened.
"A lot of people would want a reactivation of the economy at the snap of a finger, but realistically, it would have to happen step-by-step … the tourism sector in Hong Kong, such as tour buses and hotels, will need time to prepare," he said.
Respiratory medicine specialist Dr Leung Chi-chiu said the
Covid
-19 pandemic was moving to an endemic stage at different times in other parts of the world after herd immunity had built up.
As the mainland might be facing another wave of
Covid
-19 infections, full reopening of borders might only come in a few months, he cautioned.
"By that time, it should be able to reopen the borders fully with Hong Kong and the rest of the world," he said. "As our herd immunity is now waning, we are experiencing a substantial rebound causing increasing pressure on our healthcare system. We need to wait until the rebound is over before further relaxation."
Two mainland official sources revealed to the Post on Friday that Hong Kong residents could be allowed to enter the mainland without having to undergo quarantine before the Lunar New Year if a pilot scheme – with a quota much higher than 3,000 people – received the go-ahead.
But the sources said that a full reopening of the border would only come later when the central government decided mainland hospitals could cope with a substantial increase in
Covid
-19 cases from elsewhere.
Hong Kong on Saturday reported 14,377 new
coronavirus
cases, the fourth day running above the 10,000 mark, including 698 imported infections.
Another 21 deaths were also recorded.
Lee also discussed the city's economic outlook at the Saturday forum amid a mounting financial deficit and disquiet over the city's persistent
Covid
-19 restrictions.
"Hong Kong, as a small economy, would easily be affected by external factors. However, I see many unique advantages [to Hong Kong] when compared with other places, and that means we are more resilient," Lee said.
Referring to the city's role as a developmental hub for eight industries under China's 14th five-year plan, Lee said his administration had been working hard to fulfil the goals, with the development of an information and technology hub the most promising.
"In 2023, I think our economy would be more proactive in revitalisation, and I expect that to be explosive," Lee added, referencing a round of "revenge" consumption when social-distancing measures were eased in the city earlier this year.
Lee said his trip to Bangkok for the high-level Asia-Pacific Economic Cooperation meeting last month showed that overseas leaders remained interested in the city.
"The ministers I talked to were very interested in Hong Kong," Lee said. "Judging by their reaction, they weren't just telling me they were interested, they asked me questions – quite a few too. That's a sign of interest."