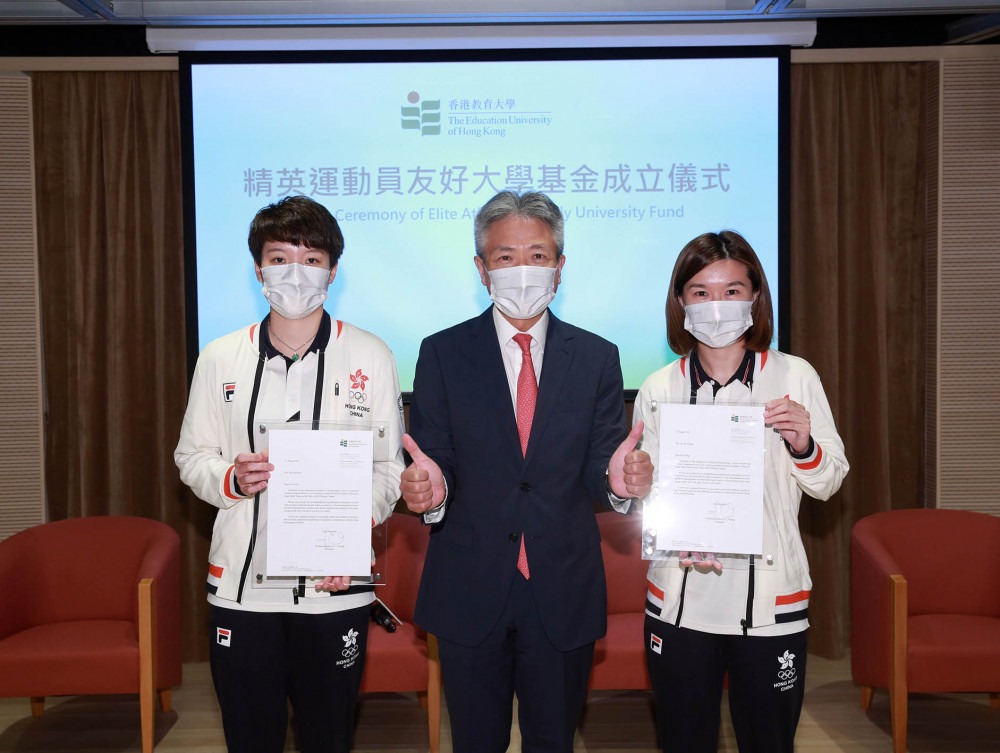 EdUHK establishes fund for sports development
Table tennis Olympic bronze medalists Doo Hoi-Kem and Lee Ho-ching are awarded HK$120,000 each as Education University of Hong Kong announced the establishment of a fund to support local athletes.
In the unveiling ceremony held today for "Elite Athlete Friendly University Fund", Doo and Lee were awarded the scholarships by Education University president Stephen Cheung Yan-leung in the presence of University Grants Committee Chairman Carlson Tong Ka-shing and Hong Kong Sports Institute Chief Executive Trisha Leahy.

Other Olympians, including windsurfer Michael Cheng Chun-leung, gymnast Shek Wai-hung and cyclist Leung Bo-yee were awarded HK$60,000 each.

Two "Elite Athlete Friendly University Ambassadors" – cyclist Wong Kam-bo and karate athlete Lee Chun-ho – were also awarded HK$30,000.

Education University states that the fund will further bolster the development of sports in Hong Kong. The fund will cover postgraduate studies at Education University.

Cheung believed university education will benefit them in their pursuit of future career paths.

"As President, I am pleased to see the many achievements of EdUHK's elite athlete students and graduates after retiring from sport. Perseverance has made them successful in their different endeavours, which include sports coaching and promotion, entrepreneurship, university teaching, and furthering their studies," he added.

Since 2010, the university has admitted close to 100 elite athletes to its different academic programmes, especially the Bachelor of Health Education (Honours) programme.

In 2014, EdUHK was the first UGC-funded institution to sign a collaborative agreement with Hong Kong Sports Institute which introduced a special admission scheme for athletes who have retired or are planning to retire.