Calls flood local fencing schools soar as neophytes sign up for classes amid soaring interest in sport.
Three days after Hong Kong won fencing gold at the Tokyo Olympics, Dylan Wong, a 28-year-old clerk, was still revelling in the victory – so much so he decided to give the sport a try himself.

The Hongkonger was watching on Monday evening with colleagues in his office as Edgar Cheung Ka-long beat the defending Olympic champion, Italy's Daniele Garozzo, to win the men's foil individual gold. The workplace burst into cheers.

Wong admits he does not know much about fencing, and has never picked up a foil. He used to regard it as an unpopular, elite sport, but Cheung's win has changed his mind.

Now he plans to take a fencing class for beginners. A number of his colleagues have also shown interest in it, he says, including some who hope to sign their children up for classes.

"Cheung's performance made me realise fencing is a cool and elegant sport," he says.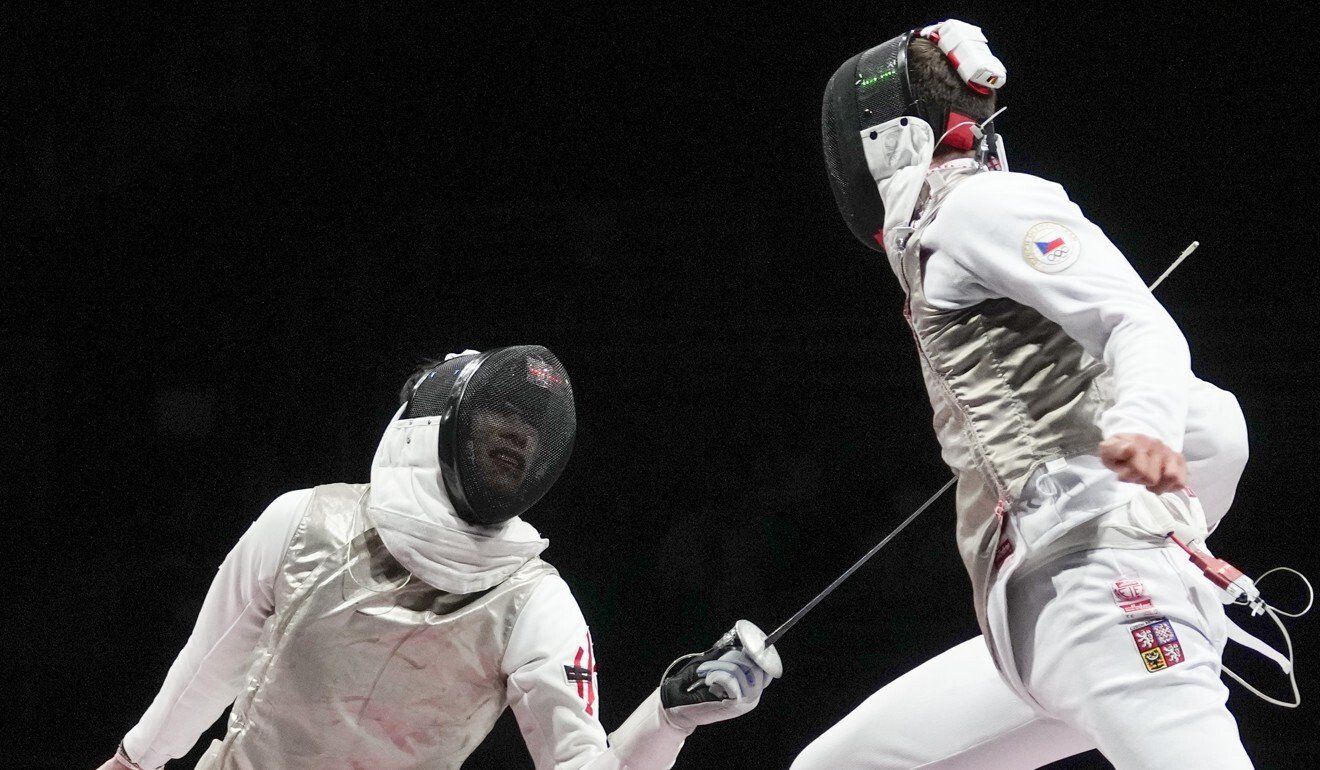 Edgar Cheung (left) competes in the fencing semi-finals at the Tokyo Olympic Games.

The historic win by Cheung, 24, which made him Hong Kong's second Olympic gold medallist after windsurfer Lee Lai-shan in 1996, has seen local interest in the sport explode.

Fencing schools have been overwhelmed by newcomers signing up for recreation, as a way to keep fit, or with an eye towards becoming a professional like Cheung. Parents have also flooded them with inquiries to secure a place for their children.

Former fencer Wong Tsan, principal of the Hong Kong Fencing School, which provides classes for about 600 people a year, says Cheung's gold medal win in Tokyo has brought "fencing heat" to the city.

He says Cheung learned fencing at his school for six years, until he joined the Hong Kong youth fencing team at 16 years old.

Within two days of Cheung's win, the school had received nearly 100 inquiries, including many from parents, asking for fencing class information.

In the past, enrolment for summer classes at the school's two branches in Yau Ma Tei and Quarry Bay were usually long finished, with only one or two inquiries this late in the year.

"I believe this is all because of Ka-long's influence. His winning is encouraging and shows that we Hongkongers can also reach the top of the fencing sport," says the 55-year-old Wong, the first Hong Kong fencer to win an international title when he took gold at the 1994 Commonwealth Championships.

Compared with sports like basketball, the number of people taking up fencing in Hong Kong remains small, according to Wong, but its popularity has been growing because of the performance of fencers like Cheung and teammates Ryan Choi Chun-yin and Vivian Kong Man-wai, both of whom also represented Hong Kong in Tokyo.

The last craze around the sport occurred in 2003, Wong recalls, thanks to the TVB television drama Hearts of Fencing, which featured the lives of students involved in the sport. But it was over quickly.

Wong hopes the heat around the sport will last longer this time, especially after the disruptive impact of the coronavirus pandemic, which caused the suspension of fencing classes and led to some to quit.

He says his school will add manpower to its existing team of 14 full-time coaches and expand venues to meet the surging demand. But he is also calling for support from the Hong Kong Fencing Association and the government in promoting the sport and establishing permanent fencing training and competition venues to help maintain the momentum.

Francis Lee, coaching director of the Academy of Fencing (Hong Kong), says he has never seen this level of interest in the sport. He has received 20 to 30 inquiries about fencing classes a day since Monday, compared with 20 to 30 inquiries a month previously. Most of their students are children, but more adults have begun calling and showing an interest.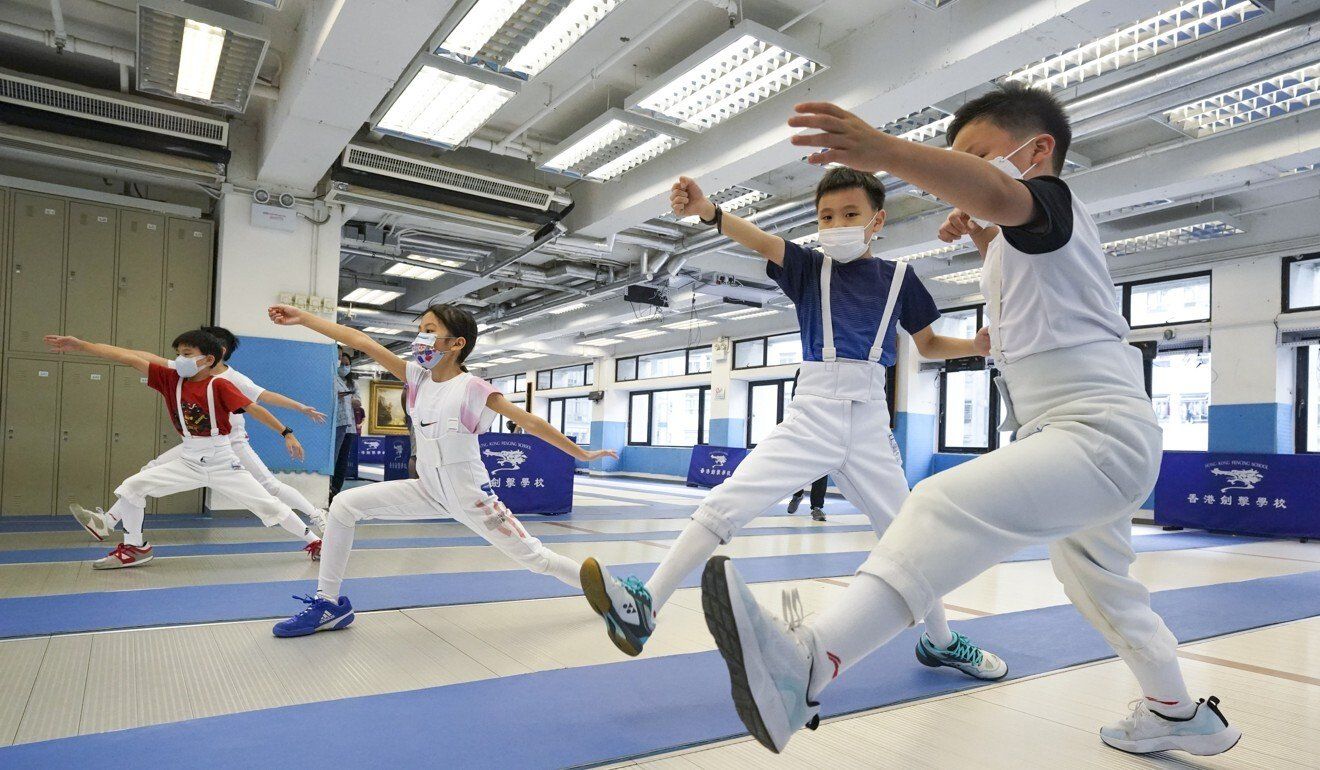 Primary school students learn fencing techniques at the Hong Kong Fencing School in Quarry Bay on Saturday.

Lee, who was the 2016 Asian Fencing Masters all-weapon champion and has been a coach since 1993, says the city's fencing circle, both teachers and learners, has been encouraged by Cheung's performance. His own students have shown more excitement and are working harder to prepare for competitions, he says.

While estimating that nine out of 10 people take up fencing simply for recreation or because they consider it a cool sport, Wong says Cheung's win can break that mindset, pushing some to make it a full-time pursuit.

"Cheung will serve as a role model for many and encourage them to consider it a promising career path," he says.

InspiringHK Sports Foundation, a non-profit organisation dedicated to improving youth through sports, offers fencing classes, among other sports, for children of underprivileged families. Around 100 to 150 children take part in its fencing classes each year at a cost of just HK$500 (US$64).

Its chief executive, Judy Kong Ka-wai, says their fencing classes are popular among children from poor families, who are interested in the sport but cannot afford to take classes outside, which cost thousands of dollars.

She says her organisation plans to look for more resources to make fencing more accessible to underprivileged children, calling sports essential to their growth and development.

"Apart from the goal of becoming gold medallists like Cheung, I hope children will learn from his sportsman spirit of 'never give up' in their lives," she says.