One of city's biggest Easter egg hunts makes comeback after two years of online events.
More than 1,000 children and their families descended on Discovery Bay on Lantau Island for Easter festivities, while others took the Ngong Ping 360 cable cars on Friday, marking the first long holiday in Hong Kong since the removal of all Covid-19 restrictions earlier this year.

As one of the biggest Easter egg hunts in the city began on Good Friday, inflatable bunnies, bouncy castles and dozens of vendors dotted the main areas of Tai Pak Beach and DB Plaza.

The Discovery Bay Easter Egg Hunt on the Beach returned as an in-person activity for the first time since 2019. About 300 children at a time armed with shovels and rakes happily dug and scraped in the sand for treats.

Chloe Chan, 10, was all smiles when she uncovered one of the 12 special prize eggs up for grabs.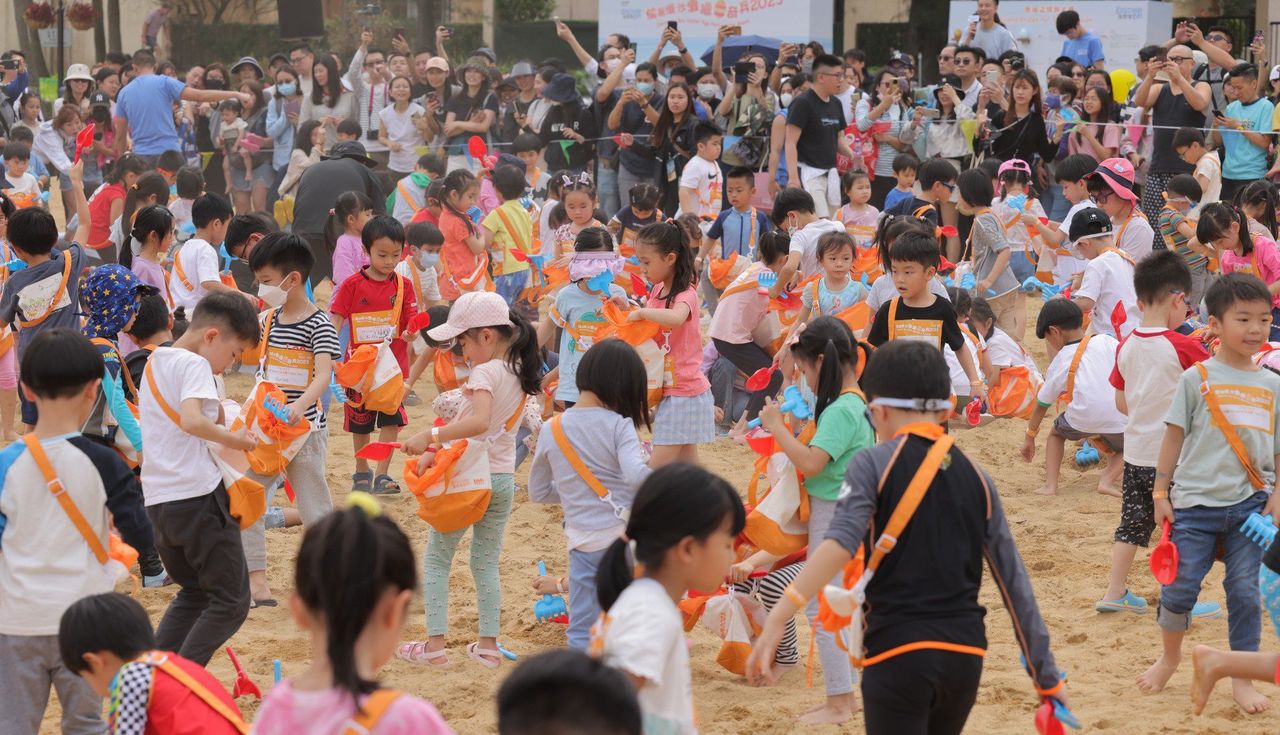 Hundreds of children take part in the Discovery Bay Easter Egg Hunt on the Beach.

"It was really exciting," the Primary Four pupil said, proudly clutching the envelope containing her prize. "I never thought I would get it."

Her family made the trip to Discovery Bay from their home in Wu Kai Sha for an Easter staycation. Her mother, Winnie Li Wing-yee, who works in the education sector, said she wanted her daughter to attend the event after the pandemic shut down most activities for young children for three years.

While this year marks the 16th anniversary of the event, the two previous editions were conducted virtually owing to Covid-19 restrictions, while the 2020 one was cancelled because of inclement weather.

"I've never seen so many kids on the beach together having fun," Li said.

But Li was not the only one who wanted her child to attend. The event's organisers said the 2,400 places available over the two-day event were sold out within 30 minutes of becoming available in March.

"We're just so glad that we have this opportunity to bring joy to families in Hong Kong," said Charlotte Ho Chi-yu, the assistant general manager for branding and marketing at Hong Kong Resort Company.

Gloria Tam Hoi-yam, a stay-at-home mother who lives on Hong Kong Island, said the atmosphere on the beach was in stark contrast to the past three years.

It was "hard" raising her two daughters, Gwyneth Lai, six, and Giselle Lai, five, during the pandemic, Tam said. The restrictions made it difficult for them to see their friends. Last Easter, the family just stayed at home.

"It's just great that they can get out and play with others," Tam said.

Giselle said she could not wait for next year's hunt after finding five eggs in her 1.30pm time slot.

"Next year, I'll get six eggs," she said with a big grin.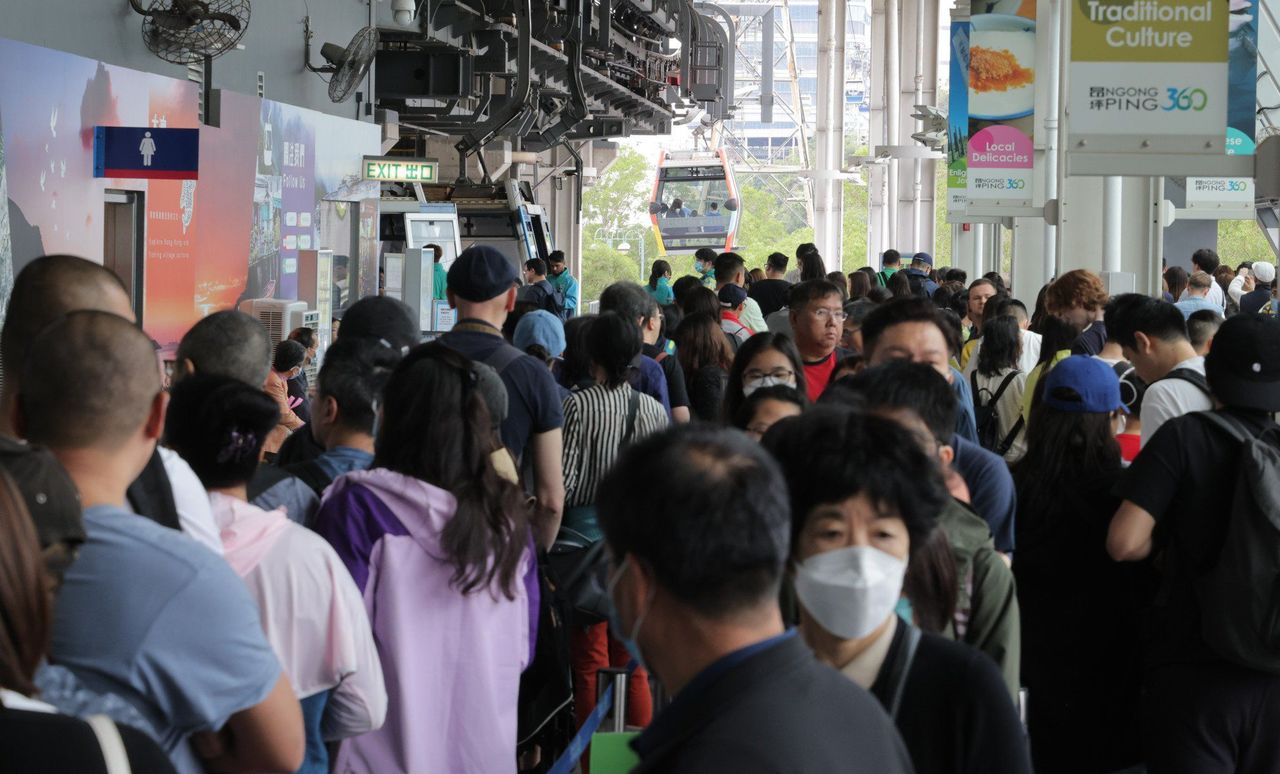 Visitors queue up at the Ngong Ping 360 cable car Tung Chung station on Good Friday.

Other areas were also inundated with residents and tourists taking advantage of the long weekend.

On the other side of Lantau Island, popular tourist spots such as the Ngong Ping 360 Cable Car and Big Buddha saw a mix of Hong Kong residents, mainland Chinese visitors and foreign travellers.

The morning started slowly, with just a few visitors eager to make the 5.7km (3.5 miles) journey to Ngong Ping Village, but by 11.30am, a 40-minute queue had formed of families and couples, with more arriving steadily as the day went on.

One such group who had arrived earlier in the morning were friends Abigail Friedman, 47, and Jana Sauer, 27, who were both in Hong Kong on a work trip with the non-profit organisation Care for Education.

"The Big Buddha is just one of the iconic things of Hong Kong," said Sauer, adding that the nice weather was a bonus after the past week's mix of rain and cloudy skies.

Overall, they said they had enjoyed their first trip to Hong Kong.

"We've had a blast," Sauer said. "Getting around is so easy. We've really just enjoyed wandering around and stumbling on new things."

Last weekend saw an influx of foreign tourists owing to the combination of the Hong Kong Sevens rugby tournament and the Creamfields music festival. Some foreign tourists who spoke to the Post said they stayed because of the holiday weekend.

"Hong Kong has been amazing," said Andrew Carpenter, a 42-year-old from England, who was en route to visit the Big Buddha on Friday morning with his wife, Sunny Lee, 35, from South Korea.

Carpenter and Lee, who both teach in Shanghai, began their week-long trip by attending Creamfields and have since been exploring the city.

"Beaches, mountains, cities, it's got everything," Carpenter said.

For some Hong Kong residents, the holiday and past week's events combined with the end of Covid-19 regulations created the perfect time for family to visit.

"We are here because the restrictions have been lifted," said Craig Totman, 70, with his wife, Deborah Totman, 69, retirees from the United States who were visiting their son, Brian Totman, 35, for the first time since he moved to Hong Kong a year and a half ago.

The family, who started their trip with the Hong Kong Sevens, said they enjoyed being together and exploring the city.

"It's nice to show off Hong Kong," Brian Totman said.