Hong Kong truck drivers say still long waits for coronavirus tests on mainland China side of border.
Hong Kong truck drivers have complained of a slow start to a new arrangement for the collection and drop off of goods in mainland China, designed to speed up cross-border deliveries.

Some truckers complained about long waits for coronavirus test results on the Chinese side of the border on Monday, the first day of the streamlined system.

"Many of the drivers got stuck at the Shenzhen Bay control point. And many have problems going through the KuaJingAn system," one driver surnamed Cheung said, referring to the mainland's online system for the city's drivers to log details of their journeys.

The point-to-point arrangement, announced on Sunday, allows Hong Kong truck drivers to go directly to pickup points over the border. The new system replaced a rule, in place since March, that drivers had to pass their cargoes to mainland truckers after they crossed the border.

But Cheung said drivers still needed to wait for more than an hour on the Hong Kong side for results of a coronavirus test before they could cross the border – and that the problems did not end there.

"On the mainland side, there will be another Covid test. It will be another five to six hours' wait. And there are also problems uploading our information onto the KuaJingAn system," he said.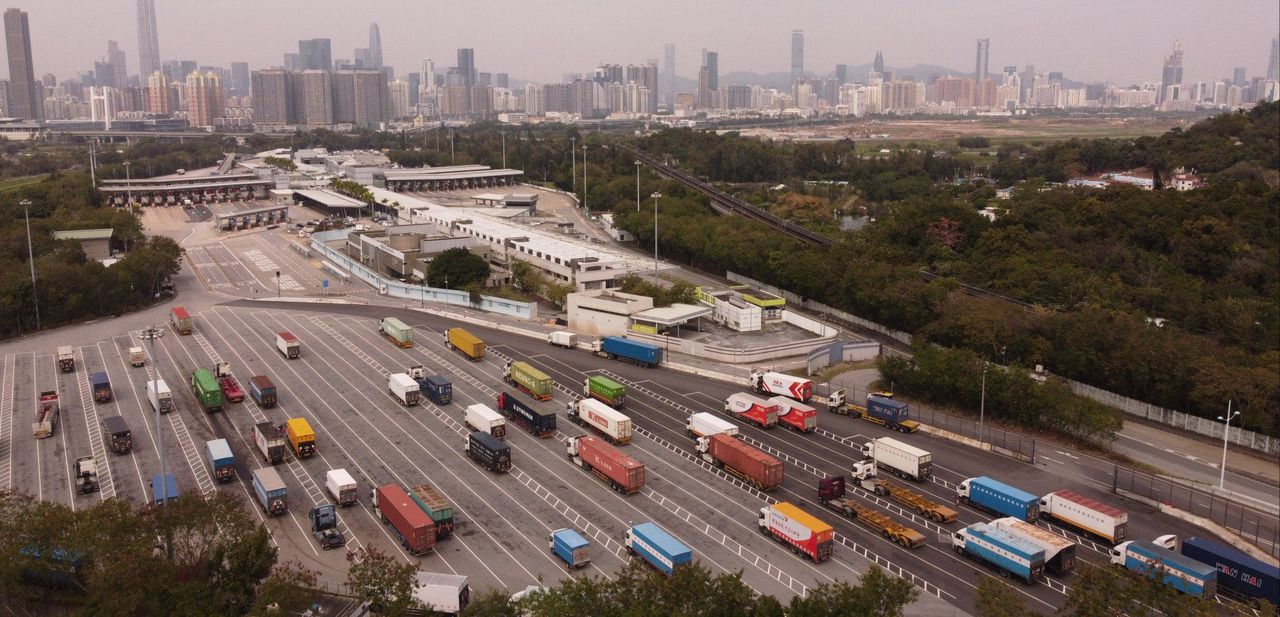 Trucks wait at the Lok Ma Chau checkpoint earlier this year.
City officials said they hoped the new measure would ease the import and export of goods, but some experts said it was too early to assess the economic benefits.
The scheme, part of a general relaxation of anti-
coronavirus
measures on the mainland, in general received a warm welcome from the city's logistics sector.
Container Transportation Employees General Union chairman Chan Dik-sau said he was not aware of major problems on the first day, but added he did not expect an immediate boost in the number of cross-border cargoes.
"The new measure came without warning. Some companies need time to hire more drivers. And some drivers whose mainland driving licences have expired also need to have them renewed before they can take up new jobs," Chan said.
Union figures showed that Hong Kong used to have about 11,000 cross-border drivers, but many of them turned to work as security guards or taxi drivers because of strict
Covid
-19 restrictions on the mainland.
"I hope the mainland side could automatically renew our drivers' expired licences as a temporary remedy," Chan said.
Hong Kong Container Tractor Owner Association chairman Lam Hoi-tat said the new measure could reduce costs because of a faster turnaround.
"Now drivers can return to Hong Kong after completing the job during the daytime. It takes about eight hours to 10 hours, compared to 18 hours to 20 hours before," he said.
But Cheung Chi-cheung, vice-chairman of the Kowloon Fruit and Vegetable Merchants Association, said it was too early to say whether prices would drop soon, because the exchange rate for the yuan had to be taken into account.
Shenzhen implemented "centralised transfer arrangements" for cross-border road transport in mid-March in the wake of a spike in
Covid
-19 cases in Hong Kong.
Drivers could only pick up and unload goods at designated transfer yards at the ports after entry into Shenzhen.
The measure affected the quantities and prices of basic commodities supplied to Hong Kong and re-exported goods.
It also doubled the transport time and costs, which undermined the competitiveness of Hong Kong's goods transport industry.
Lam said that some companies had been forced to shut up shop over the last nine months.
Government figures have shown the volume of cross-border road cargo fell from 1.69 million tonnes (1.8 million tons) in January to 619,000 tonnes in May.
Cargo transported by ship, however, went up from 1.22 million twenty-foot equivalent units to 1.53 million over the same period.
Dr Thomas Yuen Wai-kee, an economist at Shue Yan University, said: "The new measure is a good way to reduce the transaction cost under pandemic controls and can stabilise the supply, reduce the transport cost, as well as lower the cost for drivers to cross the border."
He said he expected prices for imported fresh food to remain stable over the Lunar New Year holiday in January.
Simon Lee Siu-po, an honorary fellow at Chinese University's Asia-Pacific Institute of Business, agreed the benefit to the city's economy might be limited.
"The new arrangement can definitely reduce costs. But the inflation of goods in Hong Kong is not high, as our high cost of operation is mainly due to high rent," he said.
The Transport and Logistics Bureau said it would monitor the operation of border control points over the next few weeks and highlight to the mainland authorities any ways the arrangement could be improved.
The news came as it was announced that the first cruise ship carrying overseas tourists to visit Hong Kong since the
Covid
-19 pandemic hit the city would dock next month.
But industry leaders warned most operators were still hesitant about visits to Hong Kong because of its anti-
coronavirus
policies.
Silversea Cruises' Silver Spirit is expected to set sail from Singapore on January 5, with stops in Thailand and Vietnam before it arrives in Hong Kong on January 18 for one night.
Hong Kong on Monday logged 14,717 infections, 704 of which were imported and 25 deaths. The city's
Covid
-19 tally stands at 2,261,726 cases and 10,984 fatalities.