Rural affairs body asks city leader to make it easier for villagers to sell their ancestral land.
The chief of Hong Kong's rural affairs body has urged Carrie Lam Cheng Yuet-ngor to make it easier for villagers to sell their ancestral land to help unlock swathes of the city for housing and other development.

The Heung Yee Kuk proposal is one of several ambitious plans to open up rural areas for development that pro-Beijing groups have advanced ahead of the Hong Kong chief executive's policy address next Wednesday.

Lam is set to outline an extensive scheme covering land near the border with mainland China to complement the national plan for economic development.

She is also reportedly planning to ease restrictions on villagers selling ancestral land collectively owned by kinship- or clan-related groups known as tsos and tongs.

Beijing has directed the city to solve its housing crisis as a top priority and to eliminate tiny subdivided homes by 2049. Recently, some developers were said to have met Beijing officials who demanded they pour in resources to solve the housing problem. However, developers have denied that they came under any pressure.

Currently, villagers of a tso or tong must reach a unanimous agreement to sell the land, but officials might lower the consent threshold to 80 per cent, according to some media reports.

Secretary for Development Michael Wong Wai-lun declined to confirm the reports when asked to comment on Wednesday.

Kenneth Lau Ip-keung, chairman of the Heung Yee Kuk, also refused to say whether a deal on lowering the bar had been struck with Lam, but he issued an appeal for her to do so.

"The kuk understands that a majority of tso/tong stakeholders support coming up with a guideline so resources can be better utilised … We hope land in the New Territories can be unlocked as soon as possible, so we have taken the initiative to tell the government that there is more or less a consensus to amend the New Territories Ordinance," said Lau, referring to the legislation regulating the management of such land.

The kuk is a government-recognised body representing the interests of indigenous villagers in the New Territories. It is estimated that tsos and tongs hold a total of 2,400 hectares of land across the New Territories.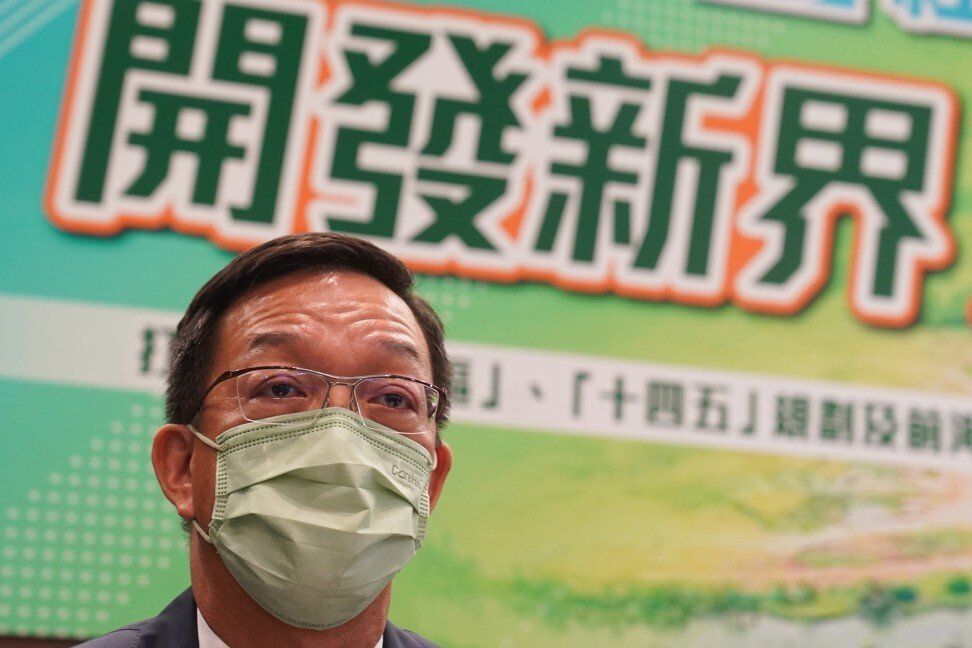 Kenneth Lau, chairman of the Heung Yee Kuk.

Earlier, Lau told the Post that with many tso/tong members no longer alive or based overseas, unanimous consent for selling the land to private developers was hard to reach.

Much of the tso/tong land is currently rented out as car parks or for storage, generating income for clan members, but Lau noted the need for the kuk to contribute to solving housing shortages in the city, adding sale proceeds could help support the clans.

"I believe a threshold of about 70 or 80 per cent for each tso/tong vote ... could bring more benefit as a whole," he said.

Meanwhile, the Business and Professionals Alliance, of which Lau is a member, has also submitted a proposal to Lam for upgrading development plans for the northern New Territories.

The government has earmarked some parts of northern Hong Kong for housing, economic and technology development, while setting aside the rest, including a wetland site of international importance for migratory birds and woodlands for conservation and leisure uses.

The New Territories North project, covering 1,460 hectares (3,607 acres), is one of two long-term sources of land supply identified by the current administration, the other being a massive reclamation scheme off Lantau Island.

But BPA said Hong Kong should expand the scheme further to develop 2,674 hectares of land through both public and private sectors' participation.

Another group, New Prospect for Hong Kong, went further to propose the government use HK$300 billion (US$38.5 billion) of the city's fiscal reserves to buy up some 2,600 hectares of unused farmland in the New Territories.

The group, set up two years ago by Hong Kong professionals who were born on the mainland, with more than 100 members, argued the move could release enough land to build about 1 million units, meeting housing needs up to the year 2069.

Its co-founder, Macro Liu Chang, dismissed fears the proposal could dry up fiscal reserves. "It is also a kind of investment. There will be returns."

Morgan Chan King-lun, who is on the group's standing committee, also called for the government to have a long-term vision when developing Hong Kong.

"Apart from only thinking about how we could build more flats, we should also make better use of the land in northern New Territories to fit into the Qianhai and Greater Bay Area development," Chan said.

The group claims it is neither "pro-establishment" nor "opposition-leaning" and is open to views that improve governance. No member had taken part in September's Election Committee poll and it said there was no plan to field candidates in the coming Legco election.