Fans wowed by new Exhibition Centre station, calling it 'beautiful', while a World War II bomb uncovered during construction and now on display is 'amazing'.
Hong Kong's railway buffs have been given a first look at the MTR's new Exhibition Centre station, including a display featuring a large World War II bomb uncovered during construction, ahead of the May 15 opening of the final section of the long-overdue Sha Tin to Central link.

Around 400 to 500 visitors, mostly railway fans and families with young children, had queued up outside a station exit near the Harbour Centre in Wan Chai before the open day began at 10am on Monday, a public holiday for Buddha's Birthday.

The 1,400 tickets available were snapped up in minutes after being distributed for free on the "MTR Mobile" application and "The Gulu", a mobile ticketing app, last Thursday. Each ticket allowed entry for up to four people.

Rail giant the MTR Corporation said 4,000 people, including 200 guests from non-government organisations, had visited the station on Monday.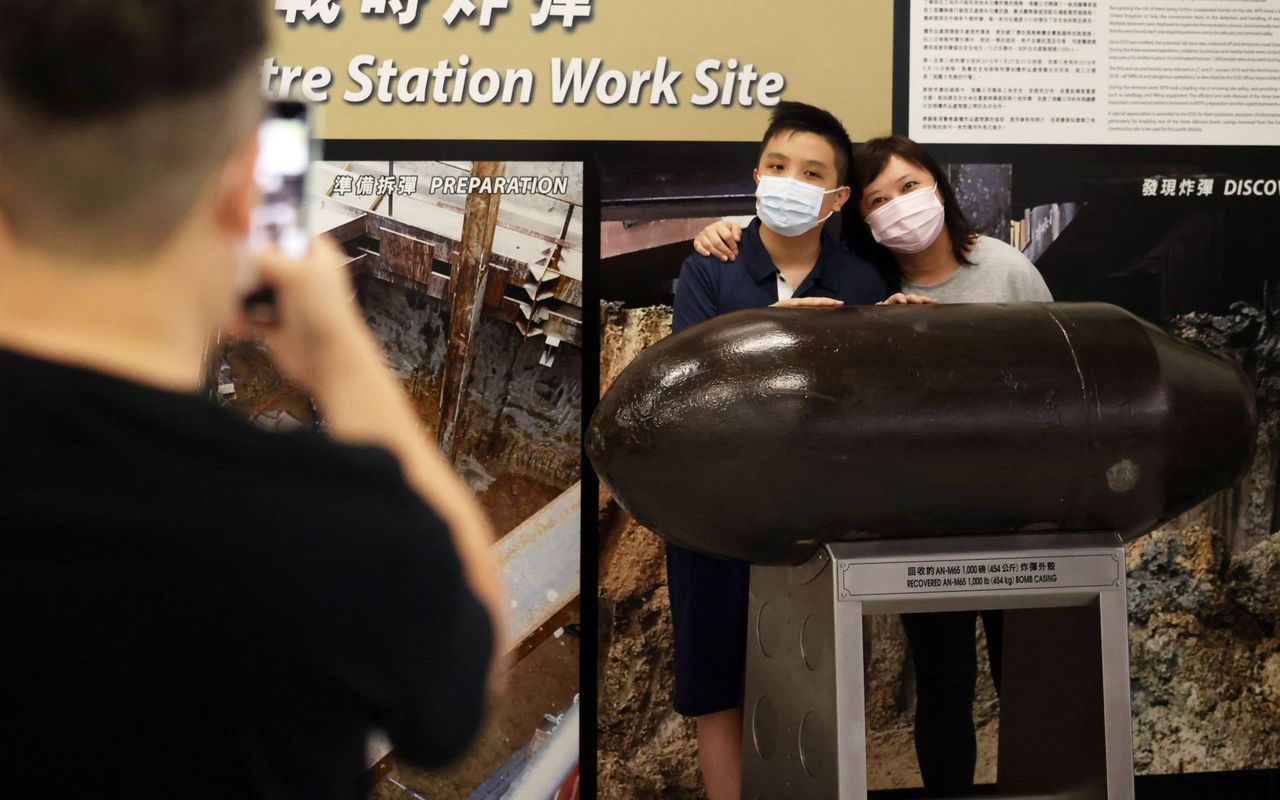 The bomb was one of three uncovered during construction in 2018.

Visitors took photos and videos of the station, which features grey mosaic walls, and posed next to the casing of the 1,000-pound bomb, on display along with other exhibits and artworks.

The bomb, thought to have been dropped on Hong Kong during World War II, was one of three unearthed during the station's construction in 2018.

Three-year-old train fan Eden Tsoi said he was "very happy" to visit the station and that it seemed bigger than other ones.

"He is a super MTR fan and has memorised the names of all the stations," his mother Emily Ng, 35, said. "It was very hard to grab tickets. We used three mobile devices and got [two] tickets for eight people."

The new Hung Hom-Admiralty section – via Exhibition Centre station in Wan Chai North – of the HK$90.7 billion (US$11.7 billion) link, Hong Kong's most expensive rail scheme, opens on Sunday, bringing to an end a project plagued by shoddy work, repeated delays and cost overruns.

The new section, also known as the cross-harbour extension of the East Rail line, will extend the line's length to 46km through 16 stations. It will be the fourth cross-harbour railway route connecting the northeastern New Territories, central Kowloon and Hong Kong Island.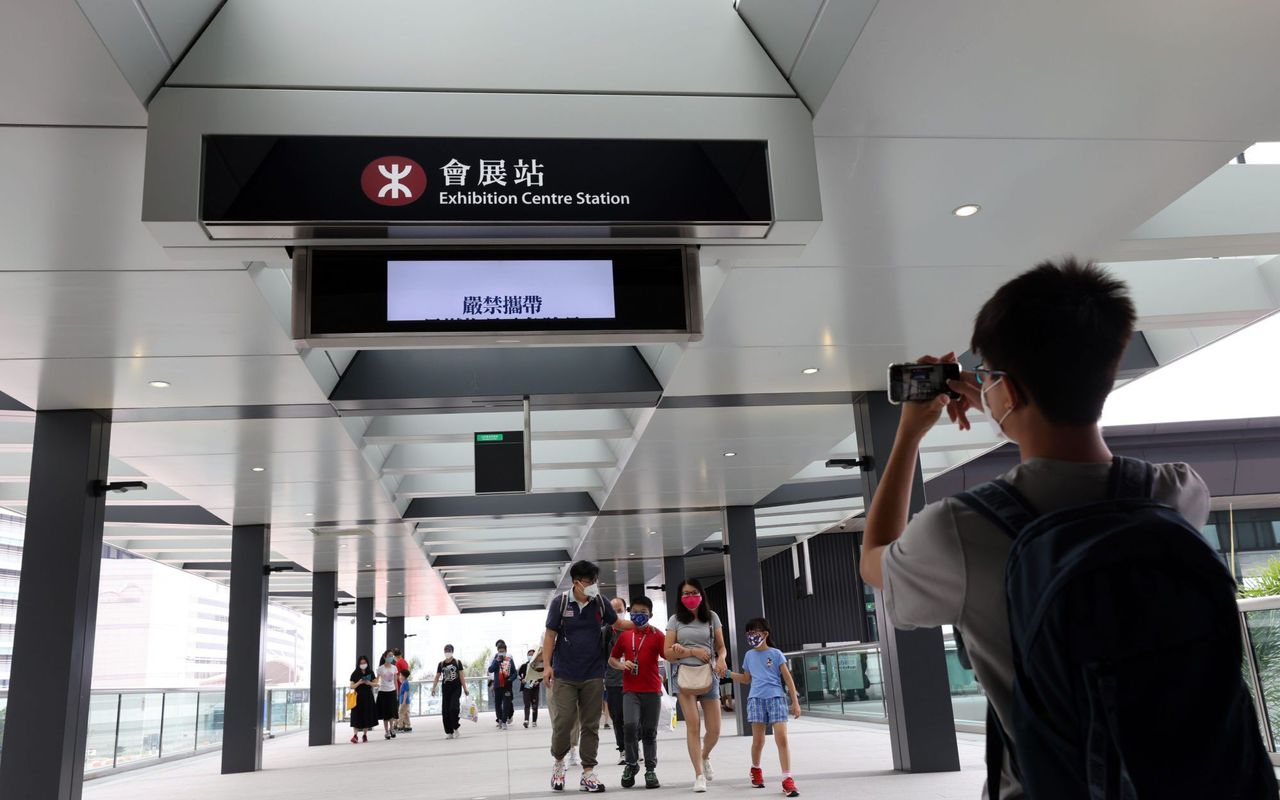 The station opens on Sunday when the section begins operations.

Admiralty station will become a mega interchange point for four lines – East Rail, Tsuen Wan, Island and South Island.

Ng, who lives in Tseung Kwan O, said the new section would make her commute to work in Admiralty easier, adding they would visit again on opening day on Sunday.

"We will definitely come here again when it opens on May 15," she said.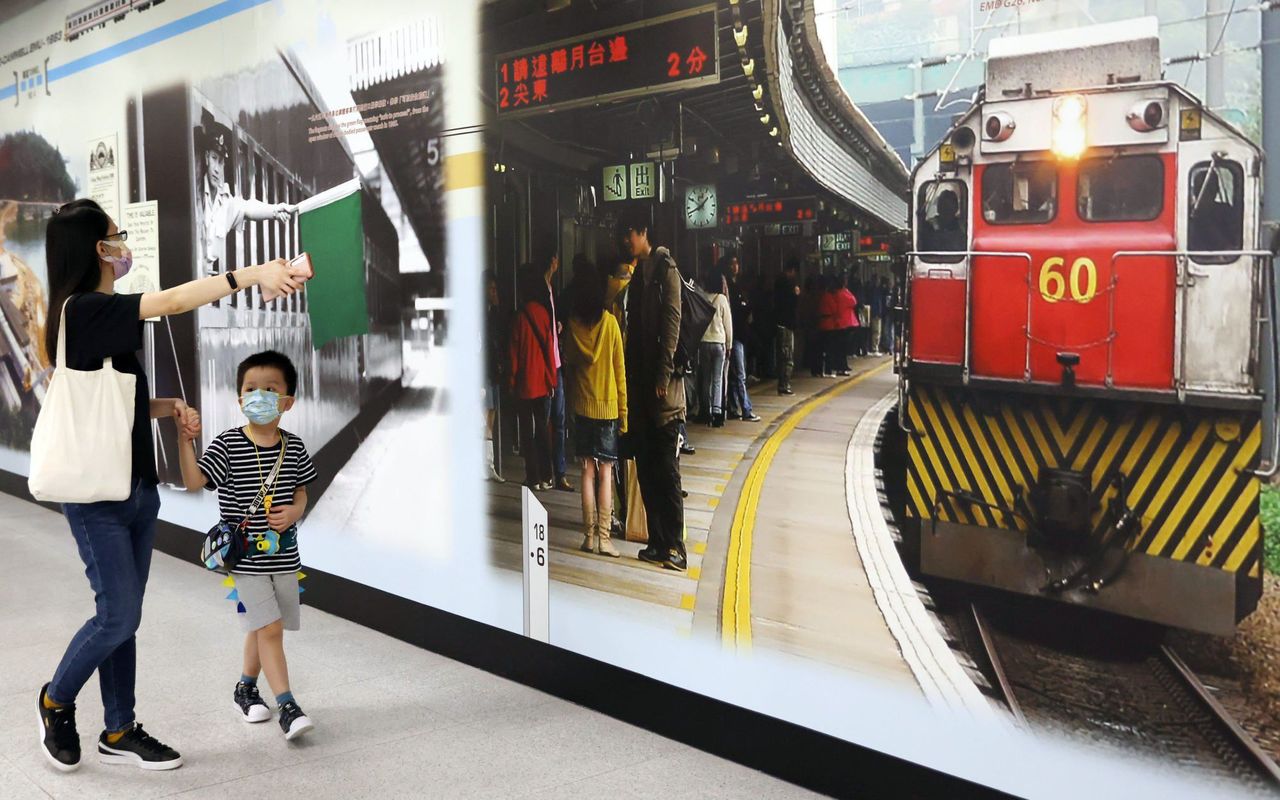 Commuters will also be able to check out the history of the East Rail line on station walls.

New nine-car trains on test runs arrived from time to time at the station, with visitors peeking into carriages through the closed platform screen doors.

The station's walls also featured the history of the 111-year-old East Rail line and the construction of the extension.

Lau Siu-man, 30, a railway fan for 20 years, said he was lucky to get tickets.

"The station is very beautiful. Compared with other stations on the East Rail line, it has air conditioning and is advanced," he said. "I have been thinking about the opening of the station for a long time."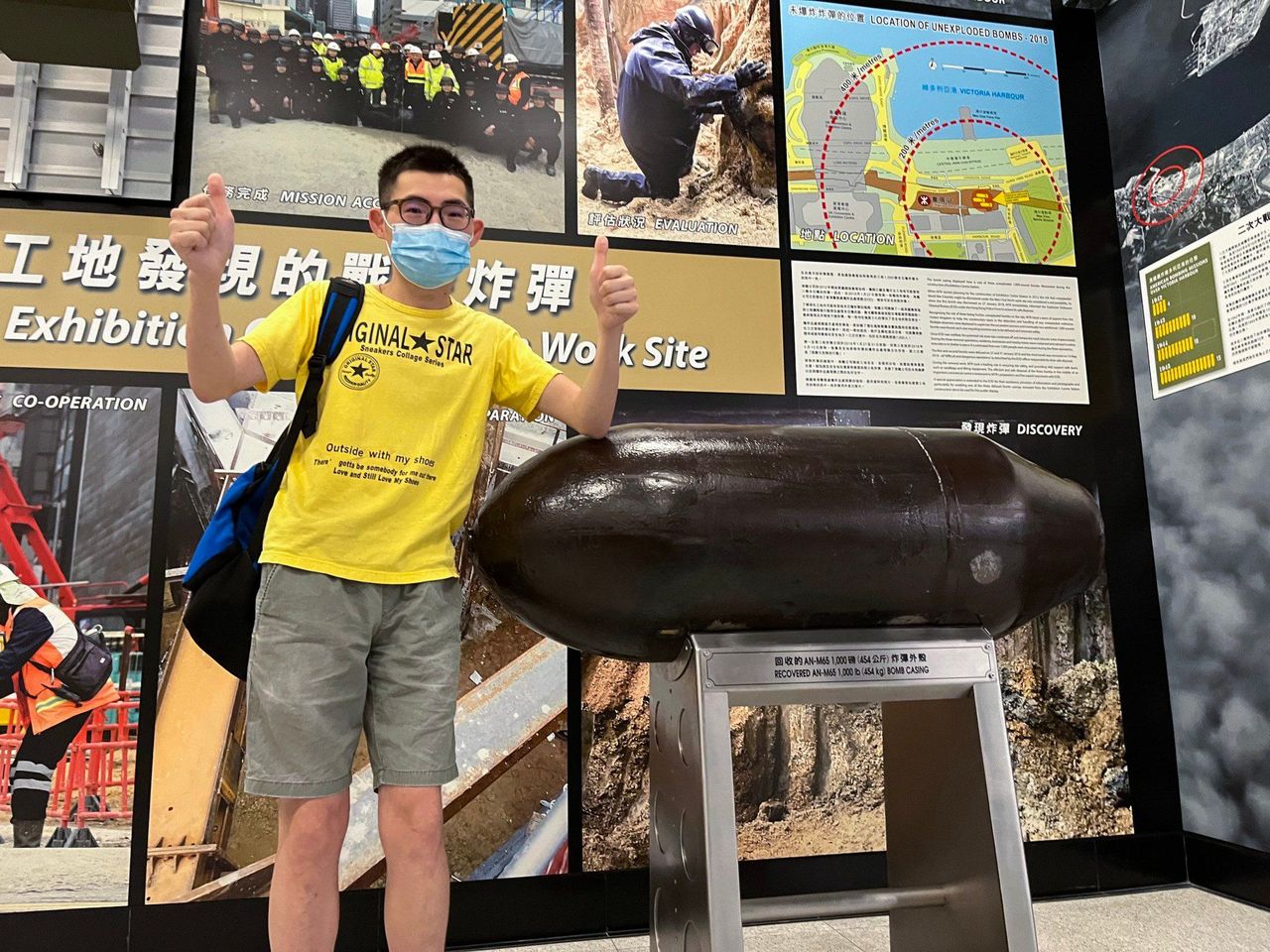 Railway lover Lau Siu-man enjoys the open day.

He said he and other railway lovers would hop onto the first train that arrived at 5am on Sunday.

Dean Collins, a teacher, said he was excited to visit the station with his wife and their 11-year-old son, who is a railway enthusiast.

"I like the exhibits, the history, and the photos. I think it is a nice touch to let people come a week early," he said. "The bomb. That's amazing. A nice bit of history."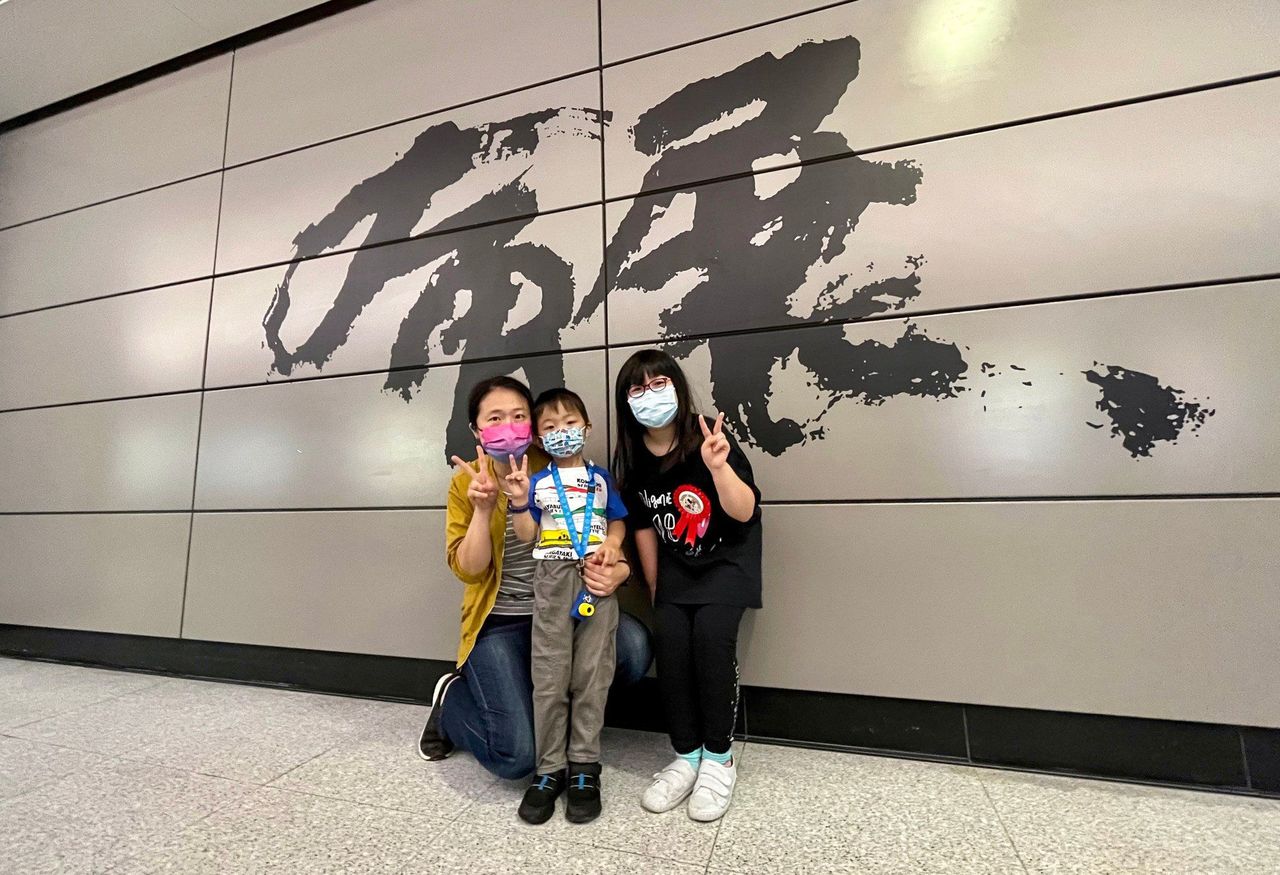 Three-year-old Eden Tsoi (centre) is an MTR 'super fan'.

The new nine-car trains will replace the 12-car ones on the extended East Rail line, and a new signalling system will be in service. Trains will arrive every 2.7 minutes during peak hours, shortened from three minutes. Passengers will only spend 17 minutes travelling from Tai Wai to Admiralty, 11 minutes faster than before.

MTR Corp CEO Jacob Kam Chak-pui said the extension further improved the railway network and laid a solid foundation for its future development.

"I saw that the visitors were very thrilled today, and so was I, as we have been longing to travel from the New Territories to Hong Kong Island without changing routes," he said.

Operating and metro segment chief Sammy Wong Kwan-wai said their team was conducting final preparations, adding that more staff would be deployed to Admiralty station to handle the influx of passengers during peak hours.