Since the beginning of the pandemic, the Jockey Club has committed over HK$1.8 billion to Covid-19 relief initiatives, fast-tracking grants to NGOs offering essential services. In so doing, the club continues a long tradition of supporting Hong Kong, particularly during difficult times.
The thudding of hooves that sets hearts pounding. A century-old racecourse. Adrenaline-fuelled cheering. Part of the fabric of the city, Hong Kong's world-class horse racing is as iconic as they come.

In fact, Chinese leader Deng Xiaoping promised Hongkongers that after 1997 "horse racing will continue, dancing parties will go on". And continue it has, one of the few constants throughout the Covid-19 pandemic. All 88 race meetings with over 800 races were run during the pandemic 2020-2021 season thanks to the Hong Kong Jockey Club's "racing bubble".

The club was even able to stage its showpiece Longines Hong Kong International Races, with international participants from Europe, Japan and Australia. In an uncertain and anxious time, racing has given Hongkongers much-needed entertainment and a sense of continuity.

Hong Kong's single largest taxpayer, the Jockey Club contributed HK$24.9 billion (US$3.2 billion) in tax to public coffers in the last financial year, making up around 4.5 per cent of the government's total revenue.

The Jockey Club operates on a unique not-for-profit business model, which means any operating surplus is allocated to charity through the Hong Kong Jockey Club Charities Trust and is deployed "for the betterment of our society".

This globally admired integrated model of horse racing, membership club, responsible sports wagering and lottery plus philanthropy has been written up in a case study by the renowned University of Chicago Booth School of Business.

Hong Kong has long relied on the Jockey Club to help with social welfare, as its public sector follows an "outsourced model" in the provision of social services. The government plays the role of financier and regulator, supporting NGOs that in turn provide most of the social services.

Last year alone, the Jockey Club donated HK$4.5 billion to 528 charitable causes in the city, ranging from youth development and elderly care to talent building and health services, to name a few.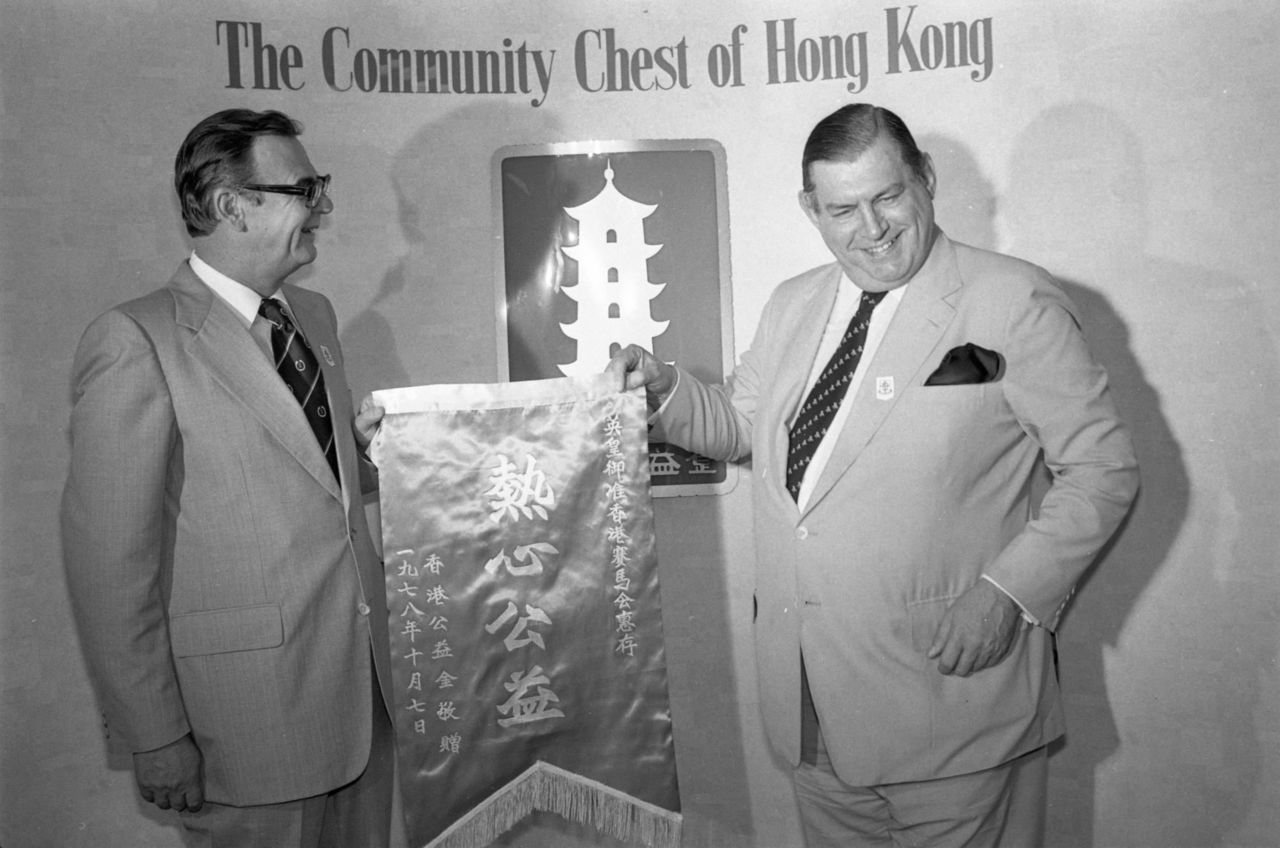 John Boyer (left), chairman of the executive committee of the Community Chest, presents a souvenir flag to Peter Williams, chairman of the stewards of the Jockey Club, in October 1978. The club donated HK$1 million to the charity group to commemorate the opening of the Sha Tin Racecourse.

Covid-19 has further highlighted the economic disparities in our society, disproportionately affecting disadvantaged members of the community and hitting them particularly hard. Even before Covid-19, Hong Kong was grappling with one of the widest wealth gaps in the developed world, with one in five people living in poverty. Fortunately, the Jockey Club stepped in.

Since the beginning of the pandemic, the Jockey Club has committed over HK$1.8 billion to Covid-19 relief initiatives, accelerating its usual exacting application process to enable the provision of timely life-saving care.

For example, it established a Covid-19 Emergency Fund, injecting HK$200 million over two years to provide fast-track grants to NGOs offering essential services to people hard-hit by the pandemic. Over five Covid-19 waves, the club has provided almost HK$500 million in food assistance to families in need.

It has also supported the elderly with enhancement of infection control facilities, rehabilitation at residential care homes, 20,000 LeaveHomeSafe compatible smartphones, and meal deliveries to homebound elderly to the tune of about HK$255 million.

With online learning the norm for much of the past two years and Hong Kong having the longest school shutdown in the world in early 2020, the digital divide between rich and poor has been further exacerbated.

To ameliorate this situation for disadvantaged students, the Jockey Club has contributed around HK$301 million to bandwidth support for e-learning, meal and games boxes for kindergarten and primary students, and mental health support for vulnerable students.

Let's not forget that the Centre for Health Protection – which has been providing daily Covid-19 updates and has been front and centre in the fight against Covid-19 – was actually set up with an initial grant of HK$500 million from the Jockey Club after the severe acute respiratory syndrome (Sars) epidemic in 2003.

If you walk around Hong Kong, you will see evidence of the Jockey Club's ubiquitous and meaningful contributions. This is because the club was the government's partner in rebuilding Hong Kong's post-war infrastructure and public works in the 1950s and beyond, which is why you will see its name on universities, hospitals, swimming pools, parks and other public buildings and facilities.

In Asia, there are no other donor organisations of the size and reach of the Hong Kong Jockey Club Charities Trust. To appreciate its scale, it annually donates around HK$4 billion to society and regularly ranks in the top 10 among global philanthropic donors, up there with the Bill and Melinda Gates Foundation and Ford Foundation. We are so lucky to have such an amazing resource for our community's development.