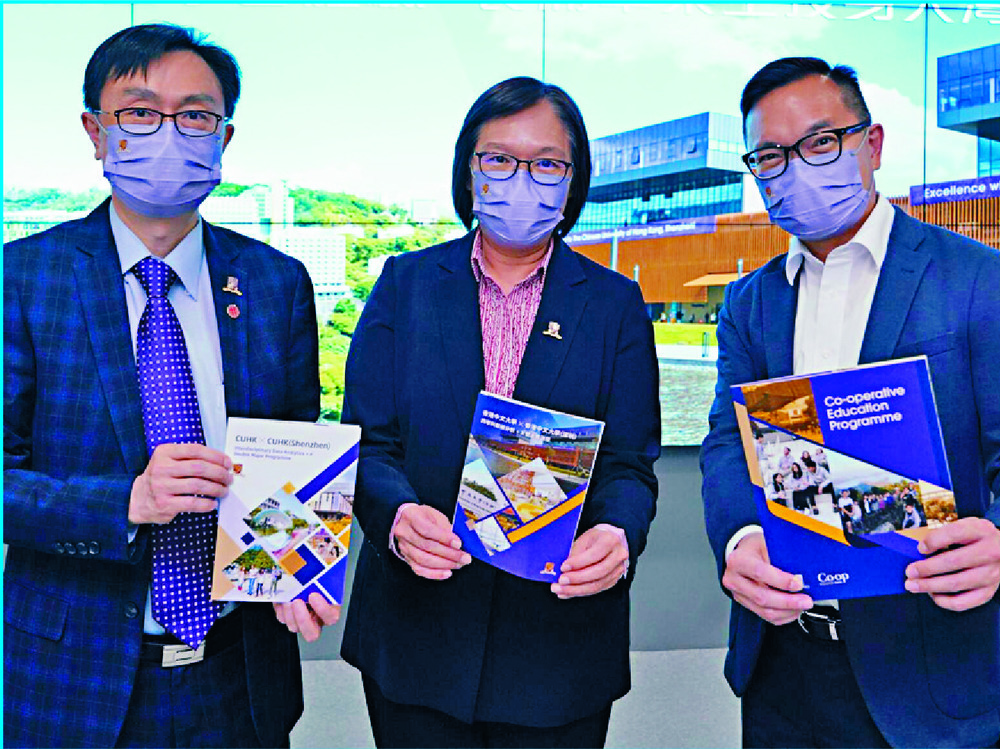 Dual-location program signals new CUHK trend
The Chinese University of Hong Kong has launched a "2+2" dual-degree program, which lets students study at both its Sha Tin and Shenzhen campuses.
The new program will welcome its initial batch of 40 to 50 students in September next year. Half of those students will be in Hong Kong, and the other half in Shenzhen.

Under the interdisciplinary curriculum, students will claim their first major in data analytics, and choose a second major covering fields in statistics, mathematics, engineering and business administration.

Students will alternate between one semester in Hong Kong and another in Shenzhen, totaling two years at each campus.

They are required to go on two credit-bearing field trips during summer semesters - one in the Greater Bay Area and another in a different Asian country.

CUHK's Pro-Vice-Chancellor Isabella Poon Wai-yin said the program was launched after the university observed a growing demand for data science talents in the Greater Bay Area. "Students can benefit from cross-border opportunities and improve their network in the Greater Bay Area," Poon said.

She added that the university is likely to introduce dual-location programs across other majors soon.

In Hong Kong, the program will be funded through the University Grants Committee. Students taking the Hong Kong Diploma of Secondary Education this year can apply via the Joint University Programmes Admissions System.

Director of Admissions and Financial Aid at the University Andy Wong Ka-chat said the program provides students with a better understanding of the mainland and enhances their competitiveness in the labor market.

The admission details of the program will soon be updated on the JUPAS website.

While there are no references on the admission results for the program, Wong said the median scores are expected to be between 24-25 points for the best five subjects in the HKDSE - with weightings likely to be applied to certain subjects including mathematics.

Students of the "2+2" program can join a six- to eight-month full-time paid placement opportunity.

John Lai Hon-weng, assistant dean of CUHK's Faculty of Business Administration, and director of the Co-operative Education program's office, said students can learn practical skills in the program while enjoying a salary similar to full-time employees.