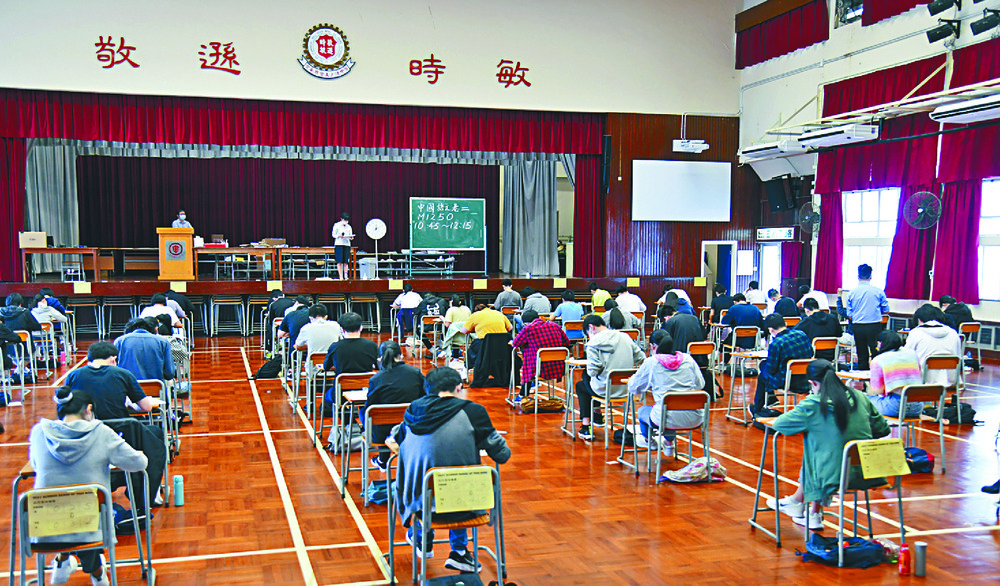 DSE exam 'easy' with no politics
Students and teachers found yesterday's liberal studies exam in this year's Hong Kong Diploma of Secondary Education examination easy, as it touched on topics like the Tokyo Olympics and people having to work from home during the pandemic.
Some 44,400 candidates entered in the exam yesterday and two candidates were absent from the exam due to health reasons. 23 candidates sat the exam in Penny's Bay community isolation facility, of which 15 are infected with the virus and the other eight candidates are under quarantine.

Like last year, political issues did not appear in this year's liberal studies paper.

There were three compulsory questions in paper one, with the first asking about Hong Kong people's participation in volunteering, and whether awards can encourage young people to participate.

In the second question, students were asked to explain the positive values showed in the Tokyo Olympics, as well as their opinions on how the Olympic Games enhances friendships among people around the world.

The third asked students why people had to work from home, and whether they agree that such a working model should be promoted in Hong Kong.

Students only had to answer one of three questions in paper two, covering topics including the online worshipping of ancestors, the Hong Kong Palace Museum and plant-based meat.

A student surnamed Chow said this year's exam was easier than last year. "It's because there was no question related to politics. It also does not have free response questions," he said.

Another candidate said she is capable of dealing with topics such as the Olympic Games and the pandemic, but she was not familiar with the topic of remote work.

Hung Tak-ming, assistant principal of the Hong Kong Taoist Association Ching Chung Secondary School in Kwun Tong who also teaches Citizenship and Social Development, said the exam should not be difficult to students who had worked hard in their revision as the questions were related to globalization and current affairs.

Next year's DSE exam will have the last ever liberal studies exam, as the subject has been reformed to a subject named Citizenship and Social Development.

When exams for the new DSE subject begins in 2024, the assessment criteria will also change to a simple pass or fail grade.