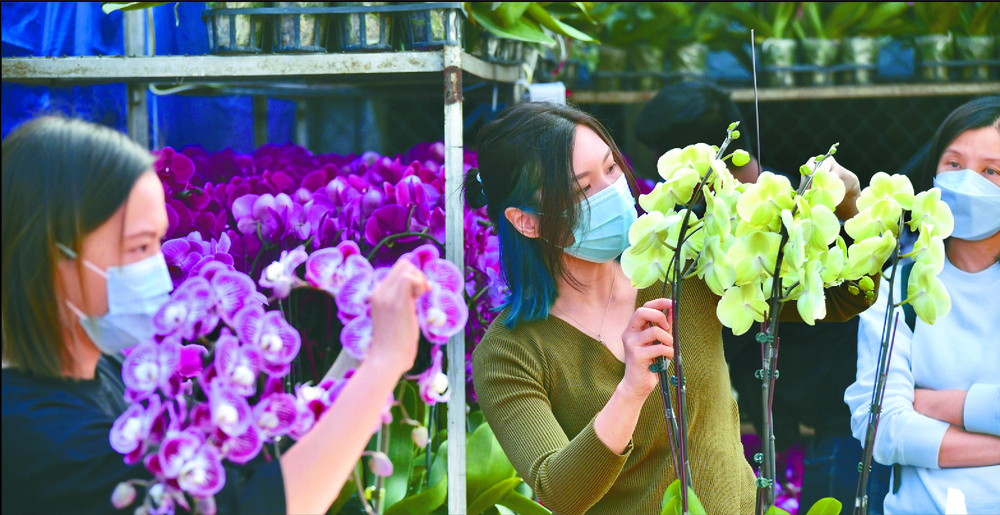 Dry spell continues for lunar new year fairs
No fast-food or dry goods stalls will be allowed in Lunar New Year fairs in January for the third consecutive year due to anti-epidemic measures.
The Food and Environmental Hygiene Department said yesterday there would only be wet goods stalls for flower growers in 15 fairs, which will run from January 16 to 22.

"Given the epidemic, the 2023 [Lunar New Year] fairs will not have dry goods stalls," it said. "No fast-food stalls will be provided to avoid increasing the risk of virus transmissions."

No provision was made for dry goods stalls for the first time in 2020 amid safety considerations arising from the 2019 unrest.

The ban was extended to fast-food stalls in fairs held over the past two years. The 2021 fairs were allowed to resume but only for wet goods, and the number of stalls was also reduced by half after a cancellation was announced, while the fair in 2022 was canceled due to the seriousness of the fifth wave.

A total of 922 stalls will be put up for auction in batches starting November 9. The six fairs on Hong Kong Island and in Kowloon and the Islands District will provide 395 stalls, while there will be 527 stalls in nine fairs in New Territories.

Prices of the 2023 stalls are frozen at last year's level, which are half of those in 2019, and range from HK$320 to HK$5,440.

The 175 Victoria Park fair stalls will be auctioned off on November 9 and 10 at the Lai Chi Kok Government Offices.

Workers must be fully vaccinated and undergo rapid tests 24 hours before the fairs commence and every three days, and keep records of the test results for three days.

Food tasting is also still banned at the 9th Hong Kong Food Carnival, to be held at Kwai Chung Sports Ground from Saturday to Sunday next week, with more than 290 booths divided by zones into health preservation, leisure food, catering equipment and a new Japanese and Korean food market.

The new exhibition zone and related cultural activities will offer an alternative to fans of these two destinations to cure their wanderlust," said Shi Lop-tak, president of the organizer Chinese Manufacturers' Association.