Authorities on Sunday appeal for private vehicle drivers to leave cars at home and use public transport to get to Hueng Yuen Wai.
Cross-border travellers who planned to get to a reopened Hong Kong border control point in their own vehicles were left fuming after they were told on Sunday not to drive there because motorists had overstayed their time in the car park.

Authorities later announced the booking system had been suspended for a review.

The authorities said some motorists had abused the online parking reservation system at the Heung Yuen Wai crossing and had not moved their cars, despite the expiration of their reserved time slots.

Staff at the New Territories checkpoint car park, which opened to passenger vehicles for the first time last Monday, said a hiccup in the reservation system had led to overbooking.
Daniel Hue Ka-yiu of the Transport Department early on Sunday asked travellers to use public transport to get to the checkpoint, whether they had made a car park booking or not.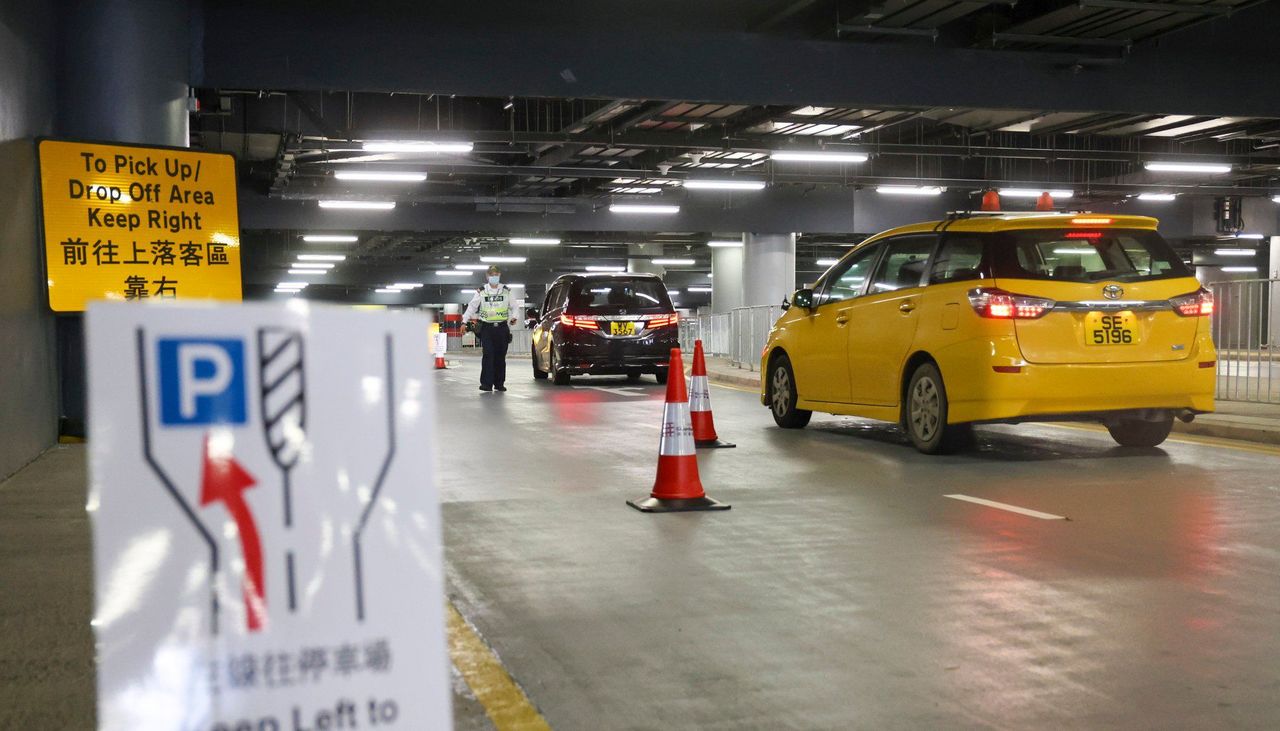 Cars wait at the Heung Yuen Wai border checkpoint after overstaying motorists caused parking chaos.
Hue promised that people who had booked a parking space would be refunded.
Ringo Lee Yiu-pui, the president of the Hong Kong Automobile Association, blamed poor management for the disruption.
"There is a booking system in place and the management company should have known in advance the demand at a particular date or a particular time period," he explained.
"If it sees that the car park is full or near full, it can make an announcement informing motorists.
"According to my understanding, there is not a special queue for cars with pre-bookings.
"Those without bookings can also queue with those with bookings. Even when there are spaces available after some cars leave, the car park staff will simply let those at the head of the queue to get in, whether they have bookings or not.
"And, as they have not made bookings, it is difficult to know how long they will park their cars there."
Lee was speaking in the wake of a second day of chaos at the 400-space car park after the city resumed normal cross-border traffic with mainland China last week.
A long queue formed outside the car park on Saturday and many who had pre-booked spots complained they were forced to wait up to an hour for entry.
A visit by the Post to the car park on Sunday afternoon found notices had been put up on the approach roads to the checkpoint to warn drivers not to go to the car park.
But there was no long queue of cars outside the car park and staff asked drivers to produce proof of pre-booking before they were allowed in.
A staff member said: "They say there is some problem with the online booking system. It had accepted more reservations than the actual number of parking space available during a time slot. For Sunday, it should be OK if we only allow those with bookings in."
The online booking system on Sunday night refused to accept reservations for any time slot this week.
Legislator Chan Yuet-ming, also head of the rural committee of the border district of Ta Kwu Ling, said the car park should be expanded or that other operators should be allowed to build parking facilities nearby.
She added heavy fines should be imposed on drivers who overstayed and that the advance booking period should be reduced from seven days to three.
The Heung Yuen Wai checkpoint became operational in 2020, but was restricted to truck traffic.
The crossing handled 5,757 visitors – including 2,575 arriving and 3,182 departing – on the first day it accepted private vehicles.
The number rose to 17,479 on Saturday, including 7,876 arriving and 9,603 departing visitors.
Motorists who want to drive to the control point were advised to make an online booking for the car park.
The hourly rate is HK$9 (US$1.15) for booked-in private cars or light goods vehicles. A standard rate of HK$10 an hour is levied on people without reserved spots.
The car park's daily rate is HK$70 and the overnight charge is HK$55 for cars with bookings. Drivers without reservations are charged HK$80 a day and HK$60 for an overnight stay.
The border crossing is served by Citybus routes B7 and B8 and Kowloon Motor Bus route B9, as well as by green minibus route 59S and taxis.
The online booking site had no information on penalty charge amounts for overstayers.
But it said "additional parking charges will be automatically calculated and charged" to the Octopus or bank cards offenders had registered for booking.
Chan Hok-fung, a lawmaker and deputy transport spokesman for the Democratic Alliance for Betterment and Progress of Hong Kong, said the party had highlighted a shortage of parking spaces when the control point project went to the Legislative Council for funding 10 years ago.