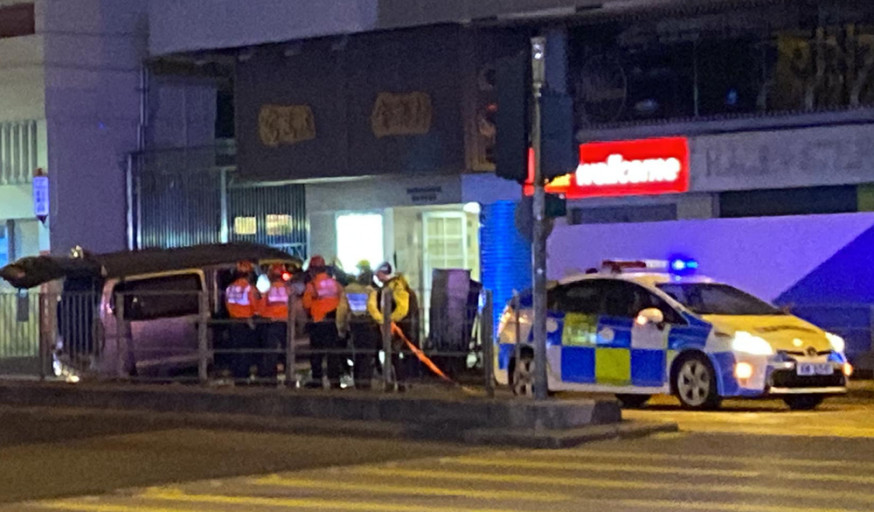 Driver left behind HK$100,000 cash after collision
A 38-year-old driver was arrested after he abandoned his van after an accident at Yau Ma Tei on Monday, leaving behind HK$100,000 cash inside the vehicle.
Also the van's owner, he was detained on suspicion of dangerous driving, failing to stop after an accident and failing to report after an accident.

At 2.30 am on Tuesday, the vehicle was heading along Waterloo Road towards Ferry Street in Yau Ma Tei.

When approaching Yau Ma Tei Fire Station, the van lost control, crashing into the railings, a fire hydrant and an electrical switchboard on the sidewalk. It toppled several bikes parked on the roadside.

The fierce collision sent off the van's left wheel alongside a fire hydrant. They landed outside a supermarket's entrance.

Smoke billowed out from the van whose front was dented. An airbag inflated at the driver's seat.

The driver and several injured passengers fled, leaving the cash behind.

Pedestrians who witnessed the scene reported to the fire services and police.

Constables later seized a pile of HK$1,000 banknotes, multiple phones and wallets from the van's gloves compartment for investigations.

They were also looking into whether the vehicle put up a fake license plate.

Police called on other witnesses or those with information related to the incident to contact the police at 3661-9000.

Investigations by police's Traffic Kowloon West were underway.