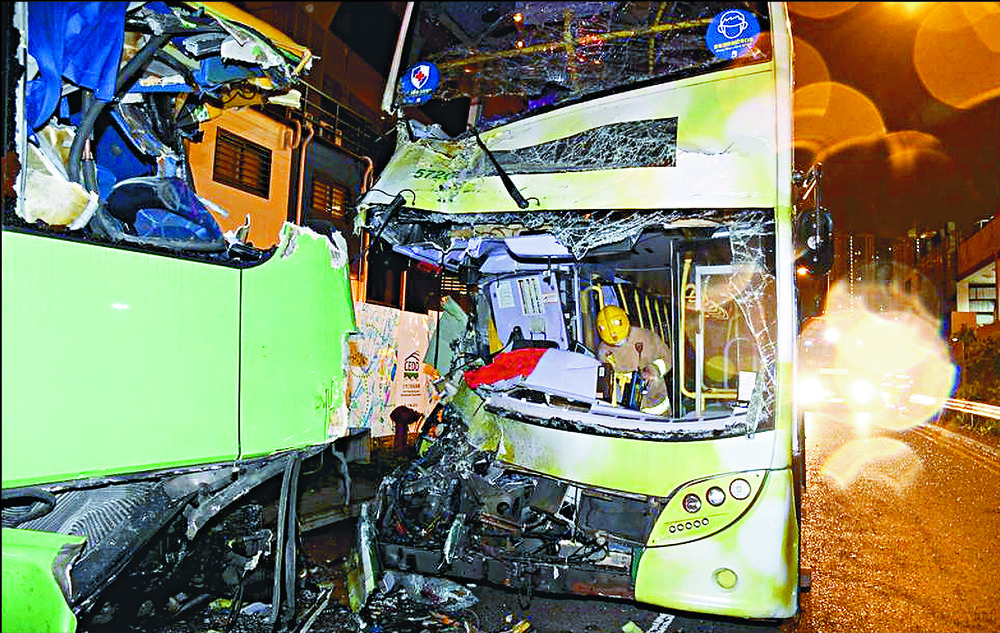 Driver killed as bus slams into waiting coach
A New World First Bus double-decker driver died after being trapped for 1 hours following a collision with a tour coach in Cheung Sha Wan yesterday.
According to West Kowloon police, the bus, traveling along Lai Po Road, slammed into the back of a Sun Bus tour coach parked near the KMB's Lai Chi Kok depot at Hing Wah Street West around 1am on Sunday.

The impact mangled up the driver's seat, trapping the 43-year-old bus captain, Lo, in the process. There were no passengers.

He was taken to Princess Margaret Hospital unconscious with head and body injuries and confirmed dead at around 2:55 am yesterday.

The 51-year-old driver of the tour coach, Wong, suffered bruising to hands and feet and was taken to Princess Margaret Hospital.

It is understood Wong had parked the coach waiting to pick up KMB staff when its left rear was rammed.

New World First Bus expressed condolence over Lo's passing away on its website and said it would do its best to help Lo's relatives.

"Lo has been working as a bus driver for around 10 years and mainly on the night shift," it said. "He's a valuable member of the company."

"After completing the route 701 circuit twice last night, Lo drove the bus to the bus terminal," said Chan Shue-ming, a director of Motor Transport Workers General Union's NWFB branch, adding he believed no drowsiness was involved.

"Lo leaves a daughter and a son aged 17 and seven, and the union is now reaching out to Lo's relatives to provide assistance," Chan said.

The police also formed a special investigation team to follow up on the case and called on anyone who witnessed the accident or has information to contact them.