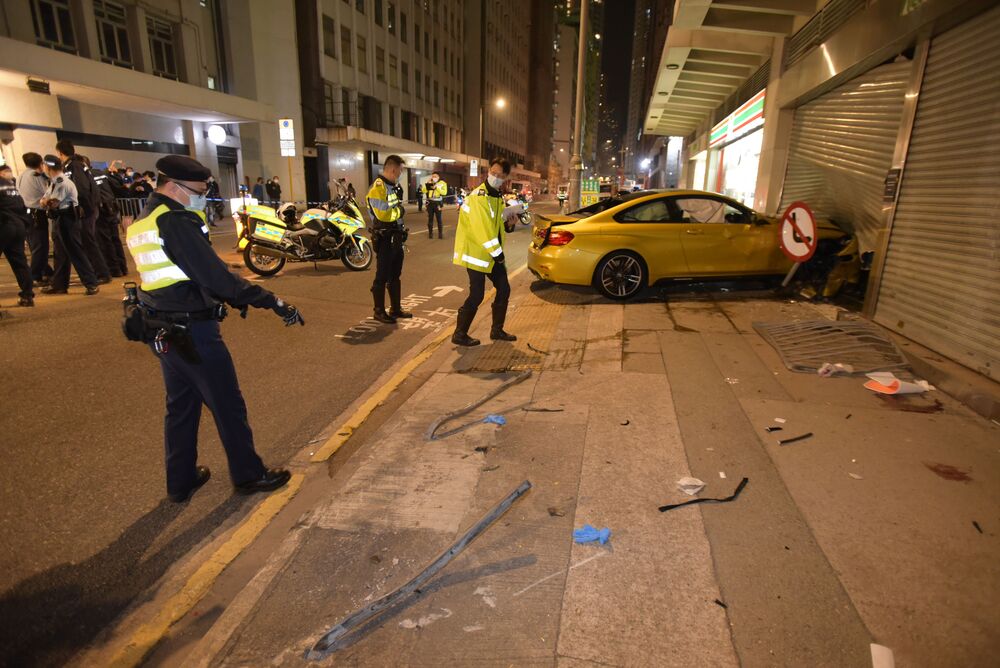 Driver charged in fatal San Po Kong crash to appear in court on Friday
The case of a 25-year-old man, who drove a BMW in the San Po Kong fatal crash last Friday, has been adjourned to January 7 as he was absent from court due to hospitalization.
Ryan Ng Ka-chun, 25, was absent from his first hearing at Kwun Tong Magistrates' Courts on Monday.

The court was told that Ng was still in the Queen Elizabeth Hospital. His representing lawyer said Ng is willing to hand over his driving license, travel documents, as well as report to the police as some of the conditions for his bail application.

But principal magistrate Bina Chainrai dismissed the application and rescheduled the hearing for Friday, or immediately after Ng's hospital discharge, depending on whichever date is earlier.

Ng was charged with one count of dangerous driving causing death in a crash on Tai Yau Street on New Year's Eve, killing 23-year-old woman Shi Wuyang and 63-year-old man Li Wing-keung.

Shi sustained serious head injuries and died instantly at the scene, while Li was certified dead after being rushed to the United Christian Hospital.

The fatal car crash happened at around 6pm on New Year's Eve, as a yellow BMW driving along Tai Yau Street rammed a taxi before mounting onto the pavement and smashed onto the gate of a money exchange store on Tai Yau Street. The crash eventually injured five passers-by.

Apart from Shi and Li, three other pedestrians aged between 28 and 63 were injured in the crash.

Dozens of citizens went to the accident site to pay tribute to the dead over the weekend, laying flowers and leaving fruits and coffee. A sign was also placed at the scene that reads "May Your Soul rest in peace".

Shi, who lived in Tsz Hong Estate in Tsz Wan Shan, was a graduate from Lingnan University. Her parents who reside in Shantou, Guangdong, returned to Hong Kong via the Return2hk scheme upon learning of the tragic news.

Meanwhile, Li, who worked as an electrician in San Po Kong, lived in Tong Wong House of Tong Ming Court in Tseung Kwan O alone after his mother passed away a few years ago.