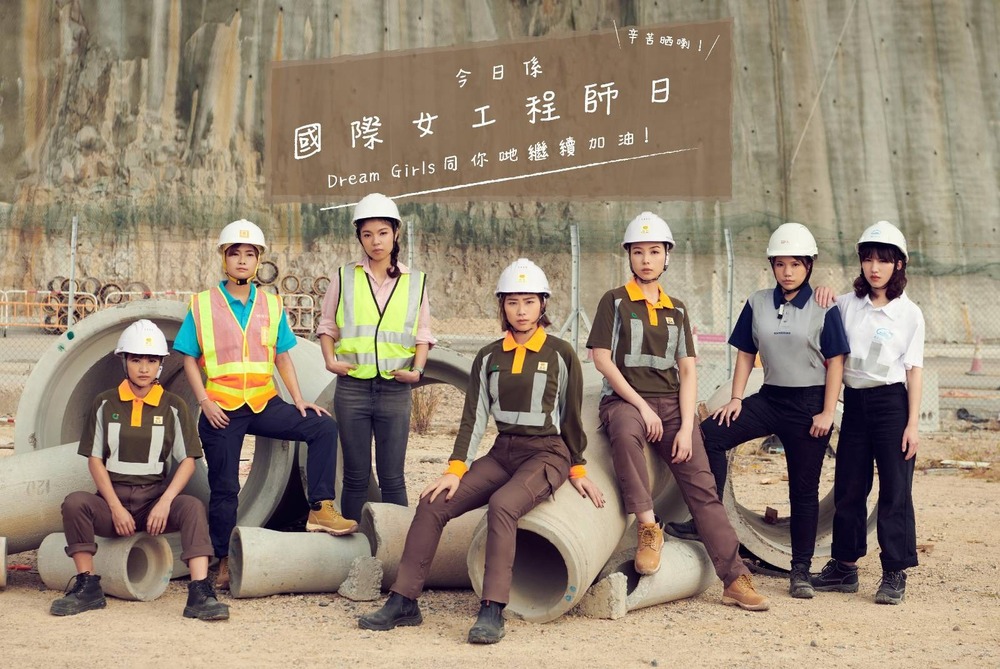 'Dream Girls' share daily job routines to eliminate prejudice against construction work
Seven women working in the construction industry aimed to encourage more youngsters to join by sharing their daily work on social media.
To clarify the misunderstanding from the public about the industry and attract more talents, local construction firm Chun Wo Development Holdings Limited invited their female workers to form the group Dream Girls in 2019.

The group shares female workers' daily work on social media. This year, seven women have been serving as the third batch of Dream Girls since January. Two of them, Pinky Cheng and Tammy Lo, will attend a seminar at the Education and Careers Expo at 3pm on Sunday to share their daily work.

Cheng has been a safety officer at a construction site for four years. She does not have an academic background in engineering and used to be a beauty product salesperson. "In the eyes of co-workers, the safety officer is not a welcomed person because I need to offer them instructions in certain aspects, and even levy their fines," said Cheng.

She added that most of the male co-workers would be happy to see females working with them. She explained that male workers speaking dirty words does not mean that they are impolite. "Prohibiting them from swearing may deter them from expressing themselves," she said.

Another member, Lo, is an engineering graduate and serves the company as an assistant project manager. "My ideal is to be a successful leader, leading my team to run every project enthusiastically," she said.

Lo added that women usually have better communication skills and makes them capable of working in the construction industry.

Meanwhile, a local NGO, Inspiring Girls Hong Kong, hopes to help female students to plan their careers and build confidence by linking them with various industries.

Through a six-month training program, participants could interact with female workers from different backgrounds and have on-site visits to enterprises.

Over 70 activities have been held, involving 1,200 students and 500 tutors.

The NGO pointed out that the working environment in Hong Kong is still dominated by males. In 2020, the labor participation rate of females was at 49.6 percent, compared to 66.2 percent of males.

It added that male dominance is particularly apparent in STEM industries, namely science, technology, engineering, and mathematics.

The NGO cited a survey result in 2018 that there was only 4.1 percent of females willing to take STEM-related jobs, while 51.8 percent of high school girls were taking STEM-related courses.