Fire is suspected to have started at stove inside shop at 365 Hennessy Road in Wan Chai.
Two people were left feeling unwell after a fire broke out at a food takeaway shop and sent dense smoke billowing into the streets in Hong Kong on Saturday afternoon, forcing dozens of residents to evacuate.

The fire began at 3.12pm at 365 Hennessy Road in Wan Chai and spewed out thick smoke that engulfed nearby buildings, according to images posted online.

A man and woman reported feeling unwell after inhaling smoke and they were treated by paramedics at the scene. About 40 people in the area were evacuated and parts of nearby roads were temporarily closed.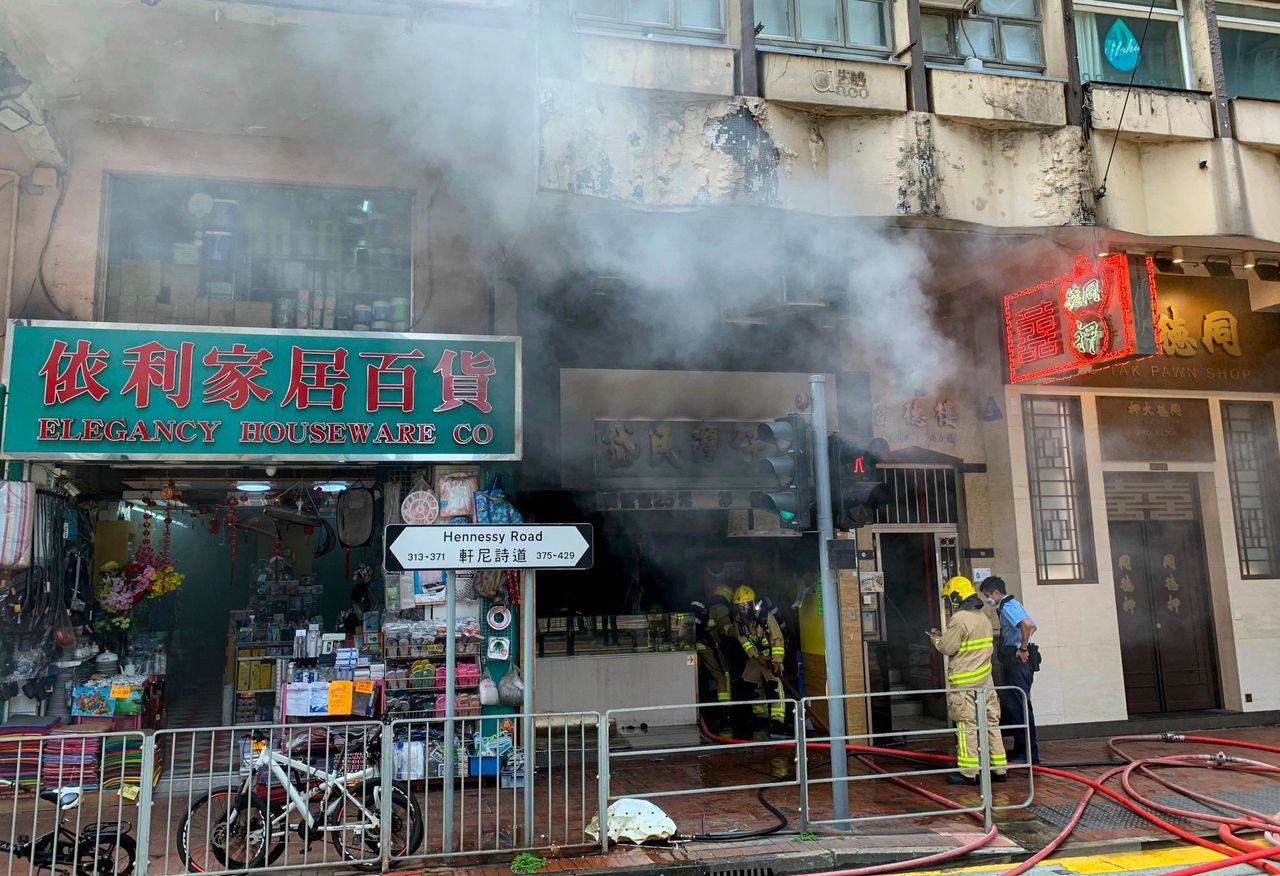 The shop was gutted by the fire.

Officers suspected the fire started at a stove inside the takeaway food store. Sa Hui, a staff member at dried seafood store Yan Yue Tong, which was on the opposite side of the road, said she saw flames emerging from the restaurant and smoke blanketing the entire street.

"I can smell the pungent smoke even across the street," she said. "The smoke made me feel a bit uncomfortable, so I immediately put on two masks."

An employee working at a store that sold safes and which was next to the gutted shop said he immediately closed the front shutter and ran to the other side of the street after seeing the heavy smoke outside.

Other nearby shops also closed shortly after the fire broke out, according to the man, who did want to give his name.

The first-alarm fire was extinguished at 3.30pm and firefighters were investigating the cause.

The food takeaway shop was seriously damaged in the blaze, with the door sign and walls blackened.

The owner was seen returning to the premises after 5pm to retrieve a money box, which was also covered with soot.

Earlier in the day, environmental authorities warned of "higher than normal" air pollution levels that could pose a risk to people's health.

Authorities said dry weather caused by a high pressure ridge would slow the dispersal of pollutants.

Tuen Mun and Yuen Long, both located in the northwest, were the districts most affected by air pollution on Saturday, with readings reaching very high levels between 2pm and 3pm.

"The Environmental Protection Department has recorded higher than normal air pollution levels since this morning," a statement said. "It is expected that the air quality health index at some monitoring stations may reach the 'serious' health risk category later today. The air pollution levels are expected to remain higher during the next couple of days."

Children, the elderly and people with cardiovascular or respiratory diseases were advised to keep physical exertion and outdoor activities to a minimum or avoid them altogether.