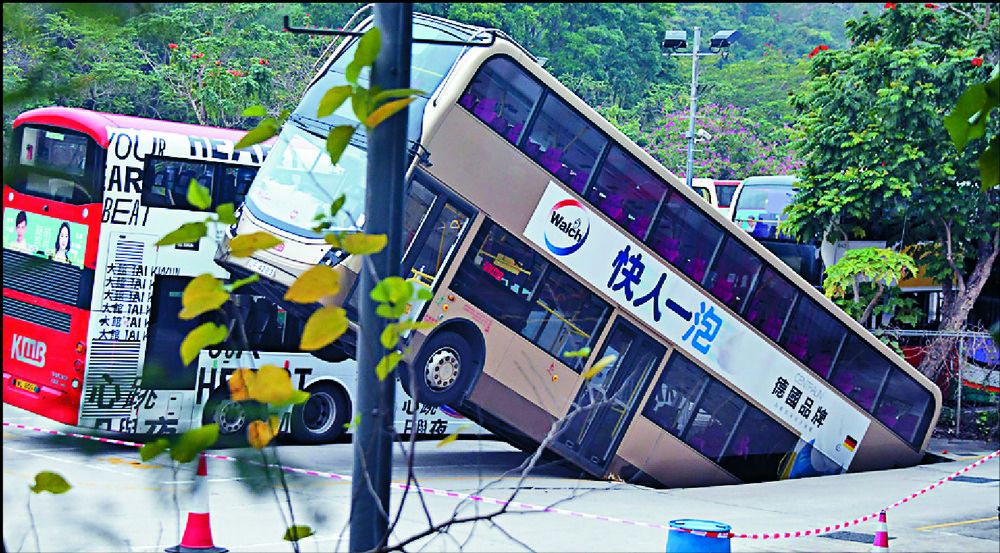 Double-decker falls into hole
A Kowloon Motor Bus Company bus fell into a hole after the road caved in at a Tseung Kwan O depot yesterday.
The rear of the double-decker bus collapsed into a five-meter-deep hole. A bus parked alongside it was also tilted slightly in the process.

KMB staff reported the incident at around 4.30am, noting that no one was injured during the incident. The buses were steered to a safe location after an initial examination of their engines.

Ngai Hok-yan, a civil engineer, said the cave-in could have been caused by soil erosion due to the leakage of underground water pipes.

"The water that leaked out may wash away the soil. If the remaining soil underground cannot support the weight of the bus, the vehicle will fall through the earth," he said.

KMB said it will take follow-up actions on the incident.

It also announced yesterday the introduction of 16 electric buses after the Lunar New Year on routes connecting urban districts, including those that pass through Nathan Road and Kwun Tong Road.

The new BYD B12A single-deck electric bus is 4 percent lighter than the old K9R electric bus, with passenger capacity up by 16 percent to 81.

It requires only one hour and 40 minutes to be fully charged - two hours faster than before - to deliver 200 kilometers of zero-emission transport. With the body painted electric green, the new buses are equipped with a battery-management system and a water-cooling system. "As more zero-emission buses join the KMB fleet, it brings a greener traveling option to Hong Kong people and steps forward to achieve carbon neutrality in the city," said Gary Leung Ling-yin, assistant director (strategic planning) of KMB.

The new buses are a collaboration between KMB and CLP Power.

The latter provided technical support for charging systems while KMB shared data that lay the foundation for turning their bus fleet electric.

In line with Hong Kong's target of achieving carbon neutrality by 2050, KMB launched a project that will upgrade its entire fleet of some 4,000 buses to use new energy.