Unhappiness about painkillers being sent to the mainland amid a local shortage and mainlanders looking for vaccines in Hong Kong risk raising cross-border distrust. The government must defuse these tensions quickly.
New beginnings are in order and worth celebrating for 2023. I hate to break it to all of us, but there's much to do and a lot of hardship to overcome before we can usher in the new normal.

We know this because the last three years have given us anything but what we've planned. After a thousand days of having to cancel school, celebrations and flights, we've surely learned to live with uncertainty and tempered expectations. As soon as we settle into a new routine, changes are abruptly thrown at us. This is how Hong Kong will be opening up.

As residents fly out of the city for long-awaited holidays, they are met by a world uncertain over whether visitors from Hong Kong, Macau and mainland China are to be welcomed. Some countries have singled us out with travel restrictions. Not everyone is welcoming. Let this be the sobering wake-up call as we open up.

And the sooner we get over the euphoric optimism that comes with celebrating the new year, the hangovers from bubblies, the lifting of pandemic restrictions, and the opening of borders, especially with the mainland, the better. Inertia is a bitch.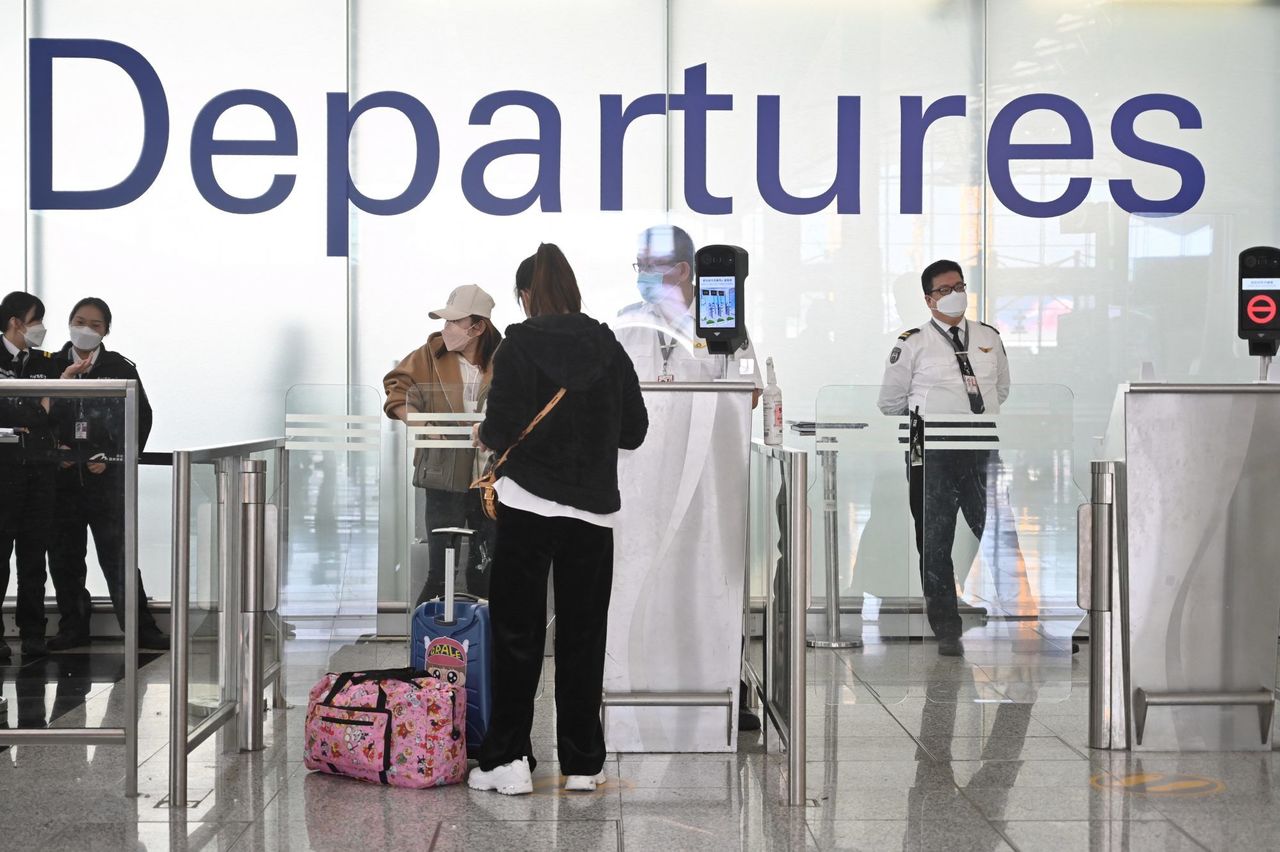 Passengers go through immigration at the international airport in Hong Kong on December 28. In 2021 Hong Kong recorded its biggest population outflow in 30 years with a loss of 55,300 people.
We have been pressing for all these for months, and we know it will be increasingly difficult for our economy to bounce back with every day that we are shut out from the motherland and isolated from the rest of the world.
The government's latest numbers had this city recording an export plunge of 24.1 per cent year on year in November, and that's after a 10.4 per cent contraction in October. It is the worst monthly performance since May 1954.
We have also recorded our biggest population outflow in 30 years for 2021 with a loss of 55,300 people, doubling the already worrying number of 27,000 people from a year before. Our median age has risen to 46.3, and birth rates continue to drop. We can't afford to lose any more time, people or opportunities.
Our trek back to normalcy will be our biggest challenge yet and it's going to take all the resilience we can muster.
But as we are on the cusp of returning to normalcy, preparing to propel and getting what we've been demanding all along, we're back at hoarding painkillers and other medications and supplies again, which is anything but normal. Some Hong Kong residents have been getting the much-needed supplies for their relatives and friends on the mainland.
The familiar news of scarcity across the border takes us back to a decade ago, when a shortage of baby milk formula in Hong Kong led to government action to stop parallel traders from taking supplies to resell across the border in 2013. With the benefit of hindsight, we must not go down the same route of exacerbating cross-border tensions and animosity, which gave rise to the political turmoils that began in 2014.
What remains real are the day-to-day frictions that have fed cross-border distrust and, a decade ago, birthed the nativism that grew into localism, and then what then-chief executive Leung Chun-ying called "the gradual growth of pro-independence thoughts" that ended up being snuffed out by the central government.
We have heard about travellers planning to cross our borders for our
vaccines
. The government has had to answer questions on whether our public health system can handle the potential influx of infected individuals seeking medical attention and supplies. It is far easier to slip back into the old days than to fight inertia.
If history is any guide, we know it is the everyday frustrations that manifest into hostile behaviour towards, and confrontations with, the mainland that we must avoid like the plague. The government must strike a very delicate balance in opening up Hong Kong, be at least three steps ahead, know exactly what is happening on the ground and take charge in disseminating information and communicating with the public.
Hong Kong cannot afford to be distracted by these emotive and combustible conflict flash points that would only hold us back and keep us from creating our new normal. Our new normal cannot be haunted by the past, yet the government has no time to lose in pushing on with addressing old problems in leading us, on our treacherous road, to recovery.