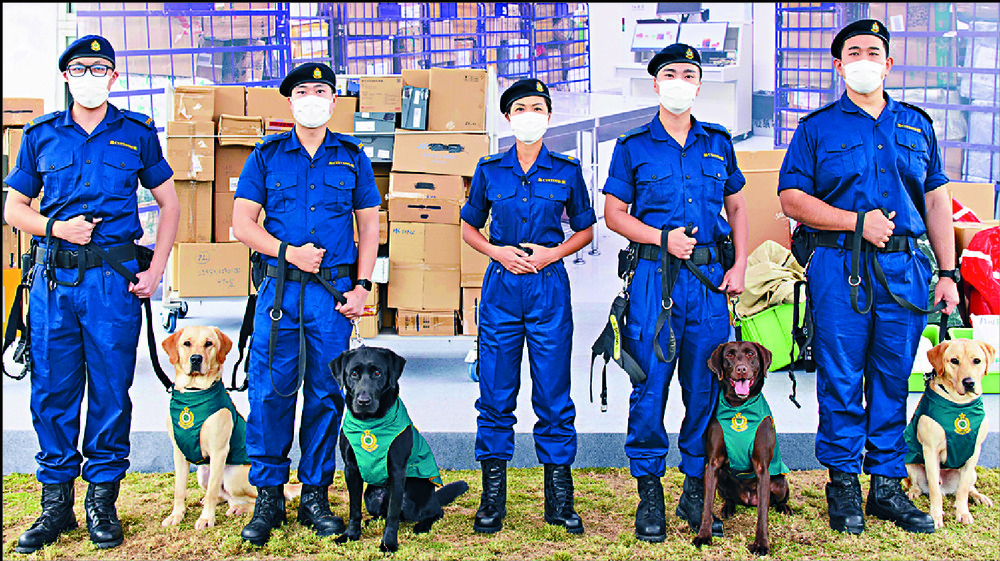 Dogs to sniff out smuggled guns
Customs' first-ever "Firearm Detector Dog Team" took office last month, combating the smuggling of firearms into Hong Kong.
This came after nine firearm cases were recorded in the first 10 months of this year, according to the customs.

There were 35 firearm cases in the whole of last year, with 550 pieces of firearm parts falsely reported as electronic components and toys -mainly smuggled from the United States and Germany via air parcels.

The new team comprises of four sub-teams, with each consisting of a Labrador Retriever and a dog handler.

Of the four dogs in the team, two were bred by customs last year, whereas the other two have five years of experience in sniffing out drugs.

Deputy Head of customs' canine force Joy Wong Sek-yan said the dogs had undergone a 10 week training course.

Wong said the dogs were trained to recognize odors - by offering them live rounds of various amounts and types to sniff out - since a young age.

"This can enhance their olfactory acuity, helping them to recognize the unique scent of live rounds," she said.

She said the dogs were mainly trained to differentiate three odors, including steel, the material for making firearms, the residual odor of gunpower and gun lubricant.

"The dogs are able to differentiate the firearm's brands, models and countries of origin via the three odors," she said.

She said after completing training in November, the team had been dispatched for services.

"The Firearm Detector Dog Team has been deployed to support the cargo clearance work at various control points to tremendously strengthen the overall detection capability of Customs," she said, "and to provide full assistance to the officers in performing their duties as a gatekeeper of Hong Kong in anti-smuggling, counter-terrorism and protection of national security."

"The dogs will work in shifts, with about eight working hours in each shift They need not work continuously and will have a break every 20 minutes, as advised by vets."

She said customs' canine force had 70 teams of detector dogs, mostly responsible for sniffing out drugs, explosives, banknotes and ammunition. The force is planning to add cigarettes and other contraband to that list.

She believed that coupling with intelligence analysis, risk management, X-ray machines and metal detectors, the new team could enhance customs' enforcement capability and clearance efficiency across control points.