Exco convenor Ip ruffles feathers after she says Lantau land reclamation should take second place to New Territories' northern metropolis.
Political veteran Regina Ip Lau Suk-yee raised some eyebrows after she aired her views on a controversial plan to create three artificial islands off Lantau in Hong Kong, just a few days before the public consultation on the scheme finishes at the end of the month.

The convenor of the Executive Council, the key decision-making body, suggested the "Lantau Tomorrow Vision" should take a back seat to development of the Northern Metropolis – a proposal rejected by Chief Executive John Lee Ka-chiu on Tuesday.

Lee said both mega projects should go ahead, especially as the city had to boost its competitiveness and outperform regional rivals.

The Post looks at how Ip's comments sparked a debate and the details of the two massive developments.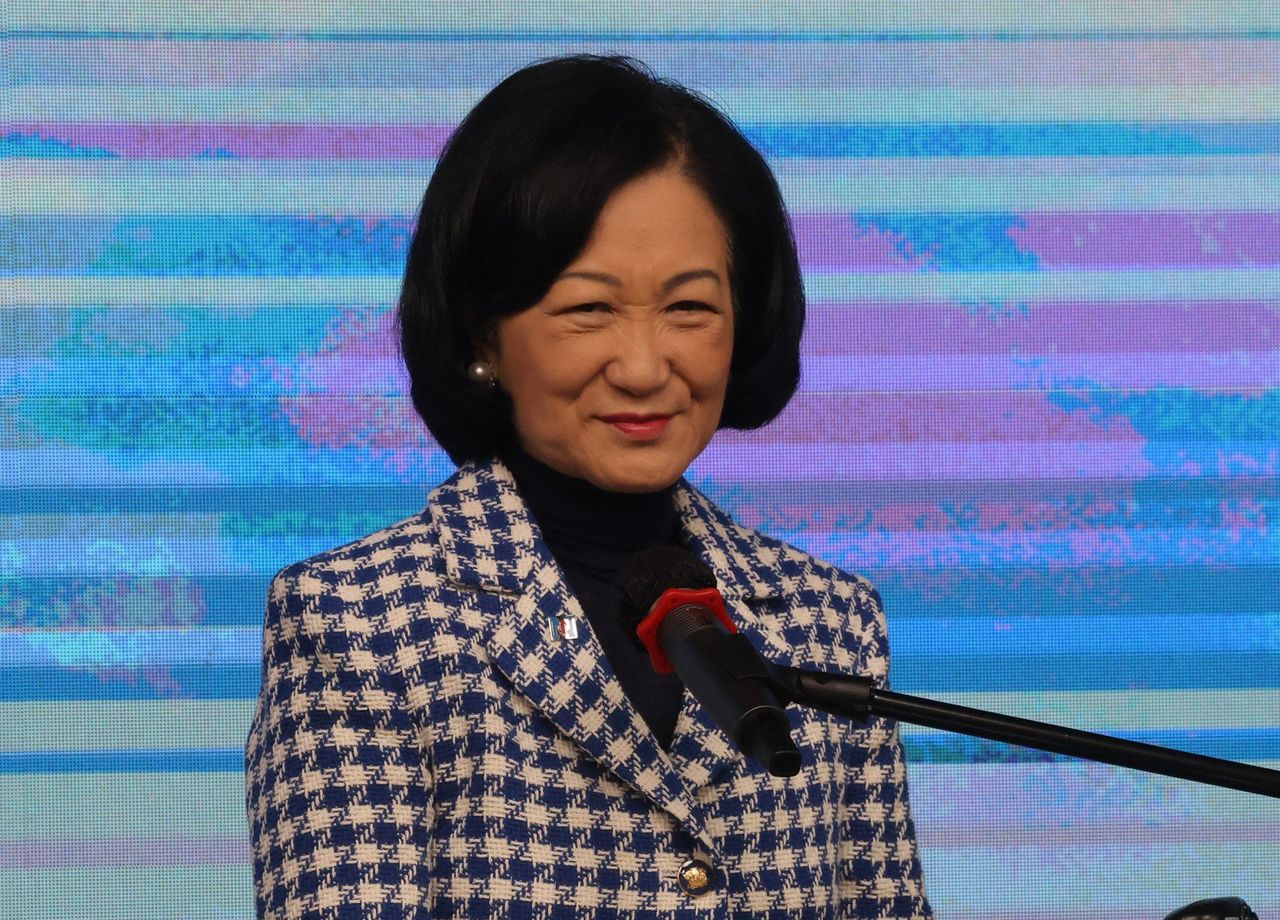 Regina Ip, convenor of Exco and chairwoman of the New People's Party.
1. What has Ip said that ignited a heated discussion in the political arena?

Ip, a prominent lawmaker and chairwoman of the New People's Party, on Monday appealed to Lee's administration to prioritise the Northern Metropolis, a mega development project near the border with mainland China, over the creation of three artificial islands under the Lantau Tomorrow Vision.

Although Ip agreed the government should continue its study on the Lantau project, which aimed to build 210,000 flats to house half a million people and create the city's third business district, she cast doubt on the economics of the scheme and questioned whether the city had such a voracious appetite for more commercial land.

"With limited resources, the Northern Metropolis development must be prioritised over the Kau Yi Chau reclamation," Ip said.

She questioned whether the government had the ability to push ahead with both projects at the same time in a tough economic climate as the Lantau reclamation plan had a hefty HK$580 billion (US$74 billion) price tag.

Ip refused to comment further on Tuesday and sources said no discussion on the projects took place at the Exco meeting.

2. What did insiders and commentators think of Ip's views?

Professor Lau Siu-kai, a consultant to the Chinese Association of Hong Kong and Macau Studies, a semi-official think tank, said Ip, who had a relatively frank character, might want act responsibly on behalf her voters by making personal comments that were out of line with government policy.

The political commentator added it was good for Ip to offer constructive criticism, but she should also think about her working relationship as Exco convenor with the chief executive.

"She can express her opinion, but it has to be within a political space acceptable to everyone," he said. "Otherwise, it might be taken as questioning government decisions and undermining the government's authority."

But John Burns, emeritus professor in the department of politics and public administration at the University of Hong Kong, said it was appropriate for Ip to make such comments as she was an elected lawmaker and she had not revealed any confidential information or private Exco discussions.

An insider, however, said Ip's latest remarks had placed the government in an embarrassing position, although the source conceded Ip was in a difficult position as she also had to represent public opinion because of her political party background as the chairwoman of the New People's Party.

"The government has been promoting the project, but the Exco convenor said we shouldn't do that. It is very awkward," the source said.

3. An Exco convenor who loves to express personal opinions?

It is not the first time Ip has put the cat among the pigeons with her views on government policies since she was made Exco convenor last July.

Ip, a member of the exclusive Hong Kong Golf Club, called last August for a review of a plan to use part of the Fanling course for public housing.

She said in an interview the same month that the city could "consider waiving extra stamp duty on homes for mainland Chinese buyers as a way to shore up the economy and reverse a brain drain" – a comment that drove up the share prices of developers and forced a government clarification.

The political veteran later promised to be more careful when she spoke in public.

Ip also appealed to the authorities earlier this month not to back substantial bus fare increases because they would increase the burden on residents already hit with an economic slowdown.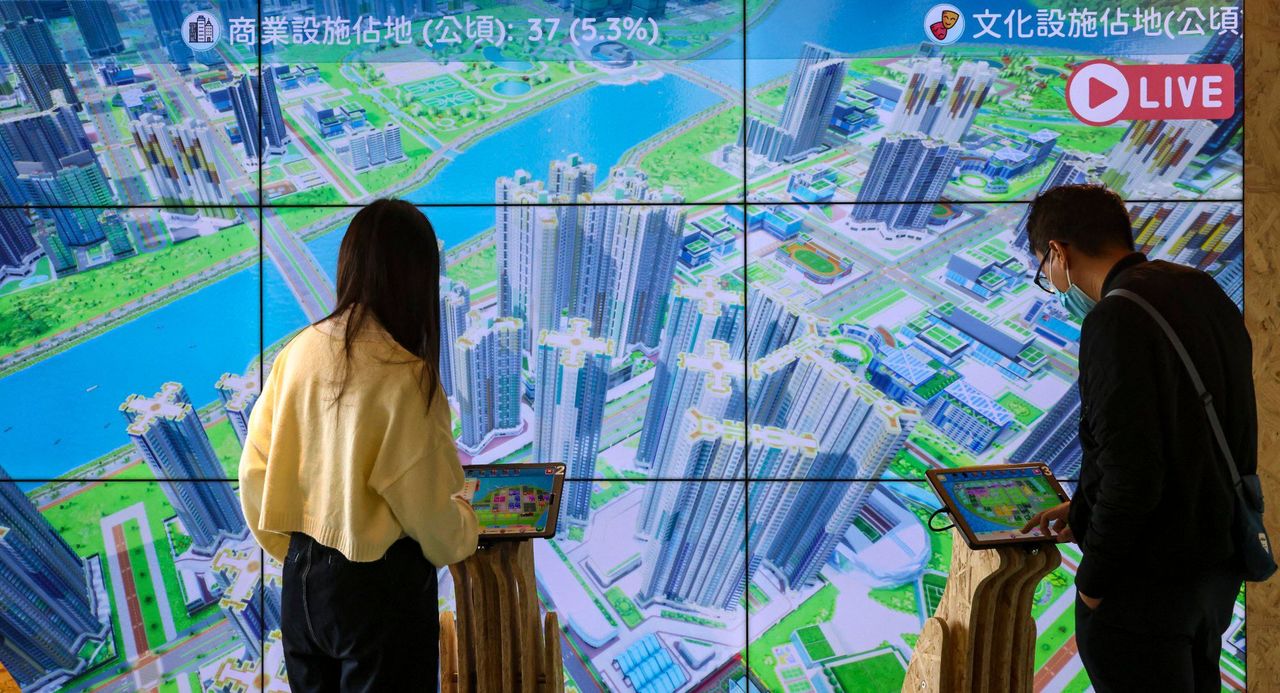 Members of the public at an exhibition organised to showcase the development of artificial islands off Lantau.
4. What are the two mega projects under discussion?

The Northern Metropolis plan, proposed by former chief executive Carrie Lam Cheng Yuet-ngor in her 2021 policy address and taken over by Lee, was designed to turn large parts of the New Territories near the border with mainland China into a residential and economic powerhouse over 20 years and which would provide homes for about 2.5 million people in more than 900,000 flats and create up to 650,000 jobs.

The metropolis, which would cover about 300 sq km (116 square miles) would take in existing towns in Tin Shui Wai, Yuen Long, Fanling and Sheung Shui, as well as neighbouring rural sites and six new development areas.

A 1,100 hectare (2,720 acre) "technopole" – or tech hub – dubbed Hong Kong's Silicon Valley, would be built in San Tin. The area would be a centre for IT talent and provide a gross floor area equivalent to 16½ Science Parks.

It would also involve a new cross-border railway link to the Qianhai economic zone in Shenzhen and an extension of a local northern rail link that would stimulate development across Hong Kong's rural hinterland.

A 46-strong advisory committee, including Ip and chaired by Financial Secretary Paul Chan Mo-po, was formed last month.

Chan in his budget blueprint last month said HK$100 billion would be poured into infrastructure works related to land, housing and transport under the plan.

The three artificial islands under the Lantau project would provide enough land for 210,000 flats for half a million people and a new business hub on an initial 1,000 hectares (2,471 acres) of reclaimed land over two decades.

The artificial islands, with a target of the first homes being available in 10 years, are expected to become the city's third major business district, alongside Central and Kowloon East. Reclamation work is expected to start at the end of 2025.

The public consultation on the scheme will be completed at the end of the month, but instead of a 'yes' or 'no' vote on the reclamation, people were asked for comments on the extent of the reclamation, land use and possible financing options.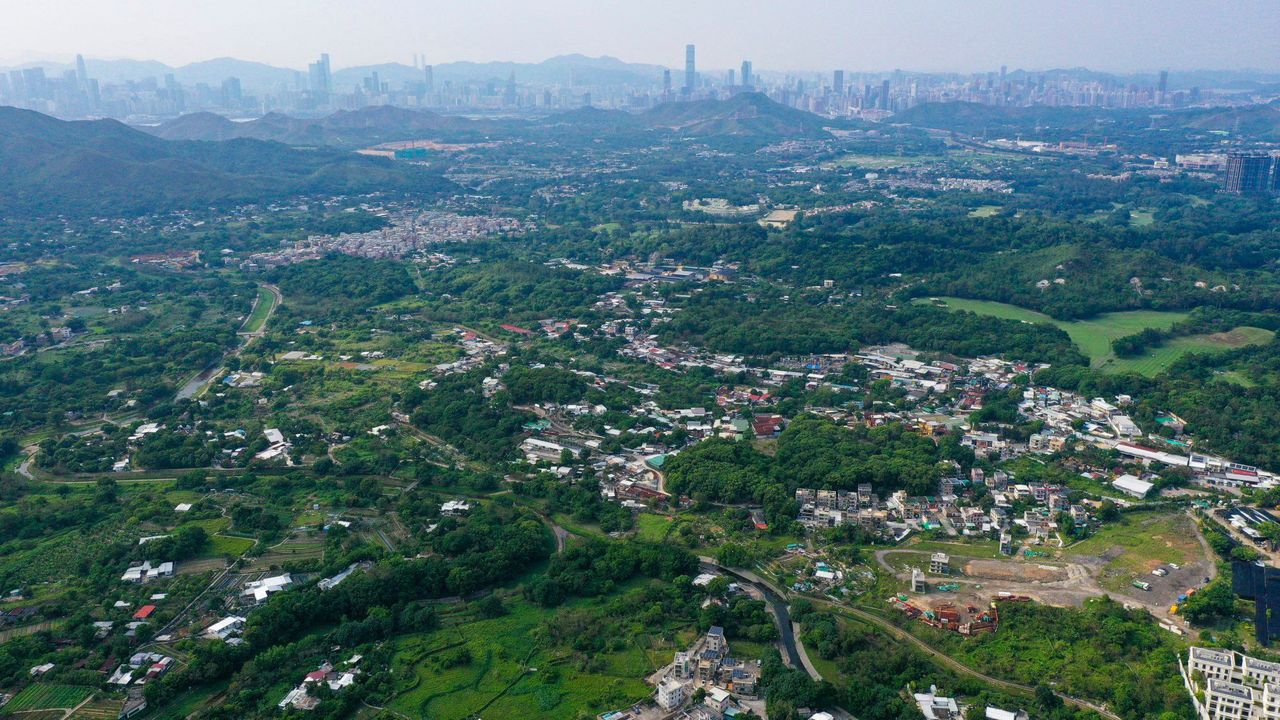 A bird's-eye view of part of the New Territories, the site for the planned Northern Metropolis.
5. What controversies surround the two projects?

Some critics have already suggested that the city's future population may not be big enough to fill up about a million flats the government is expected to build as part of the two mega projects, which raised the spectre of a new problem for the city – a housing glut.

They also warned that the HK$580 billion estimated cost for the Lantau reclamation was unrealistic and that the final figure would exceed HK$800 billion because of inflation and increases in construction costs.

But Lantau Development Advisory Committee member Lau Chun-kong backed Lee's position and said both projects had to forge ahead and highlighted a need to boost Hong Kong's long-term land reserves.

Lau explained the Northern Metropolis blueprint covered several new development areas planned for a decade, such as Kwu Tung North and Hung Shui Kiu, and that the major new focus was on the San Tin Technopole.

He added the metropolis plan could be implemented faster than the Lantau reclamation project as it did not involve the creation of much new land and infrastructure.

But he insisted it was also crucial to have a cluster of commercial sites on the reclaimed land of Lantau Island.