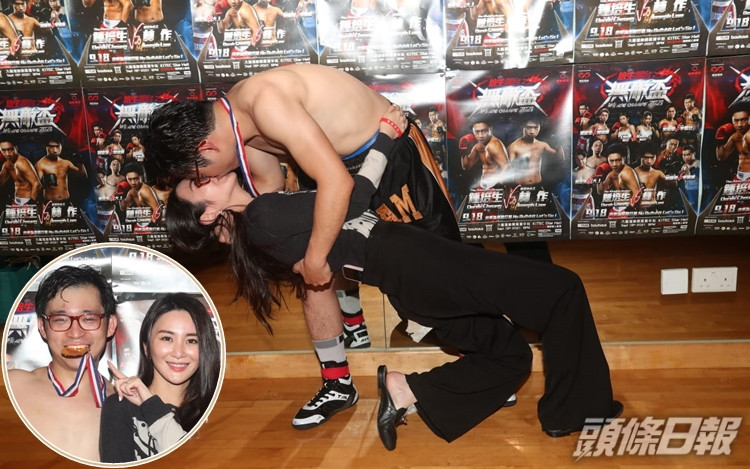 Dodgy Joseph Lam Chok survived boxing match
Influencer Joseph Lam Chok managed to survive four rounds without being knocked out in a boxing match with e-sports tycoon Derek Cheung. Despite the defeat, Lam will get HK$700,000 for joining the match.
Lam, a branch manager of Prudential Hong Kong, is best known for his relationships.

He once dated Miss Hong Kong 2015 winner Louisa Mak Ming-sze, and his partner is now actress Hiromi Wada.

His feud with Cheung, founder of Hong Kong Esports and grandson of late tycoon Cheung Kung-hai, started earlier this year as Cheung said he would give HK$1 million to his YouTube fans.

Lam accused Cheung for copying his idea, as he previously aimed to raise HK$1 million to hire 100 staffers for his insurance sales team.

Cheung then challenged Lam to settle the feud in a boxing ring.

After months of wait, they fought each other on Saturday at the "We Are Champs 2021" event held at Kowloonbay International Trade & Exhibition Centre.

Before the match, Lam had said he could knock out Cheung. But in reality, he danced around the ring to avoid Cheung's attacks and "hugged" him whenever he was punched.

He ran around so much that announcer Joey Leung Wing-chung called him "running man" – in reference to the South Korean TV show with the same name.

Lam claimed he broke Cheung's nose, to which Cheung denied. Cheung said he punched Lam's mouth.

"I hope Lam Chok will learn to respect others," said Cheung after he won, "and take it easy with the newsjacking."

Five other pairs had also competed in the boxing exhibition, including YouTuber Jason Chau who beat singer Steven Cheung Chi-hang, and local boxer Raymond Poon Kai-ching who beat Muay Thai expert Dylan Yiu Tat-fai.