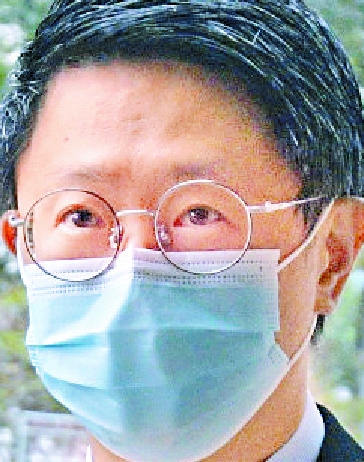 Doctors out on bail after manslaughter charge
Two public hospital doctors charged with one count of manslaughter each of a mother of two were allowed HK$50,000 cash bail each pending a court appearance on April 18.
They were also banned from leaving Hong Kong and not allowed to interfere with witnesses, especially the 44-year-old Tang Kwai-sze's two daughters and younger sister.

Internal medicine specialist Lam Chi-kwan, 50, and kidney specialist Chan Siu-kim, 45, appeared before principal magistrate Ivy Chui Yee-mei at Eastern courts yesterday.

No plea was taken.

Chui adjourned the case pending further investigations by the police, including review of evidence and expert reports.

The two have to hand over travel documents, live at their declared address and report to police every week.

Lam was charged with unlawfully killing Tang between January 20 and August 26, 2017, and Chan from February 17 to August 26 that year.

Legislative Council medical and health services sector representative David Lam Tzit-yuen and Hong Kong Public Doctors' Association president Tony Ling Siu-chi were at the hearing.

Earlier, the coroner's court indefinitely adjourned an inquest - originally scheduled to begin on February 27 - into Tang's death from a suspected medical blunder.

The judiciary said the adjournment was based on a request by Secretary for Justice Paul Lam ting-kwok in accordance with the Coroners Ordinance.

Section 36 of the ordinance wrote: "Where the secretary for justice requests a coroner to adjourn an inquest on the ground that a person may be charged with the murder, manslaughter ... the coroner shall adjourn the inquest."

The law also states the secretary can request a further adjournment.

It is alleged that chronic kidney patient Tang - a hepatitis B carrier - was a victim of a medical blunder after doctors prescribed her high-dosage steroids, but failed to give her antiviral drug to counteract the side effects, triggering an acute liver failure.

She eventually underwent two surgeries by a team of top liver experts, including Secretary for Health Lo Chung-mau, to receive part of a liver from a female donor at Queen Mary Hospital, but died on August 26, 2017.