Discovery Bay residents complain of large crowds to get tested after health authorities uncover coronavirus in sewage samples
Residents of Hong Kong's Discovery Bay complained about unclear instructions and the risk of Covid-19 infection at specimen collection stations on Wednesday, as more than 20,000 people faced a compulsory testing order.

The government had ordered the screening after sewage samples taken in the Lantau Island neighbourhood had tested positive for the coronavirus, similar to cases in Sha Tin and Tin Shui Wai. But only residents at one estate in each of the other two districts were required to go for testing.

Long queues formed outside the two testing sites at Discovery Bay Fire Station and S.K.H. Wei Lun Primary School in the morning before the designated 1pm opening time, with operations only becoming smoother later in the afternoon.

Anyone who had been to the residential area for more than two hours between January 26 and Tuesday was ordered to undergo testing by Sunday.

Discovery Bay resident Vicky Grey* said a 500-metre (1,600-foot) queue had formed next to the fire station when she lined up at 11.45am, noting there was a lack of information from staff who were giving out what appeared to be quota tags.

"We were told to come at 5pm. But the guy kind of seemed unsure so I went and asked a different attendant and he said to come back at 2.15pm," she said.

"There were so many people there. If one person had Covid, there's going to be a cluster of cases now for sure because there was no social distance at all."

A notice put up by the Discovery Bay management office told residents that sites at the fire station and primary school had a testing capacity of 3,500 and 1,600 people respectively from 10am to 8pm, with tokens to be issued to prevent crowds from gathering.

Grey called the sewage testing mechanism "flawed", saying that it would be hard for the government to determine the original source of virus transmission.

"Discovery Bay is such a hotspot for tourists … Maybe it's not the residents at all," she said.

"Testing everybody, it makes sense if there's a handful of cases in the city but when you have cases like we do now … These tests have limited value now."

She suggested the government set up more testing stations at each of Discovery Bay's housing estates, with the low-density, resort-like neighbourhood comprising about 20 residential areas.

Following the distribution of testing tokens at 1pm, queues next to the fire station began to shorten after a couple of hours.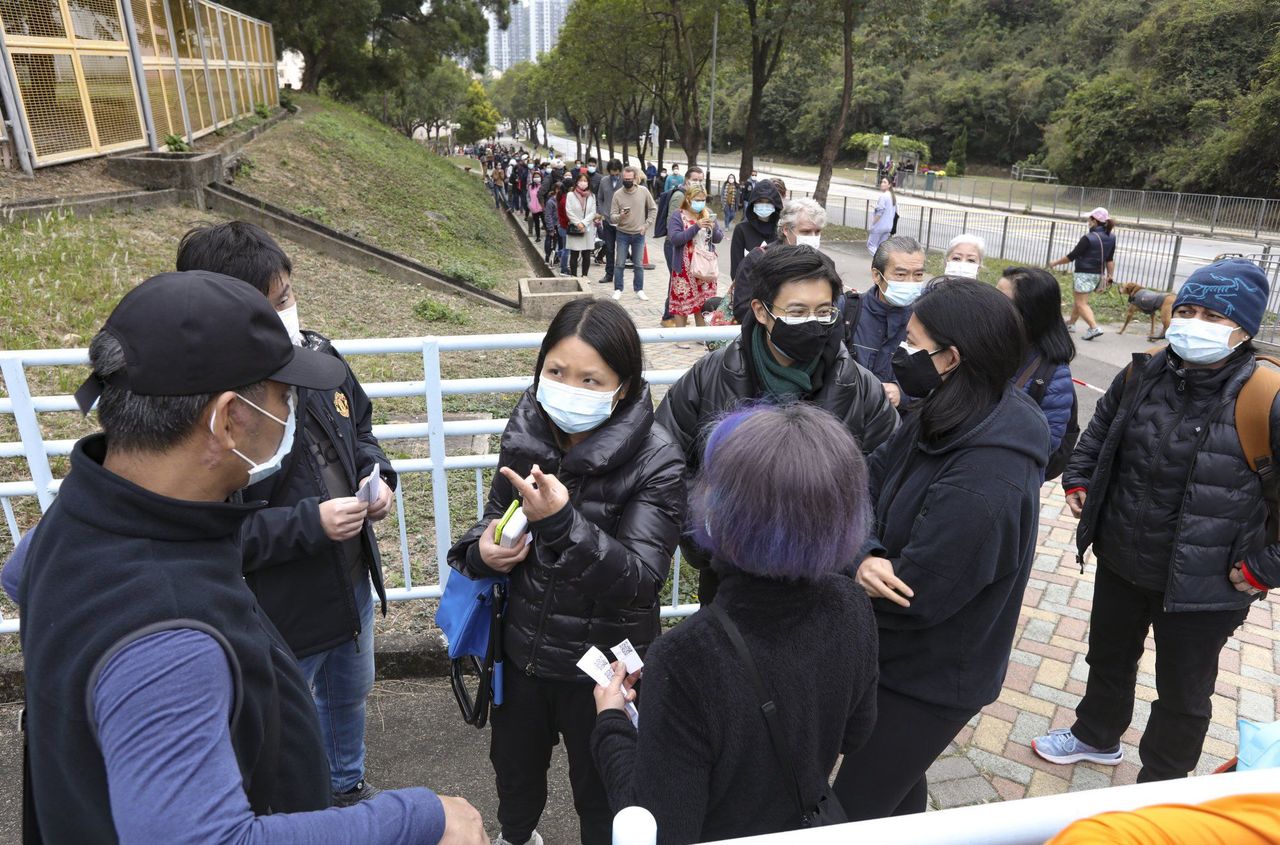 Residents have complained that queues at testing stations in Discovery Bay could create a risk of coronavirus infection.

Ana Lea Pascual, a domestic helper, said she and her employer's son, who did not have a token, waited for less than 30 minutes at the fire station before getting tested at 3pm.

"They kept telling us if you have the tickets, you don't have to queue up," she said. "There were less than 100 people there."

Another woman, who asked to be identified only as Chan, said she had waited from 4.30pm for about an hour to be tested.

Chan said that about 100 people without tokens, including herself, queued to see if testing slots were available. "They told us that if people don't show up after taking a token, we could get tested as part of the quota instead."

She said she did not think testing would help curb transmission of the coronavirus, as the source might have come from visitors, rather than residents.

"There are many visitors coming to Discovery Bay. Many families with kids will come and live in the hotel," she said.

Meanwhile, a resident surnamed Cheung said he and his family had been turned away by staff at the primary school testing station when they arrived at 2.45pm.

"They said the quota was already full for the day, so then I asked how large the quota was. They said 300 for the school and 600 for the fire station, but both quotas were full," he said.

"It's frustrating [not being able to do the test] … It's a bit of a mess."

Despite agreeing that the testing order was necessary, Cheung said the arrangements were inefficient and was worried there would be more crowds at the testing stations if he tried again the next day.

He said it would have been better if people from different buildings were given time slots to get tested.

Hong Kong recorded another 1,161 Covid-19 cases and 800 preliminary-positive ones on Wednesday, exceeding the 1,000-mark for the first time since the pandemic started.