Ukrainian residents in Hong Kong talk of fears for families back home as Russian forces advance on the nation's capital.
Ukrainians in Hong Kong reacted with shock and horror on Friday after watching the attack on their homeland and hearing desperate news from their families still living there, as some Russians in the city stood by them.

A peaceful demonstration was staged by more than 10 people in Central, but was broken up by police who said the group had violated social-distancing rules.

Restaurant owner and Ukrainian Olena Smith said she spent a sleepless night on Thursday frantically messaging her relatives back home.

"It is devastating," said Smith, who has lived in Hong Kong for 17 years. "We were constantly on the phone, but the phone kept losing connection."

Smith, like many others, was taken aback by the speed of the Russian invasion and did not expect the fighting to reach the capital, Kyiv. Now the Ukrainian army is locked in several fierce battles located close to the city, as the country was attacked from the east, north and south on Thursday.

Hong Kong is home to several hundred Ukrainians and about 995 Russians.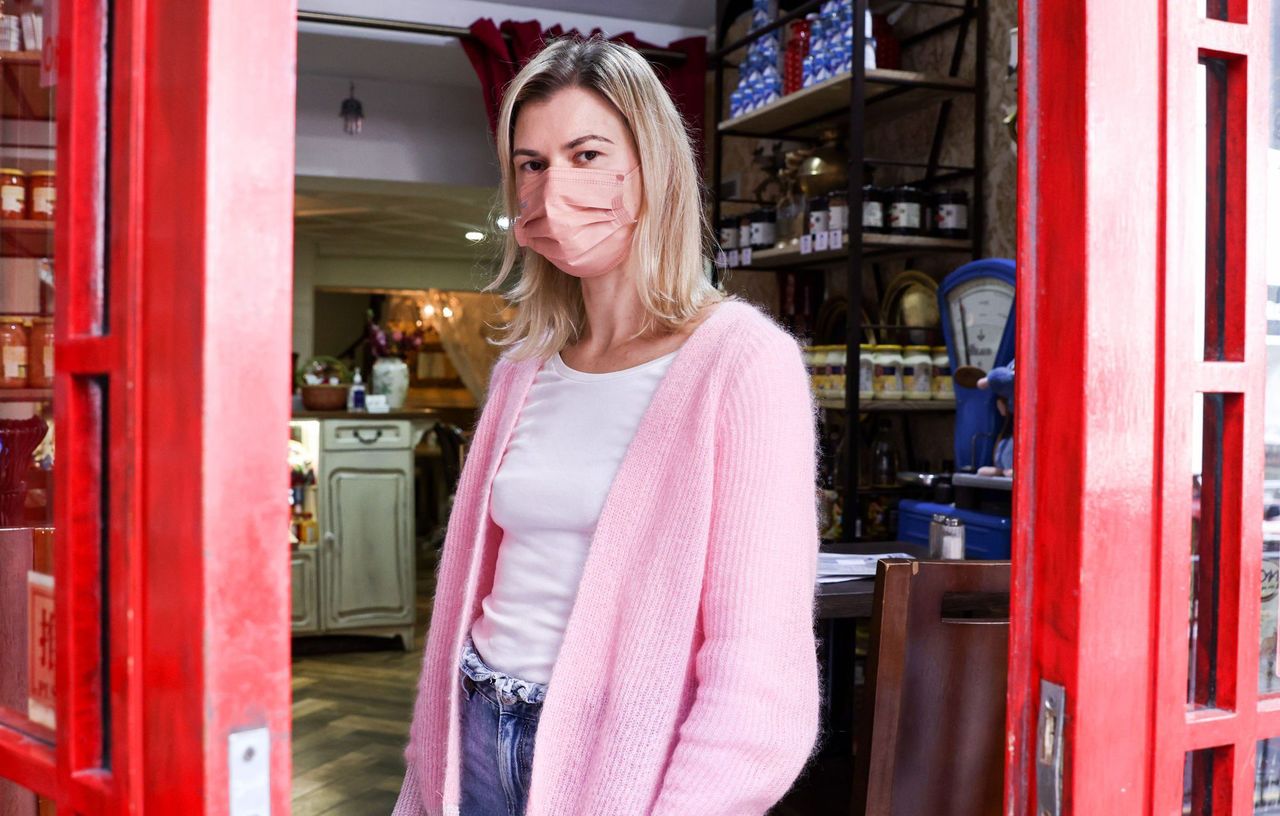 Ukrainian restaurant owner Olena Smith.

Smith, 38, said she was in touch with a cousin who lived on a base that had come under attack.

The cousin sent a series of short text messages to Smith, saying she had fled the area with her daughter and dog and was now staying with relatives on the outskirts of Kyiv.

"It's unpredictable. We do not know where there is a safe place for them to go," she said.

Smith has run a Ukrainian restaurant in Hong Kong, called Dacha, with her parents for the past seven years. But her aunt and cousins live near Kyiv, which has been the site of Russian bombing missions over the past two days.

Whenever her 65-year-old mother speaks to her sister, Smith has said all they do is cry.

Bogdana Pashkovska has also been left fearing for her loved ones, having spent the past six months trying to get her mother to Hong Kong on a dependent's visa.

Despite providing documents, making numerous calls, emails and several visits to her immigration officer, the case had yet to be finalised.

The 39-year-old gymnastics coach received a call from an immigration officer on Monday, who assured her that the application was under way, among a backlog of cases as civil servants were forced to work from home during the city's recent coronavirus outbreak.

"Now it's too late," said Pashkovska, as she tried to hold back tears.

Her mother lives alone near the capital and is her last surviving relative, after Pashkovska's father died in 1992 and her brother died only nine years ago.

The 39-year-old said her mother had been hiding in her residential building's shelter after bombs had started falling in the district.

Even though she begged her to leave the country, Pashkovska's mother refused.

"She told me that she does not want to be homeless and said: 'The only place I can go is to you. You are my only family left'. I feel so helpless," Pashkovska said.

Despite living in Hong Kong for 10 years, Olga Bratenko could only think of her parents, grandmother and other relatives in Ukraine as she watched the UN emergency meeting on Thursday with her British husband.

"My family is not safe any more. The tanks are … literally passing by my uncle's building. They haven't managed to escape. They are hiding in the basement of a nine-storey building," the 39-year-old housewife said.

Two of Bratenko's cousins have answered calls from Ukrainian president Volodymyr Zelensky for volunteers to take up arms and defend the country's sovereignty.

"It is about every single man and what he has to do to protect his country, his family, his history," she said. "It's heartbreaking. I wish I could say don't do that. Don't go fight, but there is no other way."

Like other Ukrainians, Bratenko said she feared the invasion would allow Russian President Vladimir Putin to install a puppet government in Kyiv.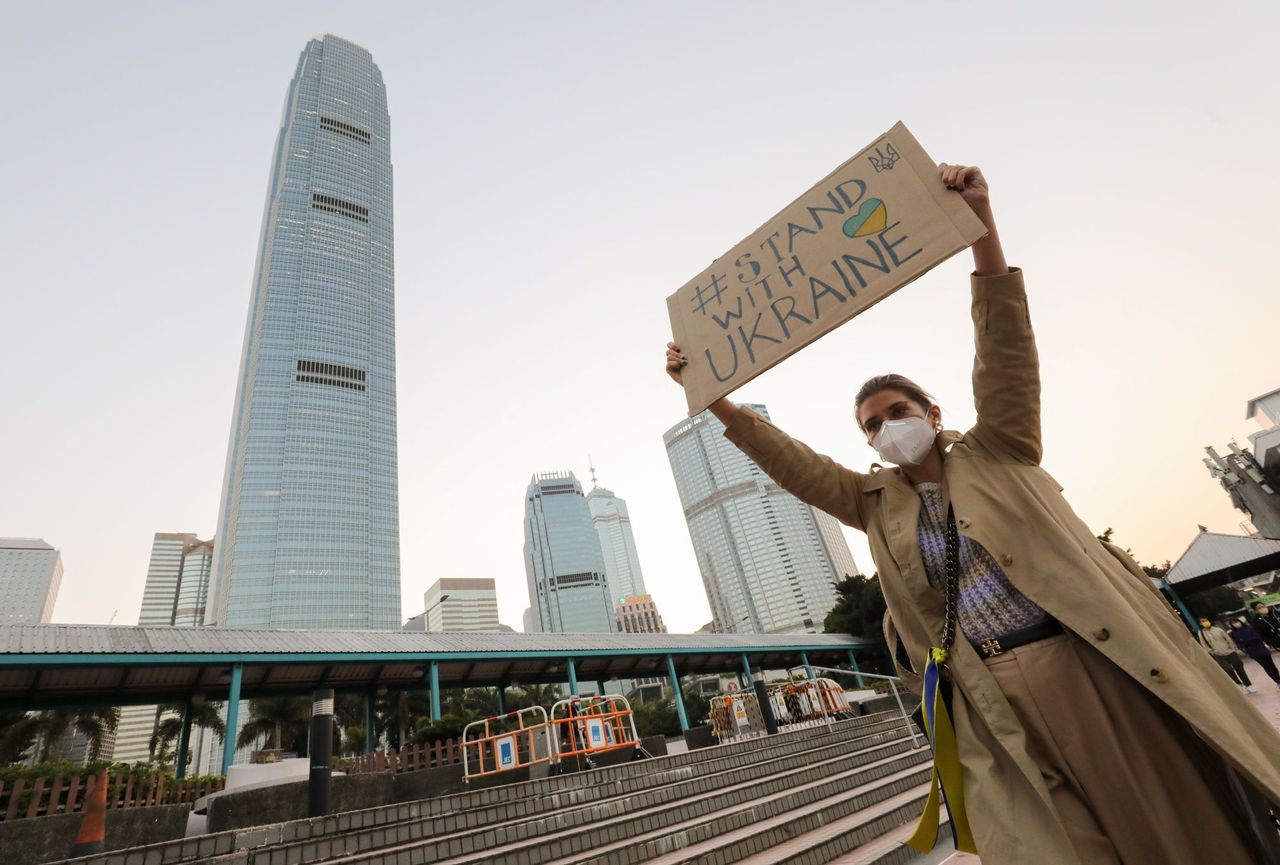 Residents gather outside Central Ferry Pier 3 to protest against the Russian invasion of Ukraine.

Among Hong Kong's Russian community, Yulia, who asked to be to referred by her first name, said that many people like her felt shocked and frustrated but also acknowledged some had supported the invasion of Ukraine.

Holding up a sign that read "stop the war", the 36-year-old sommelier was part of a peaceful demonstration near Central Ferry Pier 3. However, police ordered the protesters to disperse as part of a ban on gatherings of more than two people.

"They are our neighbours and we feel responsible. It is our government. We cannot influence anything, but at least we can show moral support," said Yulia, who has lived in Hong Kong for four years.

Also taking part in the rally was Russian IT worker Vitaly, who carried a sign saying: "no friend or foes, only casualties". The 37-year-old only moved to Hong Kong six months ago.

"I came out because I don't support the war. It is an extremely sad situation," he said. "I can feel their pain."

Among Hong Kong's Catholic community, Bishop Stephen Chow Sau-yan expressed his solidarity with the Ukrainian people in a press release on Friday.

"While we acknowledge the complexity of international politics, we feel deeply saddened by the civilians' loss of lives and homes," he said.